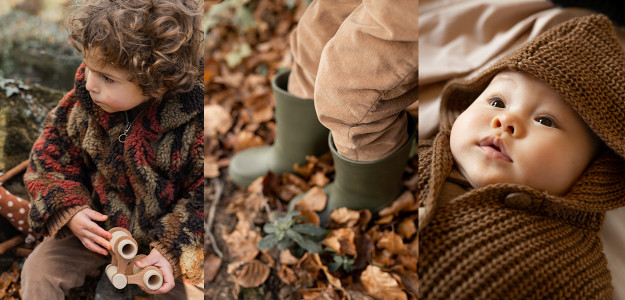 1+ in the family
1+ IN THE FAMILY (pronounced "one more in the family") is a Spanish brand for babies and toddlers aged 0 to 4 years old, founded in 2012 by designer Gemma Mases. The brand makes elegant and versatile clothing for little ones in beautiful cuts from comfortable fabrics. Their understated designs make the possibility to mix and match endless, and special attention is paid to the cuddly softness of their clothes to ensure your little ones' maximum comfort. Even better? All 1+ IN THE FAMILY items are made with care in Barcelona. So why not add one more to your tot's wardrobe with a new favourite from 1+ IN THE FAMILY's collection!
Find out more
INTERVIEW WITH GEMMA MASES AND IGNASI UBACH
FOUNDERS OF 1+ IN THE FAMILY
1+ IN THE FAMILY is a Spanish clothing brand that designs and makes
clothes for babies
and toddlers with an emphasis on soft fabrics and high-quality materials. We met the brand's founders at their headquarters in Sant Cugat, Barcelona to learn more about their creative process. Large windows let in beautiful light that reveals a luscious swath of greenery, this is where Gemma Mases and Ignasi Ubach, 1+ IN THE FAMILY's founders, are waiting for us. After telling us how it all began, they tell us more about their daily lives, their inspiration and their aims for the future.
You launched 1+ in the family in 2012. Can you tell us more about it?
My niece, Bruna, was born in autumn 2012. She was a much-loved baby and I admire my sister for making the courageous decision to raise a child on her own. This new arrival was the catalyst, it pushed me out of my comfort zone and that's how my brand, 1+ IN THE FAMILY, was born. It had been a dream of mine for many years. At that time, I had already worked as a freelance fashion designer for various fashion companies for 17 years. The first 12 years were extraordinary, I had the opportunity to work for renowned companies, with teams that taught me a lot. However, in 2007 the world was hit by the financial crisis. As a result, job vacancies and working conditions in the fashion sector were hugely disrupted. With the support of my husband, Ignasi, I set out to create my own company. This gave me the opportunity to be more independent and learn more about product creation.
Who's behind 1+ in the family?
1+ IN THE FAMILY is a family business I launched with my husband, Ignasi. Ignasi is an economist with a lot of experience in the financial sector and in textile exports. But we're not the only ones behind 1+ IN THE FAMILY, an extraordinary team has grown faithfully alongside the brand.
What's your brand's philosophy?
We want to produce high-quality
baby clothes
that are adapted to babies' needs, as well as those of their parents. We pay special attention to the softness and the selection of fabrics, as well as to the comfort and practicality of the clothes. It is also very important for us to focus on local production. This is why all of our products are designed and manufactured in Barcelona, which also facilitates quality control and production.
Can you tell us more about the creative process you go through when you want to create a new collection?
My creative process always starts with an analysis of the previous collection, then comes the quest for new inspiration: fabrics, textures, shapes... Always with the aim of improving and surprising. I like to compare this process to cooking; cooking a good soup over a low heat requires the right ingredients and taking some risks with new flavours, while making sure not to lose the essence of the recipe. And finally, don't forget to have fun!

What is your favourite aspect of your job?
Starting a new collection is what excites me the most. But I also love the work process that follows.
What's your main source of inspiration?
I'm fascinated by the Scandinavian lifestyle and design, as well as what they do in adult and children's fashion, decoration, design and furniture.
What are your dreams for 1+ in the family?
We would like 1+ IN THE FAMILY to become a reference point in the world of baby fashion. But above all, we want to continue to enjoy the experience and to learn from it!

Do you have any upcoming projects?
We want to strengthen our presence in the European, American and Japanese markets - today 85% of our production is exported - while continuing to open new markets, especially in Scandinavian and Asian countries.
What advice would you give to someone who wants to start their own company in the children's fashion industry?
After becoming parents to our three children, creating our business is one of the most rewarding experiences we've ever had. For us, launching our own business was the result of a lot of passion, effort and sacrifice. There can be no company without products or products without a company. I think that's the best advice we can give.
What do you like most about Smallable?
We are big fans of Smallable! For us it is an authority in the concept store sector. The selection of brands and products is incredible and we are obviously very proud of the fact that 1+ IN THE FAMILY is present among this selection.
How do you manage to combine your career and family life?
We do our best! Fortunately, two of our children are older - 18 and 15 years old - which is easier, but the youngest is 9 years old and he still depends on us a lot. We try to adapt our working hours and spend our free time with them. Dinner for instance is sacred in our family. Our children have experienced the growth of the brand very closely! At times, they even helped us label and pack the products. I think it was also a positive experience and a life lesson for them.
What do you like to do together as a family during the weekend?
Spend time together. Our weeks are so intense that on weekends we love enjoying family time at home. During the holidays, we like to go on trips and help them discover the world.
What's Your favourite restaurant in Barcelona?
That's a difficult one! There are so many lovely places in Barcelona where you can go and eat good food. We love the Flax & Kale - Teresa Carles [Address: Carrer dels Tallers, 74b], La Cuina d'en Garriga in L'eixample [Address: Carrer d'Enric Granados, 58] and Parking Pizza [Address: Carrer de Londres, 98].
What's Your favourite family activity in Barcelona?
We live in a quiet neighbourhood in the suburbs of Barcelona, so when we go into town we like to do the things we don't have here: taking a walk in the shopping district of Eixample, Gracia, or the gothic district...
Barcelona is an incredible city, this city is full of life! We also like to show our children the corners of the city where we used to go with our parents when we were children, to keep the traditions alive. And, of course, when summer comes… we love to go to the sea!
rapidfire questions

a SONG ?
When she believes
by Ben Harper
A BOOK ?
The Alchemist
by Paulo Coelho
Close