1+ in the family
1+ IN THE FAMILY (pronounced "one more in the family") is a Spanish brand for babies and toddlers aged 0 to 4 years old, founded in 2012 by designer Gemma Mases. The brand makes elegant and versatile clothing for little ones in beautiful cuts from comfortable fabrics. Their understated designs make the possibility to mix and match endless, and special attention is paid to the cuddly softness of their clothes to ensure your little ones' maximum comfort. Even better? All 1+ IN THE FAMILY items are made with care in Barcelona. So why not add one more to your tot's wardrobe with a new favourite from 1+ IN THE FAMILY's collection!
Find out more
interview

Gemma Mases & Ignasi Ubach
1+ in the family is a Spanish baby clothes brand that creates pieces from high-quality, super-soft fabrics. We met up with Gemma and Ignasi, the brand's founders, in their Barcelona office to mark a special anniversary. 1+ in the family is now ten, and Gemma and Ignasi were thrilled to tell us how they have managed to establish their brand internationally through humility and perseverance, surrounded by a solid, committed team.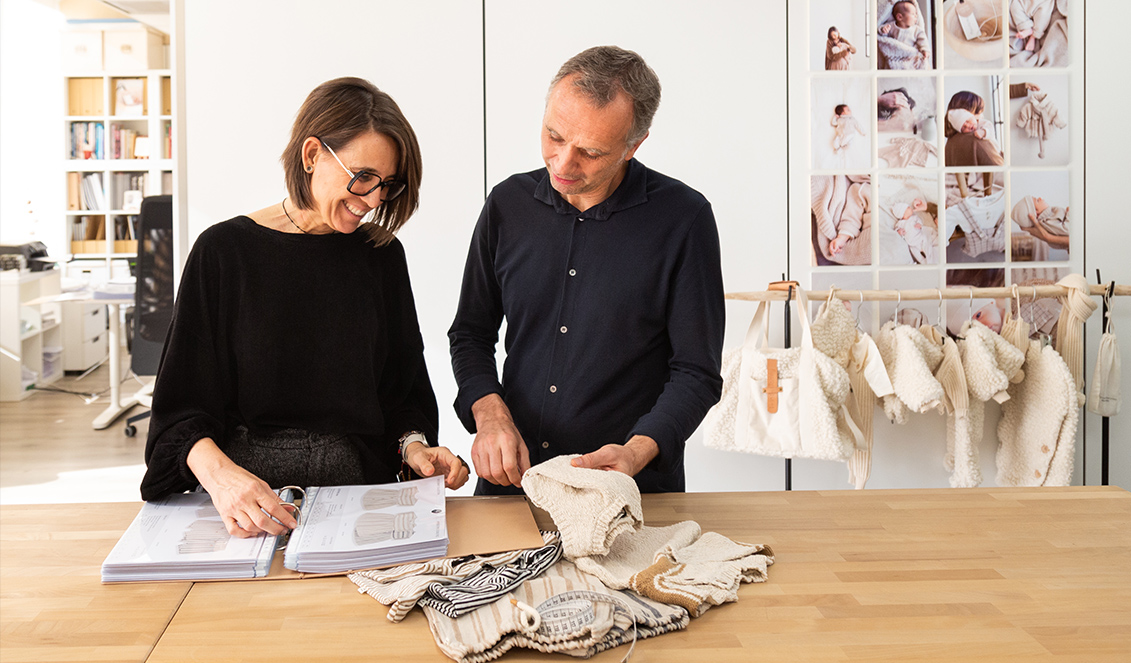 Gemma, Ignasi: your brand, 1+ in the family, is celebrating its tenth anniversary this year. Congratulations! What would you highlight from all these years of experience?
Oof! These ten years have been filled with endless emotions, experiences, lessons, people, and so, so many stories! But if we had to choose just two things…

Without a doubt, the first would be the team of professionals that has slowly formed around the project: employees, partners, agents, suppliers, retailers and, of course, our loyal end customers. Without them, none of this would have been possible!
The second would be the indescribable excitement of those early years. We'll never forget it. Looking back, it's dizzying to think what we were capable of doing with the few resources we had at the time. Our enthusiasm and total belief in the project were pure energy that allowed us to face all that hard work in the beginning.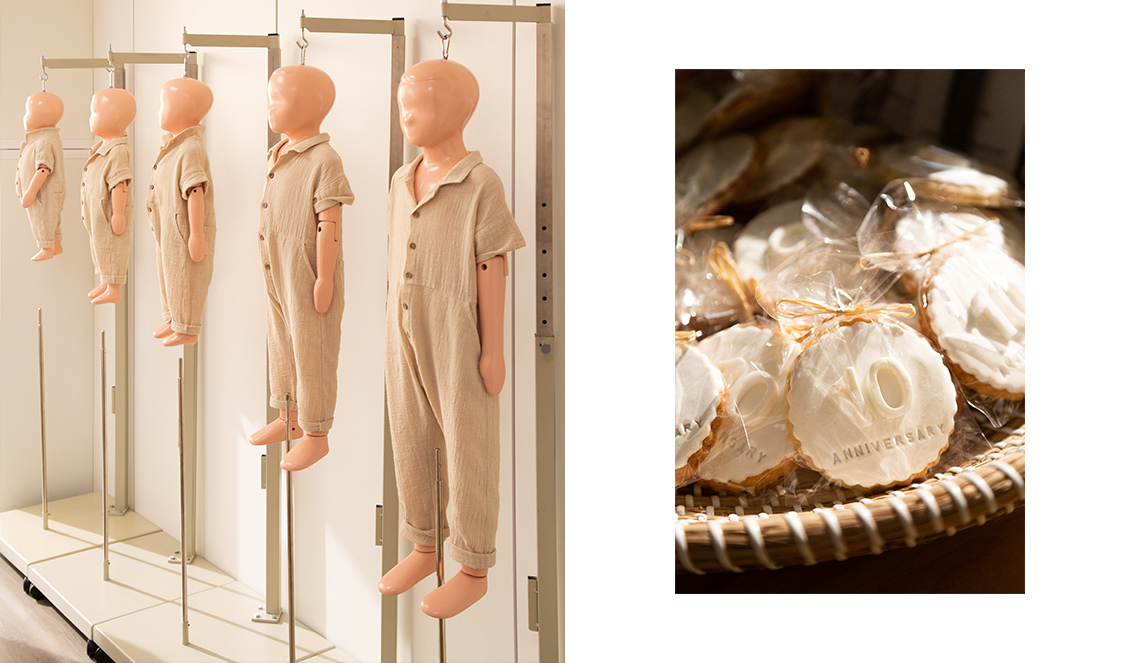 Which key aspects do you think have made 1+ in the family stand out from the competition?
From the start, we have worked hard to make sure our product design and brand have their own identity. We also believe it's really important to use high-quality, locally made fabrics. And the last key element is great service and efficient management.
After this decade in the world of children's fashion, what advice would you give to someone who wants to start out in this industry?
First of all, you have to learn everything you can about the sector your brand will be in before you begin. Then, you need a team of excellent, passionate professionals who believe in the project. Finally, enthusiasm, humility and perseverance are essential. For us, creating a special product with its own identity is vital, because the market is saturated with other similar products.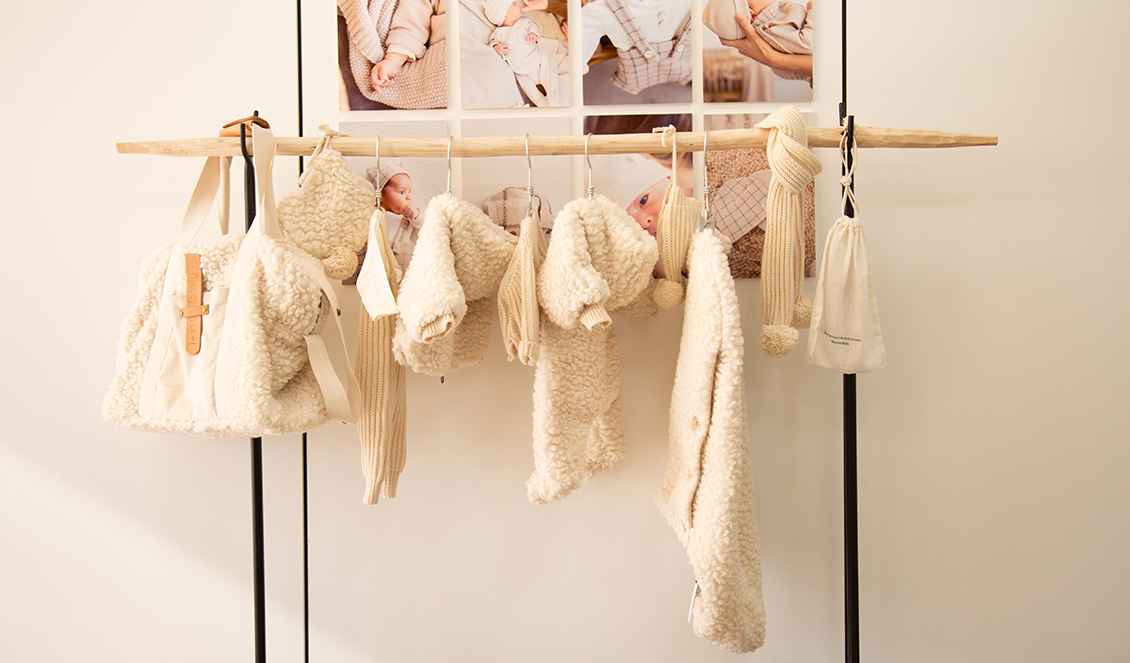 How has the brand evolved so far and where is it at now?
Today, the brand is perfectly established internationally as a leading clothing brand for babies aged 0–48 months.

We started off by launching a début collection for the Spanish market, with 19 models in 3 different fabrics for babies aged 0–12 months. Now, we are delighted to be able to say we have 2 collections: NEWBORN (0–24 months) and BABY (1–48 months), containing a total of around 250 models and accessories per season between the two. On top of that, currently, 93% of our production is exported to the international market.

Over time, and in response to different realities and needs in each part of the world, we have introduced a wide variety of high-quality fabrics and various product lines. The aim is always to offer something new and the highest possible quality, in terms of both fabrics and production.
What is the dream for 1+in the family?
It's still the same as the day we founded it: to create, enjoy and live off our own project, a project that truly fulfils us. In our case, that involves designing and making lovely clothes for lovely people who value quality products designed and made entirely in Spain.
And what's your dream, personally?
Our priority has always been to maintain a balance between enjoying our work and trying to enjoy life and our family at the same time.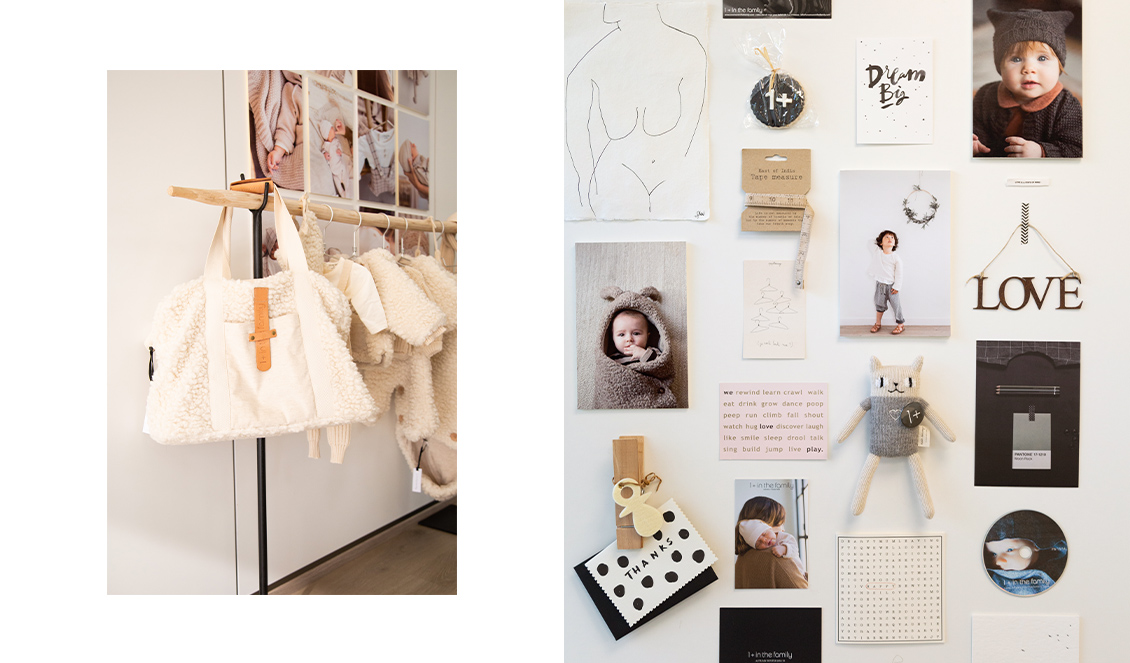 How do you envisage the brand's future?
…Good question! To be honest, we prefer to focus on the here and now!
Over these ten years, 1+ in the family has made a name for itself in the market and is now well known internationally. What challenges did you face during this expansion?
For us, doing it step by step has been fundamental, with just the right amount of ambition that requires taking each step carefully, so that it solidifies over time. And achieving satisfactory growth with just our own resources.
You have a wide range of products. Do you have a star product?
Yes, of course, because we have items that stick around for a long time.
If so, which?
Our basics. But as well as talking about star products, we like to point out our star fabrics. Our sales agents call them 'don't forget it!' products.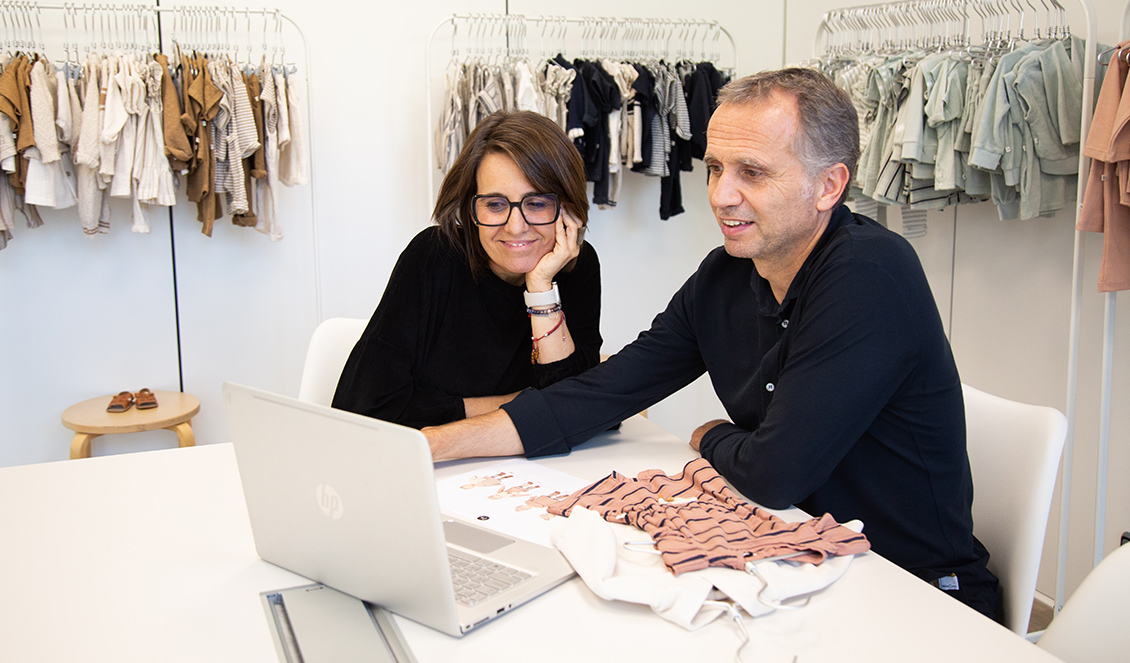 Where are your garments made?
All of our clothes are made in the province of Barcelona, in Spain. Only our collection of tights and socks is made in Portugal.
What stands out about your production processes?
The fact that all our production is local means we can keep an eye on it day to day and maintain a close relationship with all the people involved. All of this has a positive influence on product quality and delivery times, as well as reducing our carbon footprint.
At Smallable, we care about sustainability. Could you tell us a bit about what 1+ in the family is doing in terms of environmental responsibility?
When we talk about sustainability, we like to speak from a place of humility, because we know we still have a lot to learn, both as a brand and as a society. Our aim as a brand focused on little ones is to fulfil their needs in the present the best we can while trying not to compromise their needs in the future.

In recent years, our interest, and consumers' interest, in alternatives that are friendly to the environment and society has clearly increased. Our aim and commitment as a brand are to carry on working hard to integrate solutions to environmental, economic and social problems in all our operations into both production and commercial processes.

That's why, as a brand, we continue to believe in:
Selecting fabrics made entirely in Europe.
Introducing and substituting sustainable fabrics and components of organic and plant-based origins with less environmental impact every season.
Keeping our production local.
Guaranteeing fair trade, by protecting our chain of suppliers and our retail partners.
Creating timeless products, or what we call 'long-lasting items', that can be handed down to the next child.
Close