Aigle
Aigle has strived to encourage humans to be in perfect harmony with nature since 1853. Their iconic rain boots can be worn for any occasion, near the seaside, running through muddy forests or exploring luscious gardens. Aigle's rain boots are made of natural, eco-friendly rubber that keep feet dry all day long. Available in a wide variety of colours and styles for both children and adults, Aigle will keep the whole family happy all year long. Find out moreClose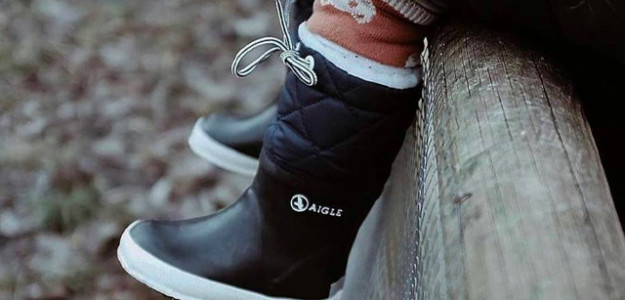 A 'not-so-French' label
: Everyone knows Aigle, the rubber specialists whose rain boots fly off the shelves in their thousands and are adored by all ages.
From the colourful Lolly Pop to the feminine Juliette, Aigle boots need no introduction, but
who is behind this mysterious French label?
Aigle was founded in 1853 in a workshop in Montargis near Paris by Hiram Hutchinson, an American based in France who acquired a patent from tyre giant Goodyear in order to shape the material into waterproof clothing and accessories. From the 1920's, the brand that was then called "à l'Aigle" in reference to the United States' eagle emblem began producing rubber shoes for leisure and sport. Embraced by all, the famous waterproof boot was a great success, allowing the brand to expand and launch a ready-to-wear line also designed to face rain, wind and snow, and setting the standard for all nature lovers.
A timeless brand:
Today, Aigle upholds the same know-how as it always has. Conceived in the workshops of Châtellerault and hand-crafted by rubber experts, more than 4000 pairs of rubber boots are crafted daily before being shipped to the four corners of the world. From Japan to the United States via Europe, the Aigle boot has become a real must-have.
For adults as well as for children, Aigle is designed with the whole family in mind. With polka dot prints and tinted in the most beautiful colours, this brand has a lot to shout about. Discover our lovely selection of rain boots on Smallable!
Close
New collection coming soon
To keep up to date on all the latest news and offers,
Sign up to our newsletter and follow us on social media!