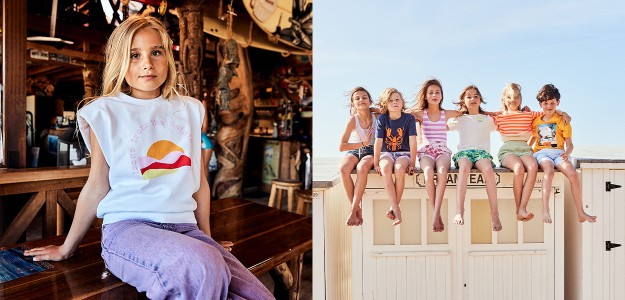 AO76
The story of AO76 is one of three sisters with one driving passion: creating fashionable, wearable
clothes for kids
. Sisters Nathalie, Caroline and Patricia founded the Belgian children's fashion brand, whose collections are known for their quality fabrics and finishes, creativity and attention to detail. Trendy and comfortable, AO76 makes clothes for kids aged 4 to 16 years. Using simple cuts and bold but original colour combinations, textures and prints, AO76 makes easy-to-wear pieces from T-Shirts, sweatshirts and trousers to dresses and parkas.
Find out more
interview
Patricia Vandemoortele
Co-founder of AO76
The AO76 showroom, located nearby the very charming Belgian city of Ghent, looks like an art gallery. The ground is covered with dry leaves blown in from the forest and there are several kinds of sculptures in the room, all tinted in shades from the current collection. We meet Patricia Vandemoortele, the head of design at AO76. Patricia is a woman full of energy, with a contagious smile and the belief that "less is more". She loves wearing vintage pieces and believes in the importance of working in a enjoyable environment. This is why she chose this beautiful place to set up the A076 headquarters. Fun, happiness, freedom and play: these are just some of the words that describe the AO76 state-of-mind!


AO76 is a beautiful family project that you created with your sisters. Tell us more about your role in the company.
I'm the founder and stylist of AO76. I'm also the one in charge of creating the collections.
You are the creative mind of the brand. what inspires you?
I get my inspiration from my travels, from nature, from my daily impressions, art exhibits I visit, from people I see in the streets. I follow the trends and I do some shopping, of course, but not too much. The hardest part is to create a relevant new theme each season. Once that's done, we can start looking for the right materials and creating new styles.





What's your daily life like?
When we're working on the collection, I arrive at the office very early in the morning to work with my team. Once the collection is ready or when it's in production, I go to some fairs and I travel to find new manufacturers and/or inspiration while keeping an eye on production.
The availability of children's fashion has evolved significantly over the last few years. How do you manage to set your brand apart from your competitors?
By staying true to our image and true to the AO76 style, while following the latest trends. By putting an emphasis on the quality of our products and in making sure we have a good distribution system for our brand and are positioned correctly in the market.



Where does your brand's name come from?
We were looking for a brand name that sounded American since that's where the casual, sportswear inspiration came from. And we were creating clothes, we are dressing people ('outfitters') so we chose 'American Outfitters', in short: AO. the "76" part comes from the year the company was created, in 1976.
How would you describe the AO76 kid?
The AO76 is nice and cool. They like moving, being outdoors, playing, going on adventures. Their clothes are made to move with them, and aren't too rigid or too over the top.
What's next for the brand?
We want to keep creating cool collections that children and their parents really like. We follow the trends and the market. Our products are distributed in our own stores, in other boutiques and we want to develop our e-commerce even more. Young people buy more and more on the Internet nowadays.

can you recommend 3 kid-friendly addresses in ghent?
Eat at Vooruit [Address: Sint-Pietersnieuwstraat 23], our city's Art Deco and cultural centre. Visit the STAM museum [Address: Godshuizenlaan 2], it tells the history of our city and is has a beautiful location. Go for a boat trip on the Ghent canals, even more beautiful than the ones in Bruges according to some people. End your day with some shopping at Korte Dagsteeg where we have our most beautiful AO76 store [Address: Korte dagsteeg 4]!
WHAT DO YOU LIKE ABOUT SMALLABLE?
Everything that is touching, that you have something to say that provokes emotions and leaves room for imagination. But I must also admit I'm very into in your Spanish brands!
Close