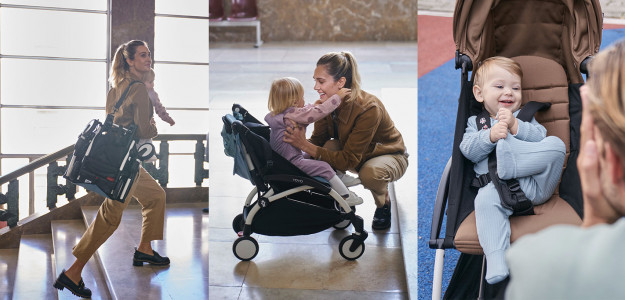 Babyzen
When Julien Chaudeurge became a dad, he quickly discovered the
joys
of trying to fold up a pushchair. Convinced there was an easier way, he teamed up with his father and together they started Babyzen. Their challenge? To create convertible and compact pushchairs that make it simpler for parents around the world to go out with their little ones. With a lot of experimentation, hard-work and creativity, the Babyzen pushchair was born! The French brand now makes pushchairs, prams and strollers in a number of different models and colours with a collection of helpful accessories and attachments to accompany parents and children on their day-to-day adventures. Perfectly suited to busy family life, Babyzen pushchairs are able to fold up in five seconds flat, and some are even light enough to sling over your shoulder. Internationally appreciated, the brand counts celebrity clients like Kim Kardashian, Keira Knightley, Tony Parker and Gad Elmaleh among its fans. From errand-running and leisurely strolls to family trips and travelling, when it comes to pushchairs and
babycare
Babyzen have thought of everything.
Find out more
The Babyzen Story
Babyzen pushchairs are a parent's greatest ally, making life easier from those special, first days of parenthood to the exciting day when your little ones take their very first steps…
THE YOYO+ PUSHCHAIR
The brand's star product, the Yoyo+ pushchair is designed for the ultimate ease of use and comfort. The incredible lightness and manoeuvrability of the Yoyo+ makes going on long family walks a breeze. From cobblestones to countryside paths, Babyzen pushchairs' 4-wheel suspension and patented "soft drive" system guarantee comfort you and your child, making for carefree outings as a family.
For busy city-dwellers on the go, the Yoyo+ pushchair can be quickly folded up with one hand and easily transported. Fret no more with the thought of having to juggle your baby with the shopping and a clunky pushchair! The Yoyo+ weighs just 6.6 kg and can be slung over your shoulder like a bag, thanks to its ultra-practical strap.
As an added bonus for new parents who are looking to take their little ones with them while they're out and about socialising with friends, the handlebars on the Yoyo+ pushchair can be easily folded down. This means that parents can simply and discretely slide the pushchair in between restaurant or café tables, so baby can sit comfortably beside them and join in on the fun.
TRAVEL-FRIENDLY AND INNOVATIVE
Fully adjustable, the Yoyo+ can also accompany you and your family on plane journeys. Its compact form and ultra-light weight makes it easy to slide the pushchair into the overhead luggage compartment of most commercial aeroplanes*, making family travel effortless. The Yoyo+ can also easily be taken on train journeys, folding up quickly for easy stowing, and its mini-size makes getting in and out of elevators no problem.
Always looking to innovate and make parents' lives easier, Babyzen also offers practical solutions for car journeys. The Babyzen car seat was created in collaboration with Norwegian experts BeSafe, whose products combine unrivalled quality with Scandinavian expertise, to provide babies with the ultimate safety during car travel. Useful for family holidays or when running everyday errands, the brand's car seat can adapt to your Yoyo+ pushchair, making travelling hassel-free and keeping your little one comfortable.
CUSTOMISABLE
Not your standard pushchair, Babyzen makes pushchairs that you can adapt and customise according to your needs and style. With the brand's impressive selection of options, you can choose the colour of the frame and hood, and which accessories (from umbrellas to foot muffs, cup holders to leg rests) best suit your family's needs. Once your little one is walking or a little bit bigger and more independent, the Yoyo+ board with wheels is also brilliant for giving tired tots a break while ensuring their safety.

At Smallable, we love how through innovation and creativity, Babyzen creates products that truly do make a difference in parents' and families' lives. With our selection of Babyzen pushchairs and accessories, from the newborn option to the complete kit that will accompany your child from birth to 5 years-old, you are sure to find the perfect pushchair for you and your family.


*Please contact your airline to check compatibility.

Close
We are sorry to inform you that this brand does not deliver to your selected country of delivery.