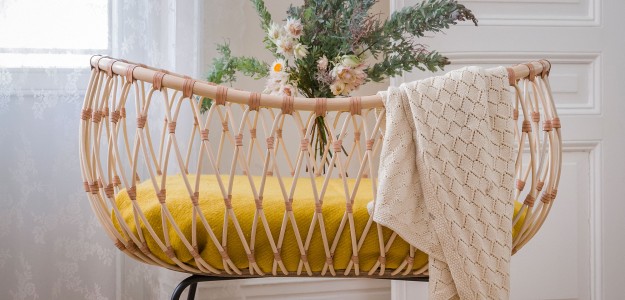 Bermbach Handcrafted
Bermbach Handcrafted is an award-winning, Frankfurt-based brand that offers a range of beautiful, handmade baby beds, cribs and cradles. The brand was founded by Alexander and Marie-Luise Bermbach with the goal of creating precious and durable heirloom pieces for families to keep for generations to come. Designed in Frankfurt, the brand then works with skilled Indonesian artisans to sustainably make their wonderful products, using high-quality, resilient natural materials such as rattan, wood, organic cotton and coconut fibres. Forerunners in contemporary sustainable children's design, Bermbach Handcrafted have received awards like the Green Product Award and the A' Design Award for their creations. Not just darlings among the sustainable design circuit, design-savvy parents across the globe have also been won over by the brand's timeless, slightly vintage aesthetic that works perfectly in all sorts of nursery designs. All this to say, if you're on the hunt for a unique and charming baby bed that will stand the test of time, you can't go wrong with Bermbach Handcrafted.
Find out more
interview

Marie Louise
and Alexander Bermbach
It's raining at daybreak in Frankfurt. We walk along a street bordering the river until we reach our destination. Alexander and Marie-Luise Bermbach open the door of their offices, located on the first floor of a corner building. We climb a beautiful, large staircase that reminds us of the typical Parisian Haussmann architecture. At the top of the stairs we find an open, light-filled room with large windows. This is the headquarters of Bermbach Handcrafted, a brand specialised in designing and producing sustainable rattan furniture.

Alexander and Marie-Luise, travellers, passionate about nature and the sea, are also the owners of Maingold Cafe, located on the ground floor of the same building.
Marie-Luise has carefully decorated the space. The walls are covered in pretty wallpaper, printed with flowers and hummingbirds. There are intricate floral bouquets on each table. Velvet sofas, antique lamps and wooden chairs complete this very unique location.
We sit near the bar. While chowing down a tasty salad made with local products, Alexander and Marie-Luise tell us their story: how Bermbach Handcrafted was born and how they cultivate their passion for craftwork and green production day after day.

Tell us how Bermbach Handcrafted began.
Marie-Luise: Originally we were looking for a bed for our own children. On the internet we discovered pictures of beautiful old rattan beds. However, whenever one would come up for sale, it would get snapped up immediately. Apparently we weren't the only people who found these beds beautiful. In the end we decided to try and produce them ourselves. Our goal was to adapt the beautiful design to today's age. The first prototypes were made by a small basket maker in Germany. Then we took a big step and started working with a renowned Japanese-Indonesian producer who shares our idea of aesthetics, sustainability and quality.
Who is behind the brand? How many people make Bermbach Handcrafted?
Marie-Luise: My husband Alexander and I are the founders and creative minds behind Bermbach Handcrafted. We are a small, multilingual team of employees in the fields of graphic design, social media, office management and sales.

What are your "little secrets" to creation? How do you work?
Alexander: We simply have a weakness for beautiful old, curved forms that we find natural and timeless. With our furniture we try above all to find harmonious proportions and to bring transparency and stability in tune with each other. The choice of material thickness, for example, sometimes depends on millimetres. Of course, we also orientate ourselves on classic rattan designs.
If you had to define the world of Bermbach Handcrafted in 3 words, what would they be?
Alexander: Love of children, naturalness and beauty.

What kind of kids were you? What did you dream of?
Alexander: I grew up in a place in Taunus, a mountain range near Frankfurt, where my parents lived and worked. They ran a popular restaurant there, where I helped out as a child. We were outside in all weathers, I was a real forest lad. This closeness to nature, but also the naturalness of working hard for one's own business, shaped me. My dream has always been to live and work independently and independent of location.
Marie-Luise: I also come from a self-employed household. I also developed an ecological awareness at an early age. After graduating from high school, I set up my own business with one of the first cafés that exclusively used animal products from organic farming. My dreams are to pass on my love of nature to my children and to see the next generation grow up in a world worth living in.
What are your sources of inspiration?
Alexander: We love the everyday culture and traditions of southern countries such as Portugal or southern France. There are still many simple, natural and beautiful things to discover. But also the nature-loving Scandinavian style enchants us again and again.

What are the dreams of Bermbach Handcrafted?
Marie-Luise: We would like to bring many beautiful, useful objects into children's rooms and apartments. And in this way convince as many people as possible that design and quality of life can be very well combined with sustainability and ecology.
What is a typical day at work like for you? How about a typical family day?
Marie-Luise: Actually, there is no typical working day, because in a small company where we take care of lots of things ourselves, there are a lot of different tasks, such as thorough quality control or personal contacts with customers and business partners. There are still many surprises. But of course there are also days when you sit in front of your computer for ten hours.
Alexander: A typical family day usually begins with coffee, milk and books in bed, preferably with an open window and a view of the countryside. With the children and our dog we spend as much time as possible in nature.
For a family visiting Frankfurt, what would you recommend them to see and do?
Marie-Luise : It is nice to visit the Palm Garden (Palmengarten) in summer and paddle around on the small pond in a rowing boat. Every two weeks there is a large flea market on the banks of the Main where there is always plenty to discover. The visit can easily be combined with a detour to one of Frankfurt's many museums, which also offer a lot for children. A highlight is the Senckenberg Natural History Museum (Senckenberg Naturmuseum) with its huge dinosaur skeletons in the entrance hall.
Alexander : A trip to the Dottenfelder Hof, a Demeter-certified farm just outside the city gates, is also very nice. The delicious cheese and bread they make can also be bought on Saturdays at the popular weekly market on the Konstablerwache.
Your favourite restaurant in Frankfurt?
Restaurant Margarete on Braubachstrasse 18.
A movie
The Glass Castle (2017)
a song
Boom boom by Kid Francescoli
a book
Die hellen Tage (Bright Days)

By Zsuzsa Bánk

Photos & interview by Yasmina Perez
Close
Displaying 6 out of 6 items