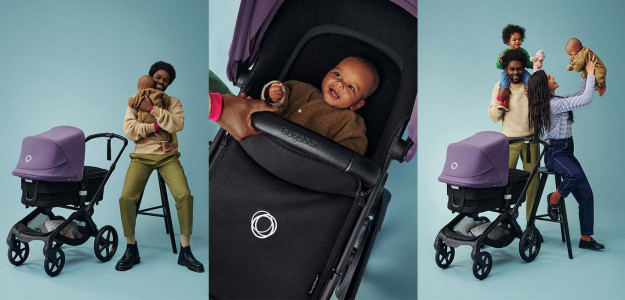 Bugaboo
The Bugaboo mission is to help you move freely, and if you've ever experienced their deluxe strollers and pushchairs, you know they mean business. The high-end push chair brand was founded in 1994 by designer Max Barenburg and physician Dr Eduard Zane, with each pushchair in the Bugaboo range being more innovative than the next. Known globally for their game-changing products, Bugaboo creates pushchairs and babycare accessories to suit the needs of modern families on the go. Hero products include the Bugaboo Donkey 3 model, specifically designed for transporting twins, as well as the Fox 3 model which handles all-terrain like a dream. Honourable mentions must also be given to their Cameleon 3+ model and the ultra-compact lightweight Bee 6, which is perfect for city hopping. Designed to last and made to use every day, the Bugaboo line will have you and your family equipped and ready for any race and all life's adventures.
Find out more
interview

Madeleen Klaasen
Marketing director of Bugaboo
Bugaboo is much more than just a pushchair company. It's a concept mixes ease of use with complex design and modern style. Fascinated by wheels, cars and mobility, in general, from a young age, founder Max Barenbrug created his first stroller in 1994 for his final year project at design school. He has been innovating ever since. Always a perfectionist, he continuously pushes limits in order to make parents' daily lives easier and more stylish. Madeleen Klaasen has been marketing director at Bugaboo for almost 15 years, and is proud to be part of the adventure where design and children's comfort take centre stage - all this, while keeping in mind parents' personalities and making sure each stroll with the brand's pushchair is an enjoyable one. We spoke with Madeleen to learn more about the brand and their endeavours.

bugaboo was first created when Max Barenbrug designed a pushchair for his final project at The Design Academy in Eindhoven in 1994. What was his ambition at the time?
First of all, he's always been surrounded by kids – even from a young age - growing up with four sisters. On top of this, he had a real passion for wheels, he loved to watch them in the street and was always on a motorbike or skateboard. He was obsessed by the idea of going from point A to B, of feeling free and of all the sensations he'd experience on the way. He was actually supposed to study business, but that didn't suit him at all, so he later decided to switch to a design school. Very different from business! But he needed to follow his passion. He liked the idea of coming up with concepts that could change everyday life. While living in the heart of Amsterdam, he would look for problems that he could solve. He observed a lot of people cycling, and then he saw mothers with pushchairs. It was then that he decided that, if he ever became a father, he would want a pushchair that he would be proud to push. His main focus was on men, as well as active and sporty people. So, that's why he chose to design that for his project – in the hope of revolutionising the way that people saw this type of product.
What was the market like at that time for this kind of product?
Twenty years ago, the pushchair industry wasn't at all design-focused, and Max saw people struggle with them because they weren't practical or comfortable for either the parents or the child. This needed to be resolved. He didn't think about building a brand at that time, he never imagined it would turn into this. He just wanted to enrich people's lives.

How long have you been Marketing Director at Bugaboo?
It's been 14 years now, I started out as number eight at that time. Before that, I worked at Nike for seven years. I always say my role is to take things that are implicit in Max's mind and make them explicit. It's a very long process and we have to work very closely together.
What are some of the key dates in Bugaboo's history?
In 1999, we launched in Holland and Belgium, followed by Spain and the UK, and then the rest of Europe. We had an amazing opportunity in 2002 when our Bugaboo pushchair appeared in Sex And The City. One of our team was going to be going to LA, and they knew some people at HBO. In the following season of the show, the character Miranda was supposed to be having a baby, so we gave them some photos to take over, and had an email back saying they wanted to use one of our pushchairs. It was a great opportunity, which allowed us to open up a store in New York the following year. The good thing was that, thanks to this, we were taken seriously in the US. Later on, because of the success in the US, we were able to develop our success in Europe. This was the point from which we truly became an international brand. Another big moment was in 2008. That year, we were hit with a recession and we knew we had to make a decision: to quickly sell everything, or to invest in a new product – the Donkey pushchair. Eventually, that's what we decided to do. We invested a lot of money into it in 2011, and we quickly increased our ROI (Return On Investment). This was the proof that you need to believe in yourself, and stick to what you believe in.
What's the story behind the name Bugaboo?
As part of his final design piece, Max had to pick a name. So, he looked in the dictionary and saw the word "bugaboo", which is a similar character to the Bogeyman. He not only felt that this was a good name for the market, but that it also showed our rebellious side because we don't do things like other companies. He also thought it could be an international name.
And how did your logo come about?
At first, he used a different logo for his project. And then, when I arrived, we talked about the idea of mobility. Max wanted something that showed movement and that was less childish. He always had circles in mind, the notion of continual movement with a nod towards James Bond! In the end, we decided upon a more mature and stylish logo.

What makes up your brand's DNA? How would you define it in just a few words?
Of course we want the best for children but the design is really made with fathers, and parents, in general, in mind. They want to be comfortable too, and free. They need to feel that pushing a pushchair isn't a burden. They don't have to ask themselves, "How am I going to go out with this?" or "In the snow?" Max wants parents to be proud. We could define Bugaboo in three words: Smart (a complex design for a simple result), exciting (we want parents to feel excited, to want to take their children out for a stroll), and pragmatic (we design pushchairs to be as simple as possible. No faffing about. Everything you need is integrated into the pushchair).
What do you like most about your job?
I love working in marketing, but only for companies who are passionate and who have consumer expertise. And I love design. I don't have children so, when they came to me and told me that their brand made pushchairs, I wasn't sure. But I visited their offices and Max told me all about his concept surrounding mobility. He showed me the products, the different possibilities and all the innovation, design and styles they could offer. I knew this was going to be great for mothers and fathers all over the world. I was already falling in love with the company. I knew we had something that was really different, by offering complexity in its simplest form. Fifteen years ago, we really made a difference. It's great to be a parent, but you also want to stay yourself. The focus was really on fathers, and that was new as well. We even worked with fashion designers too, which lead us to be featured in Elle magazine in 2005. The brand was creating interest among both design and business magazines.
How did your collaborations with fashion designers come about?
For the most part, fashion designers really like the Bugaboo lifestyle and the design. We followed the trends among parents who wanted to show their own style. We worked closely with brands like Missoni, for example. They're known for their feathers and prints, which they brought to our brand, and we also created woollen blankets with them. They really understood our creative essence. With Viktor & Rolf, the possibilities were endless and they added fun elements like tattoos. They wanted to design three different stories. The most important thing is to tell a story. We follow after.
What are your main sources of inspiration?
We have a lot of ideas, but our concept takes a lot of time to develop. Max really loves cars, particularly Mercedes-Benz. He could spend hours talking to you about why he loves them so much. He feels that, throughout the years, they have created new elements unlike any other brands. Frank Lloyd [Wright] is another big inspiration too. He created the Johnson & Johnson building in 1939, he had a strong vision of what he wanted to create – and it worked. If you believe in your concept, you mustn't let it go. We try to make the impossible possible. Max always pushes limits. Our main inspiration is the notion that you have to believe in yourself. If it looks nice but doesn't work, no one will want it, and vice versa. That's why it takes so long to develop.
What are your best sellers?
Bugaboo Cameleon is still our best seller to this day. Sales haven't ceased to grow since the early years. Then we launched the Bugaboo Bee and other models but it's not about hype, all our products evolve and progress. We do our best to ensure that the concept is as good as possible, and that the pushchairs are long-lasting. The result is its final value, it's a real investment. That's what I like most about this product; it's truly high-quality. We hear great stories at Bugaboo, about different children who have all used the same pushchair, or about people who sell their used pushchairs on eBay and give them a whole new second life.

Is there a different pushchair adapted to each city?
The good news is our products are all international! The Bugaboo Bee is the most relevant for the Asian market, because people mainly live in cities and in apartments. The Bugaboo Buffalo sells well in Nordic countries because it's practical for the snow. In Paris we see a lot of Bugaboo Bees as well. In Asia, they mainly choose brighter colours, contrary to in the UK, for example. In the future, we could really create a specific pushchair for each city.
You're based in Amsterdam. Can you tell us about the company?
We grew very quickly. We work with 84 designers and engineers and our headquarters comprise of 325 people. We sell in 49 countries with offices in France, LA, the UK, and Shanghai. It's nice to have our own factories in each country.
You created "Bee in the city" so that people can post photos of their kids in their pushchairs. Can you tell us about that? Is it important for you to create a particular relationship with your clients?
We observe a lot about our clients when they're out and about on the streets. On this website, people register and like to ask questions, which allows us to get a lot of insight that helps us develop our products. We try to identify the things that we're doing right; we want to help and fulfil our users' needs. They send us stories and pictures. With Facebook, Instagram and other social media platforms, you can see the excitement. They're stylish, they inspire us enormously, and we learn a lot from them. People can also create their own Bugaboo on our website – they can choose the seat, the design, we need to work more and more towards that. It's a way to stay relevant with our clients and to anticipate what they want.
What would be your brand's motto?
We have many! It's really about enriching our users' lives, so it could be, "Allow people to move freely in their world". We also say that we create a "new mobility concept", which is a long process. And finally, "Let your beliefs rule", the idea that you should always believe in yourself.
Do you have any new projects coming up?
We launched a new product in September 2016 - nothing to do with pushchairs, but still about mobility. We'll see it in public places and it will change people's daily lives. It's a new form of luggage. It's very innovative and will allow users to rediscover the pleasure of travel.
What are you the most proud of?
Our product performance, and the fact that we make a difference to people's lives. I don't have children, but two years ago I became a step-grandmother. I use the Bugaboo Donkey and I go running with it. It's part of my life, of who I am. It's amazing to be able to be yourself while embracing your new role as a mother.

Discover all of our Bugaboo models, online and in our Parisian concept store on 81 rue du Cherche-Midi - 75006 Paris.
Close
We are sorry to inform you that this brand does not deliver to your selected country of delivery.