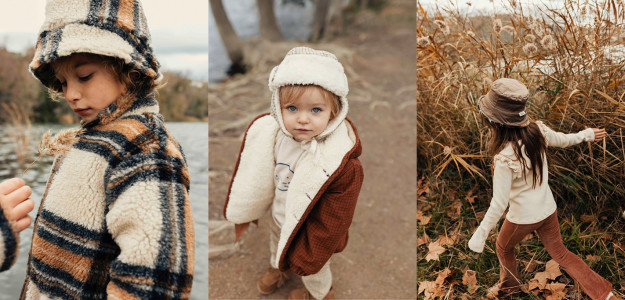 Búho
Búho is the Spanish brand whose goal is to make your kids' new favourite clothes, items they won't ever want to part with or take off. Created by Inès, a mother of two, Búho clothes represent a laidback, bohemian chic spirit, while being comfortable and easy to wear. Its collection for babies and children (from 3 months to 12 years old) are made with care and respect from high-quality materials in Spain, Portugal and France. The brand pays particular attention to colours, employing a number of complex washing and dyeing techniques to create the most unique and imaginative hues. For clothes that are effortless, well-made and that you will be happy to see your kids wearing every day, look no further than the range from Búho.
Find out more
interview

Inés Surinyach
and Olivier Andrieux
Inés Surinyach and Olivier Andrieux, founders of the children's fashion brand Búho, welcomed us into their apartment and office in Gràcia, one of Barcelona's nicest neighborhoods. With their soft, organic fabrics, their unique colours and their distinctive motifs, Búho have created a universe that is sweet, chic and bohemian. Qualities that describe not only their collections, but also the spirit of Inés and Olivier, who work in tandem every day to meet their very clear sustainability objectives. As Búho prepares to celebrate its tenth anniversary, Inés and Olivier recount how their brand came to be, the process behind the creation of their collections, where they draw their inspiration, but also what the two do during their free time.

INÉS, CAN YOU TELL US ABOUT WHERE YOUR INTEREST IN FASHION COMES FROM? WHEN DID YOU DECIDE TO LAUNCH YOUR OWN BRAND, AND WHY?
Fashion has always fascinated me ever since I was little. My grandmother had a sewing room and I loved spending time with her in there, amongst all the offcuts, making little dresses for my dolls. I also loved drawing and creating different outfits. Later on, I studied design and then worked for an international fashion company for a number of years. When my children were born, I decided to launch my own children's fashion brand, which had been a dream of mine for quite some time. Three years later, the project expanded, which is when Olivier joined the Búho adventure.
HOW WOULD YOU DEFINE BÚHO'S DNA, AND HOW HAS THE BRAND EVOLVED OVER THE YEARS?
I like to say that Búho's DNA can be characterised as "effortlessly chic". We're a relaxed brand, with a touch of elegance. Depending on how you style them, the clothes can be worn both as everyday pieces and for special occasions. They are versatile pieces made from the softest fabrics. When we create our clothing, our aim is always that it is comfortable and that it is made from sustainable materials. We produce all of our clothing locally, mainly around Barcelona. Our fabrics come from Spain, France, Italy and Portugal and we use a number of natural materials, mainly organic cotton and linen in summer.
WHAT DO YOU THINK SETS BÚHO APART FROM OTHER CHILDREN'S FASHION BRANDS?
We believe it's very important to remain true to the brand's identity and to be proud of it. We believe that's what sets us apart. Since the beginning, Búho has had a strong identity, notably with its influences from the South of France, from Provence. We make clothes that are both relaxed and elegant. It's something that is reflected in all of our collections, since the very first one that we launched in 2010. We love creating our own motifs because it reinforces the brand's identity and makes it even more unique. For us, it's important to maintain this stylistic consistency. We therefore chose to combine three factors that we believe are fundamental: style, comfort and sustainability.

CAN YOU TELL US ABOUT THE CREATIVE PROCESS BEHIND THE BRAND'S COLLECTIONS?
I always begin with the fabrics. For me, choosing them and bringing them together is very important. I then move onto colours and motifs, and at the same time, I create mood boards from images that inspire me. Travelling also helps me a lot. I love everything aesthetic, home décor, colours, textures. I'm inspired by anything handcrafted. Ceramics, paintings, flowers… even the style of certain films or pieces of music! Sometimes I find myself listening to the same melody again and again during the creative process.
WHAT DO YOU LIKE MOST ABOUT YOUR WORK?
What I like most about my work is the process of launching a collection and the photoshoots: seeing the pieces on the children, the different outfits…. I also love when our customers send us photos of their kids wearing our clothing, seeing them take on that relaxed chic style that suits them so much. It's these kinds of moments that are particularly satisfying.
HOW IS THE BÚHO TEAM STRUCTURED?
I am responsible for the design and production process, while Olivier is in charge of sales management and marketing. We're a small team of only seven people.
THERE IS NO DOUBT THAT WE'RE CURRENTLY GOING THROUGH AN UNPRECEDENTED TIME. HOW DO YOU THINK THE CHILDREN'S FASHION INDUSTRY WILL EVOLVE POST-COVID-19?
We believe that the online aspect will become more important. Consumption patterns are changing, and people are now buying less and buying better in order to use things longer and to reduce waste. During the lockdown, there was a certain awakening. A lot of people began to worry about the planet, about the environment and about quality. And we're very happy about it.

WHAT DO YOU LIKE TO DO DURING YOUR FREE TIME?
We love to travel, and to escape to the mountains or the sea with our children. For fourteen years we lived in a small village outside of Barcelona. Now that we're back in an urban environment, we miss it a lot, so on weekends we like to take trips to reconnect with nature. During winter, we love to go skiing with the family. We also love arts and crafts, flea markets that sell furniture and home décor as well as discovering new little corners of paradise.
WHAT ARE YOUR FAVOURITE ACTIVITIES TO DO WITH THE KIDS IN BARCELONA?
We love to go on bike rides with them. By bike, you experience the city in a completely different way, making it easier to appreciate the little details. We usually stop off at the artisanal Parallelo ice cream shop, and we love wandering through Barcelona's Gràcia and Born districts where you can discover new little boutiques. The children also love going to Cosmocaixa, as well as the cinema.
A BOOK RECOMMENDATION:
Only Love Is Real by Brian Weiss
The Kite Runner by Khaled Hosseini
A FILM RECOMMENDATION:
Bohemian Rhapsody
WHAT ARE YOUR DREAMS FOR BÚHO MOVING FORWARD?
Our dream is that Búho doesn't lose its identity and that it stays true to its style. We also want our pieces to become the favourite items of clothing for children who wear them, because this means that they feel comfortable in them. We want our clothing to have an emotional component. We're focused on sustainable fashion and responsible consumption, which is why we're so happy to see how the public's attitude towards the environment has changed. We hope that this will continue to develop and translate into direct action that will allow us to take better care of our planet.
Close