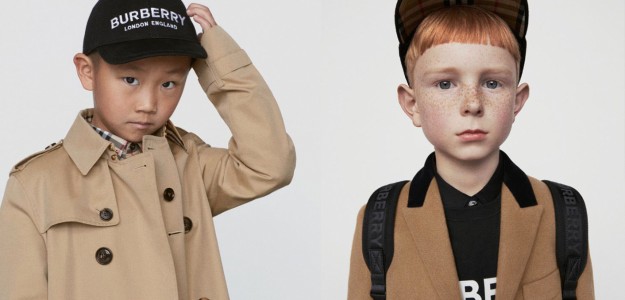 Burberry
Burberry, the iconic British luxury brand, was founded in 1856 by Thomas Burberry. The fashion house's trademarked gabardine
trench coats
and signature Burberry checks are instantly recognisable across the globe, and synonymous with timeless elegance. Not just for the catwalks, Burberry also creates inimitably chic
designer kids' clothes
. From polo shirts and chinos to mini trench coats and dresses, Burberry's children's collections are inspired by their mainstage ones ensuring kids aged 0 to 14 years are always looking their finest.
Find out more
THE BURBERRY STORY

Founded in 1856 by Thomas Burberry, Burberry is one of England's oldest and most famous luxury fashion houses whose creations are renowned and sold all over the world.

A HISTORY OF INNOVATION
After gaining experience working in a shop, Thomas Burberry, a young tailor, decided to open his own specialising in coats. Never could he imagine that his creations would make history and still be worn today, feeling current and relevant, more than a century later. Just a few years after its launch, Burberry developed gabardine, a revolutionary material, which gave rise to the birth of the tielocken coat, a predecessor to the now famous trench coat. This lightweight, waterproof material, invented by Burberry, would go on to be used in sectors far removed from the Fashion Week catwalks. First used by the English army to create coats for soldiers, then for polar and aviation explorations, Thomas Burberry's gabardine fast became an essential element in both technical gear and rainy weather fashion, a necessity in the UK.

PRODUCT EVOLUTION
Stepping out from the trenches and onto the catwalks, as the century roared on so did Burberry's offering. The British luxury label has since found its place on the world's top catwalks and is a must-see show during London Fashion Week. Now renowned throughout the world for its timeless trench coats and inimitable Burberry check scarves and accessories, Burberry remains resolutely modern with artistic directors both past and present continually seeking to innovate collections. As much can be seen in Burberry's children's collections, which are inspired by their mainstage lines and always elegant.

A staple in any mini fashion-lover's wardrobe, Smallable is delighted to present the latest collection from Burberry Children.

Close