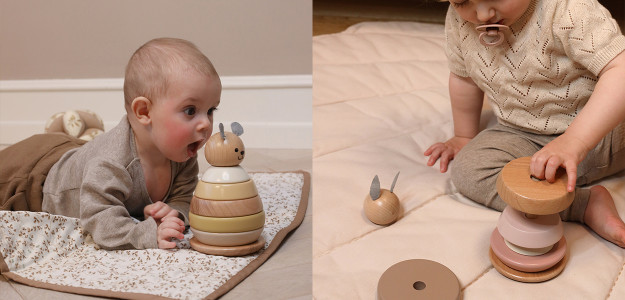 Cam Cam
Born from a love for babies and children, and the belief that they deserve the very best, architects Sara Giese Camre and Robert Warren Paulsen created the
baby care
and lifestyle brand Cam Cam in 2012. The Danish brand's design focus is on sustainability; meaning sustainable, organic production, as well as creating products that will stand the test of time and be loved for generations to come. From nursery and children's room décor to
soft toys
, bedding and useful accessories, such as
changing mats
and baby bags, Cam Cam products are not only made responsibly from high-quality GOTS organic cotton, but charming and timeless with their soft colour palettes and soothing patterns. Good to the planet and great for creating a cosy family environment, when it comes to Danish design for babies, it doesn't get much better than Cam Cam.
Find out more


Interview
Sara Giese Camre et Robert Warren Paulsen
Cam Cam Copenhagen is run by architect couple Sara Giese Camre and Robert Warren Paulsen. The baby care and lifestyle brand creates poetic products that transform children's environments into calm and cosy havens. We recently visited their lovely offices, in the center of Copenhagen, to talk to the duo about the evolution of the brand and their design processes.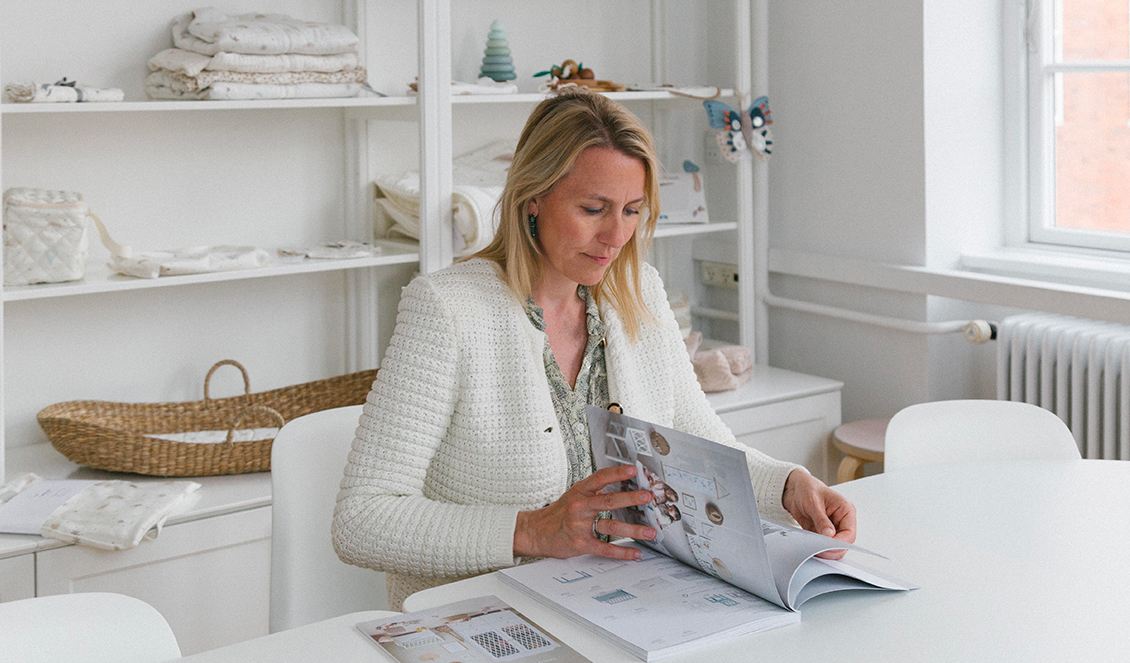 Can you tell us a bit about yourselves? Who are Sara Giese Camre and Robert Warren Paulsen?
We are the founders and owners of Cam Cam Copenhagen and we are also married. Sara founded the company in 2012 and then Rob joined a couple of years later. We both have a background as architects and worked as such for many years.

How did the idea for Cam Cam Copenhagen come about?
Sara: I founded Cam Cam Copenhagen after we had our first child. I was working as an architect at the time, and I was wanting to create the perfect scandi-style nursery for our daughter. However, I couldn't find any products on the market that matched my idea of scandi-style - baby products that were timeless, poetic and organic. It was all very 70s at the time, very bright green, purple and brown mixed together. So I started designing the products I wanted myself.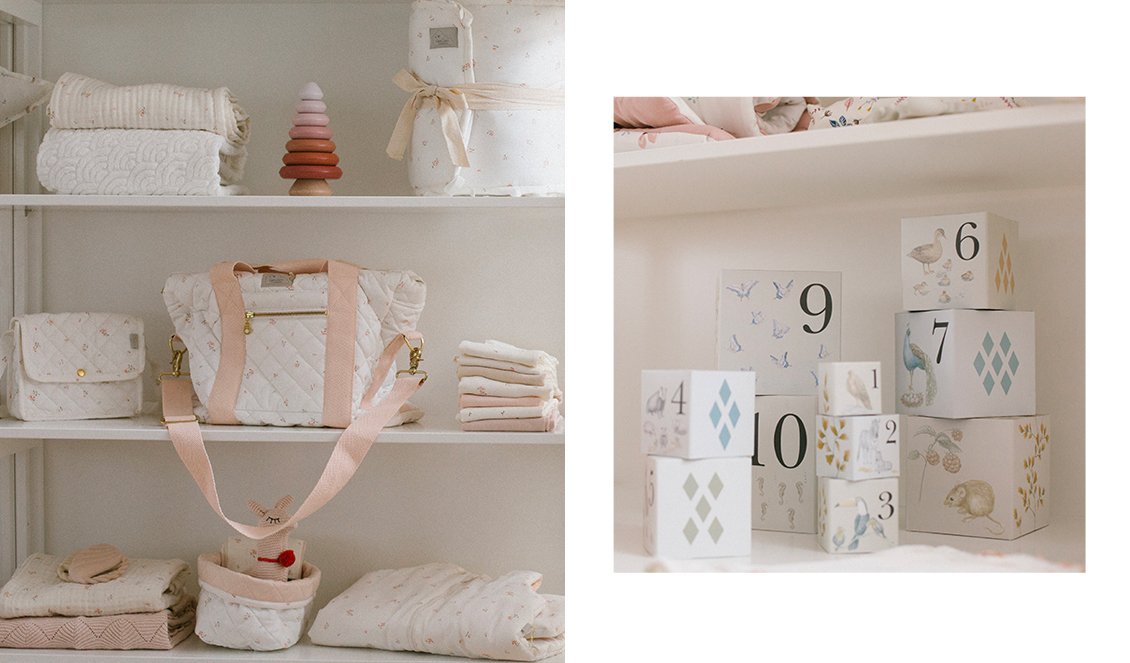 What's the story behind the name Cam Cam?
Sara: It is a nickname for me, because my surname is Camre.

What were you hoping to achieve when you first created Cam Cam Copenhagen ?
Sara: I wanted to create beautiful and sustainable products for families' special moments. The first designs I made were actually some baby patchwork blankets for two of my closest friends, who gave birth around the same time as me. I thought it would be so nice for them to have a beautiful blanket for their baby to lie on, for all those months before the baby starts to crawl around. I had one when I was a baby that my grandmother had made for me and I got it from my parents when I became pregnant. It was really special to me and I used it for our own children. I wanted to create something, which could have the same value for other parents, something they would treasure and keep for their grandchildren, perhaps.

Could you describe each of your roles in the company today?
Sara: I'm Creative Director and work on the design of the brand. I also work a lot on content creation, PR and marketing.
Rob: I'm also Creative Director and work on design and production. I am responsible for the furniture line we have. I also work on the store concepts and merchandising, with our retailers.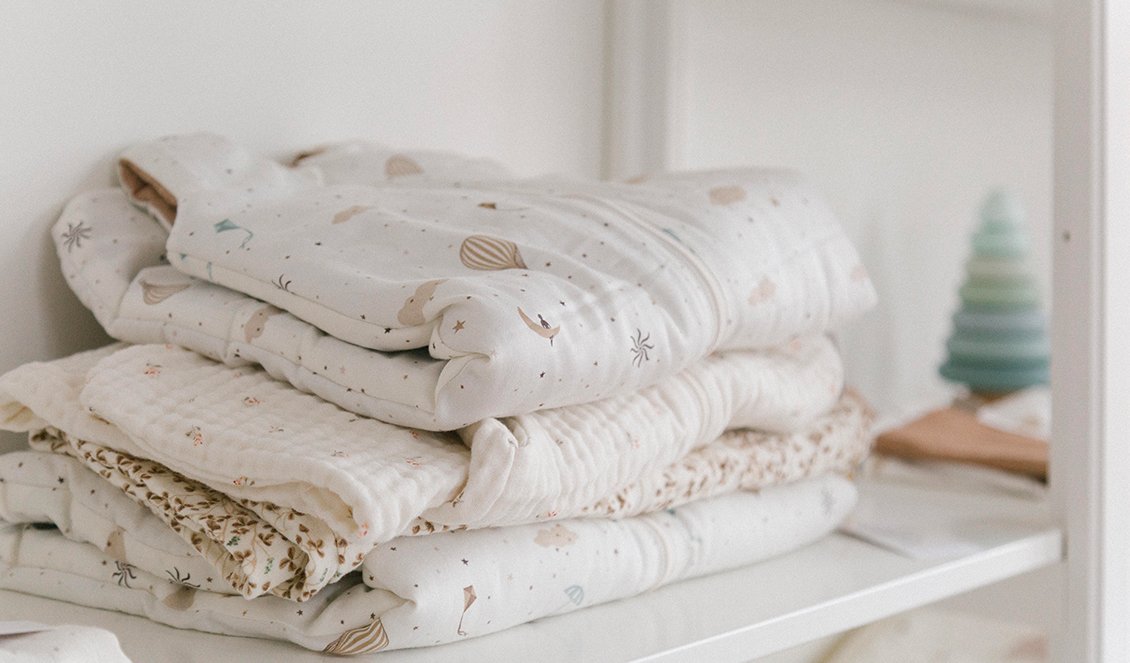 What are the advantages of working with family?
Sara: I think we have a very good work-life balance and we both have the same focus. We also love to talk about the company and plan ahead, so it gives us a big common project that ties us together. Before Rob joined me at Cam Cam Copenhagen, he had his own architectural studio and we had a lot of discussions about who had a more important meeting, who should pick up the kids or who had the right to use the car that day, because we had two different focuses. It became sort of a competition and fight for each person's company.

Where do you find inspiration?
I find inspiration everywhere, but especially when travelling. It can be the colour of an old door in Paris or a beautiful artwork. It can also be some hand-painted tiles in an old castle, some flowers or a film or book. I think being creative you are just more sensitive to your surroundings and absorb all sorts of impressions. You rarely know where the inspiration comes from, it just comes from that inner 'library', which you collect over time.

How would you describe Cam Cam Copenhagen's identity?
Poetic, romantic, timeless Scandinavian, with a touch of vintage. And sustainable production, of course.

Where are the brand's collections produced?
All our furniture is produced in Latvia by an FSC-certified manufacturer: so it's European wood and when they cut down trees for production, they have to replant new trees.
All our organic, GOTS textile products are produced in India, which makes sense, because that's where the cotton grows. A GOTS-certified manufacturer also means that they have to live up to a long number of social criteria, so the working conditions are good and I believe that we can affect the general working conditions in India and other Asian countries in a positive way, by demanding that they become GOTS-certified.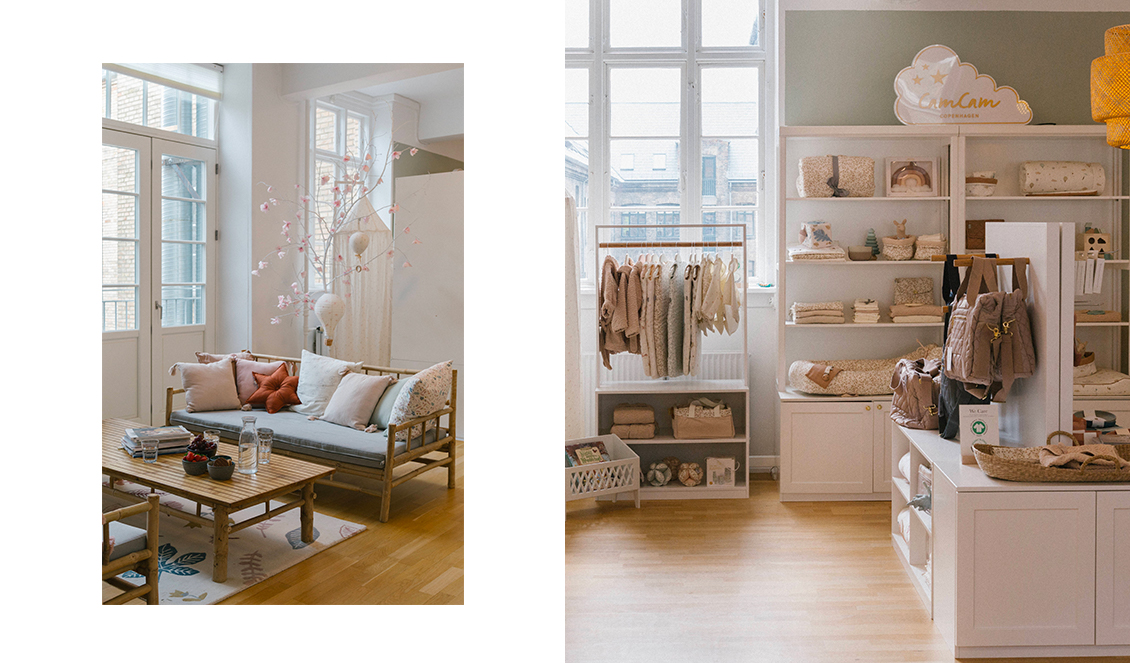 What does Cam Cam mean to you and what values would you like to pass on to your children?
Sustainable values are something which are very important to us. I think it is the only way to produce and consume now. We also teach our kids to take care of the planet in many ways: re rarely eat meat; we buy everything we can organic; we buy few clothes and other goods, but we buy good-quality items that last for a long time; we spend most of our holidays in Denmark; we ride bicycles to work and school; and we've ordered an electric car. I think all of this will have an impact on them as well and they can take these values with them in their adult life.

Smallable lovers are always keen to discover new places. You are based in Copenhagen. Do you have any favourite spots that you'd like to share with us?
Oh there's a lot to see in Copenhagen, if you haven't been here before. But I would recommend Frederiksberg Garden, dinner at Mielcke & Hurtigkarl, a visit to the Zoo (if you're coming with children). A trip around Christianshavn, have lunch at Bådudlejningen (placed on the water on one of the canals), take a boat trip around the canals. Visit Glyptoteket Museum, Thorvaldsens Museum and some of the cool galleries, like Gallery Nicolai Wallner, Gallery Martin Asbæk and Gallery Nils Stærk. If you want to go shopping (for mums), then one of my favourite shopping streets is Store Strandstræde.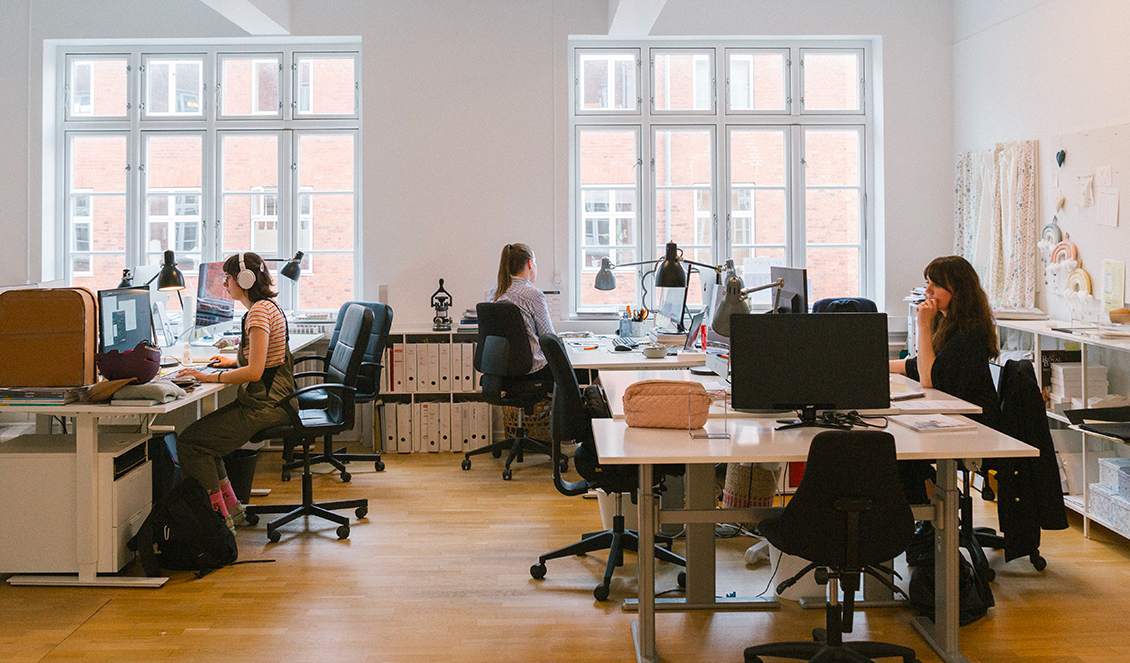 Close