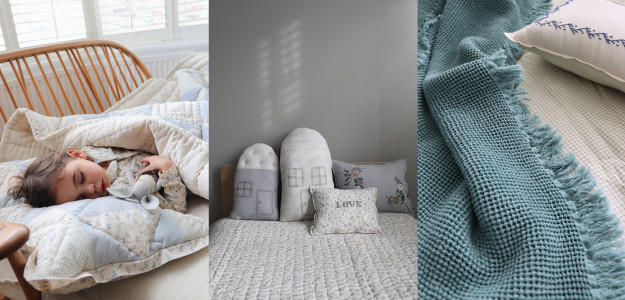 Camomile London
Camomile London was created by mother-daughter duo Helen and Daniela Boleto. Specialising in high-quality bedding for babies and home linen, the brand offers a beautiful range of
cushions
,
baby sleeping bags
,
cot bedding
and more in distinctive colours with delicate, slightly nostalgic prints. When designing the Camomile London line, Helen and Daniela take inspiration from Scandinavian minimalism, Japanese block prints and vintage design, among other things. The brand's products are designed in London, and carefully crafted in India and the UK using 100% cotton and soft muslins. Ideal for decorating nurseries or as a
new baby gift
, the collection from Camomile London is all about effortless style and helps create stylish, cosy spaces that both children and adults will love.
Find out more
interview

Camomile London
Interview with founders Helen & Daniela
Camomile London is the work of a mother-daughter design duo based, as their brand's name would suggest, in London. This beautiful brand is the fruit of their combined creative vision, experience, intuition and passion. Together, the pair create timeless designs with a contemporary twist, working with a sophisticated colour palette. Each piece in their line is unique and delicate. When we visited Helen and Daniela in their cosy offices, we could immediately see the affection and complicity between the two. Over a delicious cup of herbal tea, kindly prepared by Helen, we spoke with the duo about how Camomile London started, what working with family is like and what day-to-day challenges they face.

Camomile London is a mother-daughter operation. Helen and Daniela, could you tell us a bit about how and when Camomile London started?
Helen - Camomile was created after the birth of Daniela's first son. We noticed very quickly that there was a lack of creativity and style in the children's interior sector. We have a similar sense of style and taste level and we started a design process very quickly without really thinking, pulling things together from our archive to create a look for Leo's [Daniela's son] nursery that we really liked. The seed was planted very quickly and our creative process began without us realising it but we had given birth to Camomile.
Daniela - Both mum and I come from established womenswear design backgrounds so we understood all that was needed to start a business and the creative process through to production and final product. After the birth of my son I realised that what I wanted to put my creativity and passion into was my own business - not spending all my time working late and creating for someone else. During pregnancy you really do have the nesting effect and spend a lot of time preparing your home. This really pushed my creative energy into interiors so it felt very natural to start a business focusing on my new passions, children and interiors, with the person whose style I admire the most: Mum's.
How did the name of the brand come about?
Helen - It's probably one of the hardest things to do - to create a name for a brand, but somehow it came to us in a funny way.
Daniela - We spent a lot of time trying to think of a name that described our bedding collection, which had a calm, caring and relaxing feel and sound. After a very productive morning, we sat down for a five-minute break and a lovely cup of camomile tea and Mum said as a joke, "Why don't we call it Camomile." We laughed but then realised that actually the name worked.
Helen - It just felt like the right fit, calm, relaxing and just what we wanted our designs to feel it. We added London to it as we wanted people to instantly know where the designing was coming from.

How is your team now structured?
Daniela - Creative Director. Oversees all the designing, photography, website design and brand identity.
Helen - Merchandising, production, wholesale and logistics.
Pino - Accounts, sales and budget/forecasting, warehouse
Can you describe each of your roles in the company today?
Daniela - I design and create the collection, whilst constantly having the creative support of Helen. I started doing all of Camomile's photography at the beginning to keep our costs down, however I loved creating the vision so much that I still do all the photography myself, most of which is done in our in-house studio. I also oversee the website development and daily running of the site.
Helen (mum) looks after the production and merchandising of the collection. This is a hard and extremely important role. Helen had her own designer kids' clothing label in the 80s and early 90s and she managed her own factory so she understands product from the beginning to the end. Her knowledge of production is invaluable and I couldn't have created Camomile without her knowledge.
After a few months of business, we convinced my father, Pino, to also join the team and he oversees our accounts and manages the warehouse team. We have now created a small and wonderful team of five people that is 'the Camomile family'.


What are the advantages of working with family?
Helen - Every family is different. For us it works because we have respect and understanding for each other's needs - at work and within the family environment. We are a very strong team and we can be supportive, flexible and help share responsibilities when necessary. Also, we can have the grandchildren with us when they are on school holidays. It's complete chaos but wonderful.
Daniela - The best thing about working with family is the total commitment you all have to the business and making it succeed. Because we are a family we know this is for our future and that creates a passion I haven't experienced when working of larger companies. We laugh and cry together and have complete trust in each other.
What do you like most about your jobs?
Daniela - The creative freedom. It isn't very often that a designer gets to create collections based on their vision alone without the constraints of buyers and merchandisers. With Camomile we create products that we want in our own homes, creating effortless styles often forgotten when thinking of children's interiors.
Helen - For me it's working alongside Daniela, creating this wonderful brand and seeing it grow and develop. Working with a great production team who also feel like part of our extended family in India, who are committed to producing a beautiful collection to our high standards. It's a pleasure to come in everyday and our destiny is in our hands.
Your collections are designed in London and handcrafted by artisans in India and the UK. Can you explain the process and how the collections unfold?
Helen - We are continually sourcing old vintage pieces, embroideries and fabrics during our many trips to India or markets all over. The collection could start from one vintage embroidery and inspiration with grow from there. Daniela and I share time together to bounce off ideas and then she takes over and creates this wonderful brand - ensuring that it layers onto and enriches the existing collections.
What are your sources of inspiration?
Daniela - We are inspired mostly by our travels. Helen and I spend a lot of our spare time rifling through flea markets from Paris to New York looking for beautiful gems of inspiration. We love vintage and retro furniture finds that we use in our photoshoots and cuttings of vintage wallpapers that we can redesign and turn into prints. We spend a lot of time visiting our artisans in India. They are our greatest inspiration. Watching them work and discovering new techniques, which to them maybe old-fashioned classic quilting or embroidery methods, often inspires us to create exciting new designs. It is such an honour to watch them work and be around their skills, especially when it is becoming harder and harder to find artisans who still have and want to do this kind of skilled handwork. So much has been pushed into computerised production the element of handwork is becoming scarce. India is such a colourful, vibrant and textured country it is impossible to be there and not be inspired.
What are dreams for Camomile LondoN ?
Helen - Our dream is for Camomile to have a few flagship stores: first stop, London
Daniela - I would love to see Camomile London evolve into a lifestyle brand for the whole family. We have recently grown our collection to include adult-size bedding after customers kept asking for larger sizes. The collection we are working on now for next year has some stunning pieces which are created not just for bedroom interiors. We can't wait to reveal them next year.
What do you like about Smallable?
Daniela - I discovered Smallable when I was pregnant with my first born back in 2012. It quickly became my go-to shop for all of my son's clothes, which I bought before he was even born. I had never come across a store with such a great selection of brands. After my first few purchases I realised that Smallable only stocked brands that provided a quality product, which allowed me to trust their judgment and shop freely. I have watched Smallable evolve and absolutely love that I can now shop there for myself as well as my children. When Smallable started supporting us at the very beginning of Camomile's journey I felt very proud and honoured to appear alongside all its chosen brands. The store gives people the freedom to mix and match their style pulling the best pieces from all around the world and delivering to this its customers in one simple box. Perfection!
Helen - We love Smallable. Smallable has supported us from the first time we showed our collection at Playtime Paris. Cécile came to our stand and was very complimentary and sent her buyer to place an order. We have worked together now for nearly four years. All the team members are so friendly and the company has a really positive feel. We like the fact that in this very saturated market, Smallable have the ability to source new brands that work well within the lifestyle sector.
Rapid Fire Questions with Daniela
A FILM?
Romeo + Juliet by Baz Luhrmann
A SONG?
Cold little lies by Michael Kiwanuka
A BOOK?
The Alchemist by Paulo Coelho
Your favourite restaurant in London?
My mum's cooking beats any restaurant! She is a master chef, just one of her many amazing skills.
Your favourite activity to do with kids in London?
My boys love to discover and explore many of London's beautiful green spaces. People often mistakenly think of London as an overbuilt city. However, we have some stunning parks and protected spaces. In the summer a visit to Kew Garden is a must. They put on great events for the whole family. During the colder winter months, we spend most of our Sundays visiting museums and galleries. We have been to the Natural History Museum so many times I think my children could be tour guides but at 4-and-6-years-old it's their idea of heaven.
Your favourite place for family holidays?
Halkidiki, Greece has become our new favourite place. It is essential that we breathe in the fresh pine air and see the magical clear turquoise water and white sand at least once a year. I find nothing heals the soul and prepares you for another full-on year ahead then spending time with the kids enjoying these simple pleasures and wonderful food.
I am half Greek Cypriot and half Italian so we split our holidays in order to teach our children about their wonderful heritage.
Close