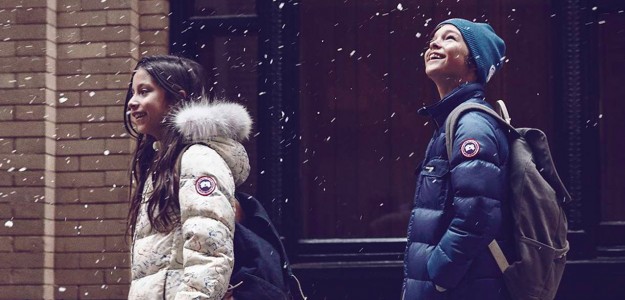 Canada Goose
Canada Goose was founded in 1957 in Canada, where all of its products are still manufactured. Canada Goose products are made for Canadians by Canadians. This trusted brand has chosen the most insulating down fill and hand crafts all of its outwear with care and great attention to detail. Canada Goose has earned a reputation of being one of the warmest outerwear brands. Canada Goose not only provides excellent protection against cold temperatures, but are one of the most innovative brands on the market. Certain styles from the brand allow the user to extend its sleeves and trouser legs so that it grows with your child, making it an irreplaceable winter essential for everyone.
Find out more
The Canada Goose Story
A family affair
A real family success story, Canada Goose was the brainchild of Sam Tick, who came up with the idea for the brand in a Toronto warehouse in the late 1950s. Known originally as Metro Sportswear Ltd., the label mainly produced woollen outerwear and raincoats for outdoor workers. A far cry from luxury fashion, Metro Sportswear Ltd. designed practical clothing that was durable and warm.
From Metro Sportswear Ltd. to Canada Goose
Sam Tick's son-in-law, David Reiss soon convinced him to rename Metro Sportswear Ltd. to Canada Goose, which has since become a Canadian icon. Little by little, goose down replaced wool and the label's warm garments set the standard in the fields of sport and science. In 1982, Canada Goose was selected to equip scientists on polar expeditions and mountaineers such as Laurie Skreslet, the first Canadian to summit Mount Everest, who immortalised the brand by wearing one of their parkas. With down jackets, parkas and clothing designed to protect from the cold, Canada Goose became an ally to all adventurers, both amateur and professional, and they even went on to dress famous musher, Lance Mackey for one of his expeditions.
Designed to withstand the lowest of temperatures, Canada Goose products are not only perfect for enduring the bitterness of the mountain, but also for winters in the city! Discover our selection Canada Goose
boys'
and
girls' jackets
on Smallable.
Close
Displaying 11 out of 11 items