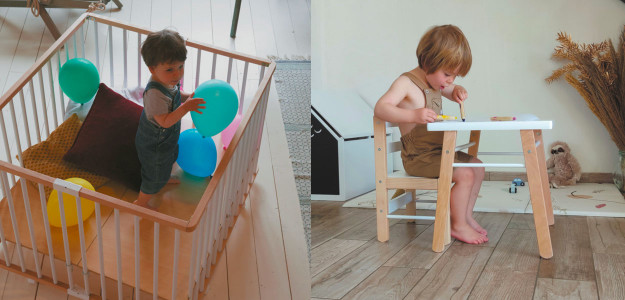 Combelle
Based in Cantal, France, Combelle has been specialising in nursery items for nearly a century. Wholeheartedly trusted by parents, Combelle uses a variety of natural woods to contruct all of their pieces. From their baby beds, high chairs to changing tables, all Combelle pieces are built to last. Since the birth of the brand in 1926, their concept has evolved and Combelle has successfully combined tradition and modernity. The makers at Combelle are experts in all things nursery and are dedicated to providing high-quality and advanced products.
Find out more
The History of Combelle

Combelle is a well-regarded brand in the childcare industry. Known for its expertise and excellence of French manufacturing, they offer an extensive selection of top-of-the-range children's furniture.
Combelle's story begins in 1926, when Marcel Combelle, who at the time manufactured umbrella canes. Combelle decided to use his unique curved wood technology to innovatively apply it to a new industry, the world of childcare. This technique would be passed on from generation to generation, enabling Combelle furniture to evolve and adapt to changing trends.
In 2015, the brand joined the Candide Baby Group, a manufacturer and distributor in the childcare sector. Combelle draws its inspiration from the mantra "The Tree Shapes the Product". This is why they hand-pick their beech wood from forests located in Auvergne, France before sending it off for production in the town of Marmanhac in Cantal, France.
Since 1926, the business has come a long way. But it is still innovating today. Combelle is always in search of the most modern design, attention to detail and of safety for little ones so that they can enjoy their furniture, whether it be a bed, high chair or table.
Browse the Combelle range on Smallable.
Close