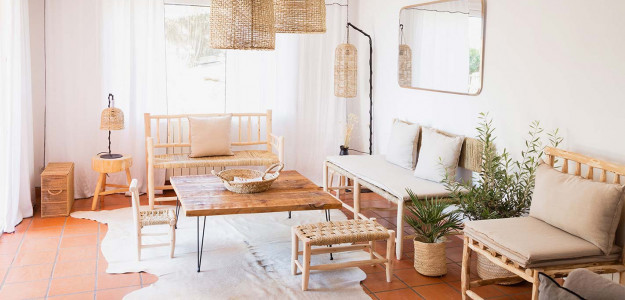 Cosydar
Cosydar is a French brand founded in 2014 by Yasmina El Omari Jaulin. The brand specialises in well-made decorative objects and décor products sourced from local artisans around the world. Cosydar's bohemian collection is made up beautiful baskets, small furniture items, mirrors, lighting and more. Embracing rustic looks and slightly unfinished textures, the brand's signature materials are wood, palm leaves and wicker. Understated and original, the Cosydar collection is guaranteed to add an authentic touch to your home's décor.
Find out more
interview

Yasmina et Albert
The Cosydar universe is one of authentic bohemian spirit, that inspires wanderlust. Their exclusive artisanal pieces are made from wood, palm tree leaves and other materials that blend perfectly within different styles of interior and exterior décor. We caught up with Yasmina, Cosydar's founder, and her husband Albert who joined the adventure along the way.
In their gorgeous Barcelona boutique, Yasmina and Albert enthusiastically explain the ways in which their brand is developing. The seasoned travellers and lovers of hand-crafted goods also tell us about their new life in Barcelona, the sunny city known for its relaxed way of life.

YASMINA, TELL US A BIT ABOUT YOURSELF.
I was born in Morocco where I studied and obtained my degree in engineering. I have always been passionate about home décor, dreaming up pieces of furniture or homewares for myself and my family, that combined practicality and modernity. I also love travelling, boating, hiking and of course decorating.
HOW DID THE COSYDAR JOURNEY BEGIN?
I was living in Casablanca when I met Albert. Out of love, I moved to France. Prior to that I had worked for several companies in Morocco, my last job was creating and managing a subsidiary of a foreign company, a role which lasted 8 years! When I first arrived in France, I decided to try my luck and start my own business, one that would align with my passions so naturally I threw myself into home décor. The adventure began in the garage of our home in Limonest, in the suburbs of Lyon, six years ago.
WHERE DOES THE BRAND'S NAME COME FROM?
The brand's name is a reference to my creations: they're cosy and make your living space comfortable, and "dar" means "house" in Arabic, a reflection of my origins and to the natural materials I use to create my pieces.
IF YOU HAD TO DEFINE COSYDAR IN THREE WORDS, WHAT WOULD THEY BE?
Natural, chic, useful.

COSYDAR OFFERS A RANGE OF AUTHENTIC HOME DÉCOR PIECES. WHAT IS THE CREATIVE PROCESS BEHIND YOUR COLLECTIONS?
Firstly, I find the primary raw materials. Then I let myself go, which is rare… and I let my imagination run wild. Using these materials, I change them, shape them and make them functional, to create something that I would like to see in my own home. Then, in Morocco, in collaboration with local artisans, we assess whether my designs are feasible…
WHERE DO YOU DRAW YOUR INSPIRATION?
I draw my inspiration from the richness of the cultures and civilizations of the Mediterranean basin, and there's a lot to draw from.
SMALLABLE PARTNERS WITH BRANDS THAT TAKE AN ECO-FRIENDLY APPROACH TO THEIR PRODUCTION PROCESS. WHAT IS COSYDAR'S APPROACH TO THE ENVIRONMENTAL ISSUE?
Firstly, we use European and North African manufacturers. With so much local talent and know-how, why go looking on the other side of the world for something that is within reach? We also create pieces out of natural materials, our manufacturing process is artisanal, and I take care to recycle as much as possible. Above all, we guarantee that our pieces are timeless and made to last for generations. The materials we use may wear over time, but their beauty doesn't fade, in my eyes they develop a particular charm, and you become attached to them. All the treatments, paints and varnishes we use also align with our commitment to respecting the environment.
WHAT ARE SOME OF COSYDAR'S UPCOMING PROJECTS?
There are so many! We're currently working on developing some new product categories that we will be launching at the end of this year. But for the moment we're not revealing too much, we'd like to keep it a surprise.
COSYDAR WAS BORN IN FRANCE, HOWEVER YOU'RE NOW BASED IN BARCELONA. WHAT DO YOU LIKE ABOUT THE CITY?
We opened our first boutique in Barcelona because we love this city, and we wanted to offer a store whose concept didn't exist already. Barcelona has that relaxed Mediterranean feel, with all the advantages of a big city. Sun, four kilometres of beach, an incredible cultural and gastronomic scene…It's certainly one of the cities in Europe with the best quality of life and paradise isn't far away either…Formentera!


YOUR FAVOURITE RESTAURANTS IN BARCELONA:
El Gallito, a beachside restaurant with a lovely ambiance.
Cerveceria Catalana for tapas in the city centre
Mayura for its excellent Indian cuisine
A SONG:
La Bohème
A QUOTE:
"There are times when you can't help but mess things up: that is called enthusiasm" - Henri Meilhac
A MOTTO:
"Treat others how you would like to be treated"
WHAT DO YOU LIKE ABOUT SMALLABLE?
To start, I admire the journey the founders have taken, what they have built with their team in just 10 years…Hats off! Smallable is a real concept store that cleverly combines a physical and online boutique, with a sophisticated selection of designers and brands, and thanks to the magic of the internet, it's available to all!
Close