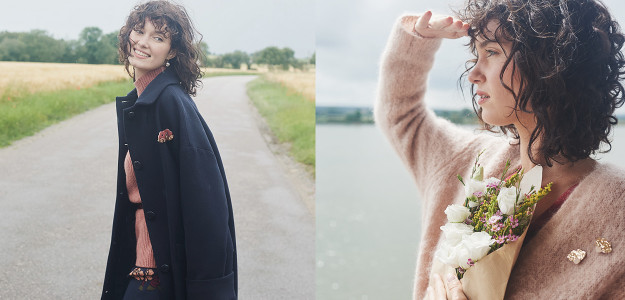 Des petits hauts
Created in 1998 by two sisters, Katia and Vanessa, Des Petits Hauts is the French women's fashion brand par excellence. The brand uses a pastel colour palette, soft, natural materials and elegant, on-trend cuts to create its romantic, arty looks. Des Petits Hauts speaks to a generation of teens and women looking for comfortable, quality staples without compromising on style. Each piece of clothing in their range is carefully created and full of delicate details; whether it be a glittery button handmade in France, intricate Calais lace or the snuggly softness of their cult jumpers and cardigans, 60% of which are made in Europe. Everyday essentials for women and teens that are feminine, modern and a little bit different, why not inject your wardrobe with a pinch of fun with the range from Des Petits Hauts.
Find out more
THE DES PETITS HAUTS STORY
Des Petits Hauts is a poetic
women's fashion
brand created in 1998 by sisters Katia and Vanessa Sanchez, who were on the search for the perfect little top. After studying at the prestigious Parisian fashion school ESMOD, Katia teamed up with Vanessa to create Des Petits Hauts, a brand with a different approach to women's fashion. Their complementary experience in the industry – one as a stylist, the other as a manager of prêt-à-porter boutiques – enabled them to carve out a perfect little niche for themselves in the fashion world. What started as a collection of beautiful tops in the perfect cuts –
T-shirts
, blouses, jumpers and waistcoats – has blossomed into a comprehensive women's collection now including
dresses
, trousers, skirts and jumpsuits as well as shoes and accessories.
Meticulous, with every little detail taken into consideration, Des Petits Hauts works with a talented group of creatives to make and showcase its charming and original garments. Quirky and creative, Des Petits Hauts has grown beyond a simple fashion brand that creates nice tops to create its own individual universe full of French flare, style and just a hint of glitter.
Close