Emile et Ida
French brand Emile et Ida is the fashion brand for happy days, creating clothes for kids and women full of intricate details and vintage charm. The brand's founder, Delphine, has fashion in her DNA; as the granddaughter of a tailor, she grew up surrounded by the beautiful fabrics and patterns of her grandfather. After working in the industry for several major brands, in 2010 she launched Emile et Ida. With beautiful, slightly retro looks that would feel perfectly at home in a Wes Anderson flick, the brand's collections reinvent classic styles in silky soft fabrics and timeless prints, including ones from Liberty. Emile et Ida also prides itself on its high-quality and ethical European production, based mostly Portugal. Creating whimsical, elegant pieces that can go from beach to big city, day to night, Emile et Ida's range caters to kids aged 0 to 14 years. Not just for kids, the brand also offers a charming women's fashion collection. Find out moreClose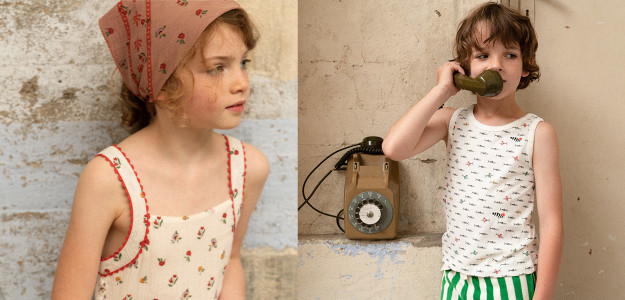 From one generation to the next
Growing up surrounded by the creations of her tailor grandfather, who also worked in children's fashion, in 2010 Delphine decided to follow in his footsteps, launching Emile et Ida. What started out as a playful but elegant
children's clothing
brand quickly evolved. In addition to its collection for kids aged 0 to 14 years, Emile et Ida now offers an equally as lovely line of clothes for women, and is sold internationally.
Another of the brand's strong points? Their attention to detail. Most notably with their prints and fabrics, which we always find exquisite, whether they be floral prints or delightful animal designs. No look is complete without accessories, so Emile et Ida also offer a range of accessories for children. The brand's bags are particularly swoon-worthy, embellished with the friendly faces of cats and creatures, and loving expressions. What child doesn't dream of having a sweet cat's face on a bag to hide their treasures in?
From socks and tights to floaty dresses, blouses, trousers, jackets, bags, shoes and hats, each season Emile et Ida inspires us with their creativity and designs that perfectly reflect the free-spirited, fun-loving wonder of childhood. Smallable is proud to present
the latest collection
of pieces for children and women from Emile et Ida.
Close