Enfance Paris
Enfance Paris creates natural and organic skincare for babies and kids. The French clean beauty brand was founded by Agnès Laffourcade after a chance meeting with a specialist in Phyto-chemistry and Phyto-cosmetology while visiting her parents in France's Anjou region. Together the pair created what is now Enfance Paris. This cruelty-free, vegan skincare line offers products that are specifically tailored to children's delicate, sensitive skin with products designed for little ones aged 0 to 3, 3 to 8 and 8 to 12 years old. All products in the range are proudly formulated and made in France, and also free of harsh unnecessary chemicals such as synthetic fragrances, parabens, PEG, BHA, BHT, phthalates, EDTA, phenoxyethanol and sulphates. With Enfance Paris and their easy-to-use, feel-good products, bath time never felt so easy! Find out moreClose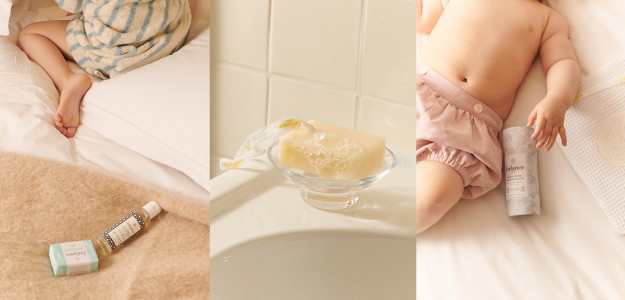 Interview with Agnès Laffourcade
Founder of Enfance Paris
WHAT INSPIRED YOU TO START YOUR SKINCARE BRAND?
I'm one of those "Mum entrepreneurs" who had a flash of inspiration when my baby arrived. My daughter inherited my hyper-reactive skin, and I was looking for healthy products for her. I couldn't make heads or tails of the labels for the products in my bathroom. With Enfance, I've solved this problem!
TELL US ABOUT YOUR BACKGROUD.
After 10 years as a photo stylist, I trained as a soap maker, specialising in "slow cosmetics". A naturopath friend of mine helped me develop my formulas for Enfance. They are tested and controlled in the laboratory.
WHAT ARE ENFANCE'S VALUES?
Enfance is effective while also being completely transparent, with no chemical products, zero parabens, preservatives, paraffins or dyes. There are very few ingredients and these are all of organic origin.
WHAT MAKES YOUR PRODUCTS SPECIAL?
They are 100% French and adapted to the 3 key age groups for children. From 0 to 3 years, to handle nappy problems. From 3 to 8 years, when the child goes to school, falls down and gets little cuts and bruises. Then from 8 to 12 years, when children start to take their morning shower.
WHAT ARE YOUR PLANS FOR THE FUTURE?
After the oil, which is a super moisturiser, I'd like to launch shampoos.
Discover latest from Enfance Paris online or in our Parisian boutique.
Close