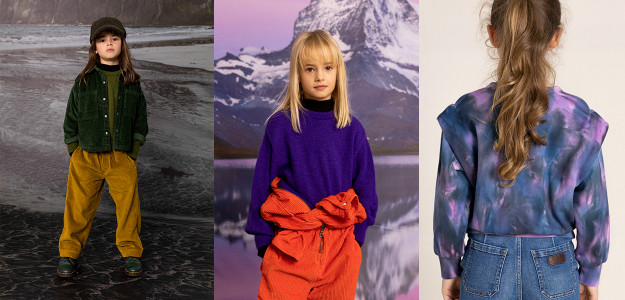 Finger in the nose
Founded in 2003 in Paris by Norwegian designer Siv Tone Kverneland, Finger In The Nose is a high-end jeans and sportswear brand for kids. Born from a passion for denim, the label draws inspiration from the worlds of sport, skateboarding and Anglo-Saxon rock music to create garments for kids that are functional, creative and timeless. From jeans and puffer jackets to T-shirts and teddy jackets, Finger In The Nose offers clothes for kids with an edge and a casual Scandinavian sensibility.
Find out more
interview
Jean Yves Campion
Founder of Finger in the nose
How did Finger in the nose come about?
This project was brought about like many others, from wants, needs, new people and new opportunities. We did not have a direct connection with the world of kids, but we had participated in the creation of the kids' fashion magazine, MilK. We had in the heart of our studio a team capable of creating a great kids fashion brand and we all wanted a more personal project that did not revolve around a client. Life had given us kids to clothe, but we had a hard time finding pieces that were both durable and elegant. We liked jeans, and the idea of creating a jeans brand for kids came to us after a trip to Japan.
At first we only had one model, the NORTON, an excellent pair faded with two washes. It was probably the world's first, smallest skinny jeans. It had a better cut and higher quality than other jeans on offer at the time. The look was more rock and authentic than others. Everything started there, and six years later the collection has almost 200 different styles.
Finger in the nose has quite a recognisable style. Where did this style come from and how would you define it?
Our NORTON jeans set the tone for the brand: authentic, rock, superior cuts and fits, solid and comfortable, but elegant and similar to the look of young adults. By nature, this pair of jeans was transgenerational, so the brand followed suit. Our clothes, for kids aged one to 16 years old, all have the same range of designs and models.
Jeans are something people wear everyday, that become even better with wear and washing. We loved this idea, and it motivated and inspired us to create the rest of the collection. As for style, it has to appeal to kids and parents alike. We like the idea that a strong emotional connection is woven between the clothes and the person.
What inspires you?
The worlds of music, North America, Scandinavia, London, the adult fashion world, of course, the working world and even the army sometimes. Also, our childhood memories, skateboarders from the 70s, the outdoors culture of the 80s, the motorcycle look in the 50s, and lots of other things. All of these universes inspire us, we like to recycle them and create contemporary versions.
If you could only keep one piece from the brand, what would it be and why?
The NORTON jeans, a jean button-down shirt, a durable peacoat, a down jacket… OK, that's a lot more than one piece, I know, but we love these pieces like they were our own kids. How can we choose?
If Finger in the nose was a fashion brand for adults, what would it be like and why?
We like to make children's clothes that parents would be comfortable wearing. Our tastes come from the world of fashion for adults, and if we look closely, Finger in the Nose is a mix and match of brands for adults currently or previously available. If Finger in the nose were a brand for adults, it would be an assortment of old American brands, iconic English rock brands, army suppliers, sports brands, and the fashion brands of retirement communities in Florida and California who seem to wear clothes from America's golden years.
Close