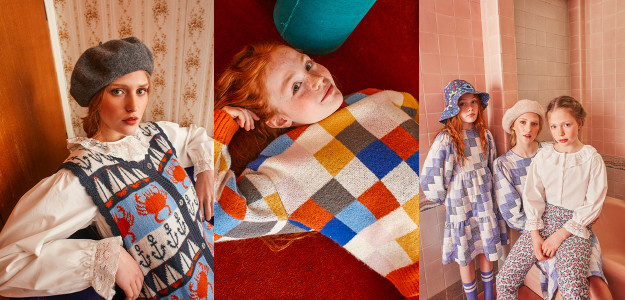 Fish&Kids
There's no question why we love the vibrant Spanish brand Fish&Kids so much. Created in 2015 by Pilar Picazo, Fish&Kids creates delightful children's clothing, inspired by the seaside that is graphic, creative and ethically-made. Their major selling points? The brand uses different garment wash technologies to create a better, softer, more lived-in and unique final product. Plus, all kids can pull off a Fish&Kids look. Their designs are unisex (but rest assured, there are also charming, feminine pieces for your little girls too), wearable and made to be lived in.
Find out more
interview

Pilar Picazo
We are in the north of Spain, a few minutes away from the marvellous beaches of Oleiros. Pilar, the founder of Fish & Kids, recently moved her operations centre here to a grand house surrounded by idyllic greenery with palm trees and a dream pool, reminiscent of the mythic gardens of LA. The way the light reflects inside this house is unlike anything we have ever seen. Standing next to a mountain of boxes, Pilar explains that she was looking for a space that was large but welcoming, a place where she could work but also invite friends and family to share time together in between her many travels. Pilar, a natural creative, tell us about her experiences in the world of fashion and describes what day-to-day life at the head of Fish & Kids looks like.

Pilar, tell us a bit about yourself. Can you describe your career path? Where did your interest in fashion come from and at what point did you start dedicating yourself to a career in it?
My mother is very interested in fashion, and my father draws and takes incredible photos, even if he works in the medical sector. I think creativity might be hereditary. I remember instead of going to school, I already spent most of my days drawing dresses. I ended up studying design and fashion, and worked for a number of fashion brands and businesses in London, Italy and Spain before deciding to create my own brand. Those 18 years where I worked enabled me to develop in the sector, where there's always something new to learn. I am someone who is very active and I really enjoy that lifestyle.

How and when did the idea to create your own brand for kids come from?
I had always dreamed of creating my own brand, but I was paralysed by fear. Fear is an obstacle that can easily prevent you from progressing. But one day, I said to myself it's important that I try, whether or not it works, and the feeling of fear vanished. I think it is very important to take pleasure in what one is doing.
What can you tell us about the name of the brand?
I wanted a play on words linked to the world of gastronomy, which is my other great passion. I hope one day that the brand can also produce boxed food goods or create products relating to cooking and cuisine as well.
How does your creative process begin?
With the fabrics. I begin with the fabrics, which for me are the most important part. Then I create each article individually in a way that ensures the collection is coherent.
What are your sources of inspiration?
Films, travelling, people, experiences…
How would you define the brand's DNA? Who is your target audience?
I try to create products that don't go out of fashion. My creations are all different. I don't ever re-use the same prints or motifs, which is what makes them so special and unique. I must admit the brand's styles tend to be quite 80s influenced, but I am always innovating what already exists. I think the style of Fish & Kids is rather laidback, relaxed, easy to wear and mix, the majority of the items are unisex.
What do you think differentiates Fish & Kids from other children's brands?
I am not in the habit of comparing myself with others. There are an enormous number of children's brands that exist. I hope Fish & Kids can set itself apart by not taking into consideration what other brands are doing and by cultivating its own personal style.
What does an everyday work day look like?
No two days are alike. In principle, it's something I really enjoy about my work. But lately, I have had to take a number of trips for work, which is not always easy spending so much time so far from home. We've just moved offices to a larger, more luminous work space, which makes it nicer to work in. But it's also important to travel to visit textile fairs and factories, so I make sure I am organised.

What do you like to do in your spare time?
I love cooking, going swimming, travelling, drawing or watching a good film, and I must admit I wish I had a bit more time to dedicate to these activities. I don't have a lot of spare time and there are priorities. I try to get to Malaga as often as possible because that's where my family is.
What would you say is the key to success for a children's fashion brand?
There are more and more brands for children, and I think that success lies in working hard to create a good product and a good image. The most important thing is to create a brand that is unlike any other. A brand that is unique in its own right.
What advice would you give to someone wanting to create their own fashion brand?
I would say start by working for other fashion brands and businesses and going to the factories it's there you can learn a lot. The factories are at the heart of fashion.
What is your favourite part of your job?
I love creating clothes, the fabrics and everything that concerns the textiles industry. I also enjoy getting to travel to create a complete product.

What are your dreams for Fish & Kids?
I have all the dreams possible and imaginable, and hope that they can all come true. We would like to continue by creating clothes for women, and we have also started conceiving something for cinema, which is something that has always interested me and something I would like to do continue to do.
What do you like about Smallable?
Smallable had the brilliant idea to take a gamble on selling children's items online. I really like the image the company has created for itself and I have been impressed by how quickly it has evolved.
RAPID FIRE QUESTIONS
A song?
Time after time by Cyndi Lauper
A film?
It's hard to choose just one, but I'd say El tiempo de la Felicidad (translation: The Time of Happiness).
A book?
The Women's Room by Marilyn French
Your two favourite places in A Coruña?
The "Seixo Branco" viewpoint and "Refuxio de Verdes" in the village of Verdes.
Your two favourite restaurants in A Coruña?
Miga (Praza de España, 7) and Vermutería Martinez (Rúa Galera, 31)
Your tip for families visiting A Coruña?
The camping site "Los Manzanos"
Interview & photos by Yasmina Perez
Close