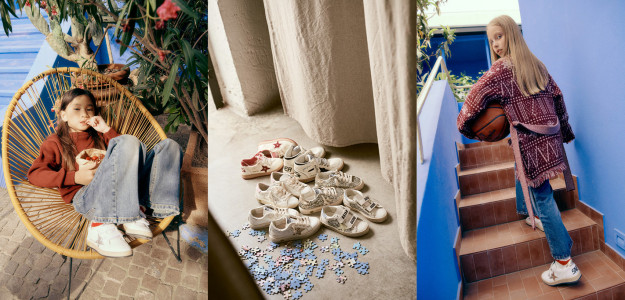 Golden Goose
Golden Goose is the brainchild of designers Alessandro and Francesca Gallo. Lovers of art and fashion, the pair launched the inimitable luxury trainers brand in 2000. Combining Italian spirit with British style, Golden Goose has made a name for itself among the fashion set and international trendsetters for its iconic 'It' shoes and sneakers. Ahead of the curve, the brand also makes its stylish kicks in smaller sizes, with its range of
children's trainers
being as popular among parents as it is with little ones. Each shoe from the brand is made in Venice and its surroundings to guarantee the luxury quality for which the brand is known. With their instantly recognisable star motif and playful mix of textures, patterns and styles, Golden Goose shoes are like contemporary art for your and your kids' feet.
Find out more
The Golden Goose Story

Golden Goose has now established itself as the golden child of the sneaker scene. Since launching in 2000, Francesca Rinaldo and Alessandro Gallo have taken their designs from the canals of Venice (where their shoes are produced) to centre stage with the brand's unrivalled trainers and shoe designs. Now sold in all major international department stores, Golden Goose continues to grow and has opened up a number of boutiques around the world.
The launch of the brand's children's collection
It is no coincidence that Golden Goose is internationally acclaimed among casual shoe enthusiasts both big and small. The brand's Italian origins – Italy being the home of fine leather artisanry - mean that they have a competitive advantage over other shoe brands with their quality materials and expertise. Since the launch of its children range in 2009, Golden Goose has developed an enthusiastic following among smaller fashionistas, as well as their parents. Always looking to push limits with its lust-worthy shoes, each season Golden Goose experiments with new textures, patterns, colours and style: from glittery numbers to fluorescent, striped or printed styles. Fashion-conscious and always seeking to make their mark, the brand also regularly collaborates with major names in fashion, such as the children's brand Bonpoint and ready-to-wear luxury label, Off-white. If you ask us, the secret to the brand's success is the element of surprise and delight that their shoes bring season in, season out. Whether shopping for yourself or your little one, Smallable's selection of trainers from Golden Goose are a sight to behold!
Close
Displaying 29 out of 29 items