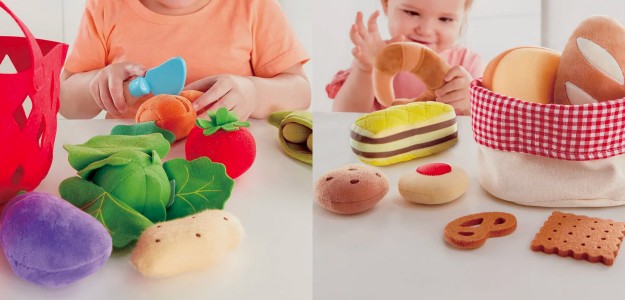 Hape
Hape is a German-based toymaker and one of the leading manufacturers of sustainably-made toys on the market. Hape recognises the importance of the environment and the impact manufacturers have on it, therefore they have dedicated themselves to making toys that are both beautiful and have a high play value. Hape offers a unique and wide array of wooden toys to suit all interests, with fun designs in fresh, vibrant colours. Made with ethically sourced wood and other natural materials, Hape aims to be an influential source of creativity for your little ones.
Find out more

interview

Catherine Rauwel
Hape is a world leading designer and manufacturer of high-quality, sustainably made wooden toys for babies and children. We visited the subsidiary in France where Catherine Rauwel, Director of Hape France, immersed us in the brand's fun, captivating world, and spoke to us about the evolution of the brand, and their various eco-responsible projects.

Their motto: LOVE PLAY LEARN..
"Play is essential for children all over the world.
Children do not play to learn ;
they learn because they play"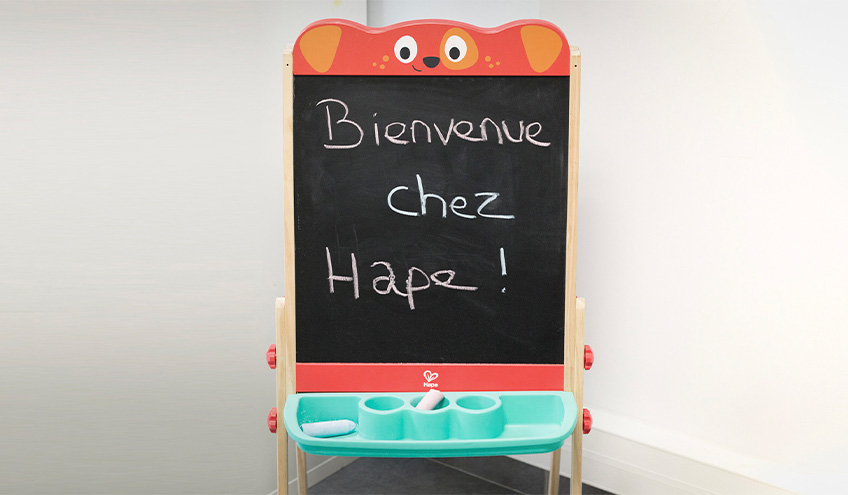 HOW DID HAPE GET ITS BEGINNINGS?
The HAPE group was born from the will of a man, Peter Handstein, a German autodidact who started his career selling educational games to nurseries and communities in Germany. It should not be forgotten that it was Germany that invented the concept of "kindergarten" in the 1980s. With this experience, he decided in 1986 to create his own brand of wooden toys, which would be called Hape, a combination of the first letters of his first and last names. Today, Hape is the world's leading producer of wooden toys.
YOUR TOYS ARE NOT ONLY BEAUTIFUL BUT ARE SUSTAINABLY MANUFACTURED AND THOUGHTFULLY DESIGNED. WHAT IS THE DESIGN PROCESS LIKE FOR EACH COLLECTION?
The design of each toy is the result of close collaboration between the designers, the different countries and of course the product development and production team, who are always looking for ways to promote early learning and development among young children while respecting the environment. As a subsidiary, we are regularly asked to give our opinion at different stages of development, taking into account the reality of our respective markets. People around the world do not all have the same sensitivities.
WHAT ARE THE SOURCES OF INSPIRATION FOR THE BRAND?
HAPE's motto: LOVE PLAY LEARN. Bringing joy to every child, encouraging them to explore the world. Hape toys are created to inspire, imagine and explore the world we live in. Hape toys are both traditional and modern, and are in tune with the times, the times of children and the times of our planet.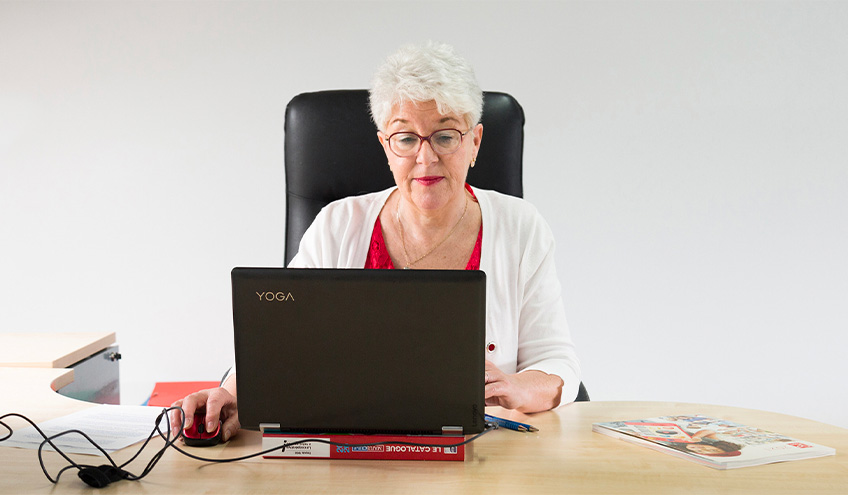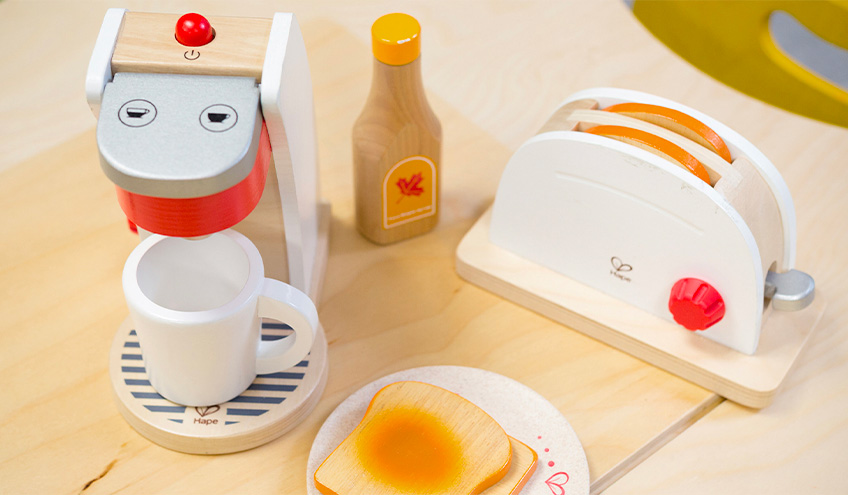 BEING AN INTERNATIONAL COMPANY, HOW IS YOUR TEAM ORGANISED?
HAPE is a German family-owned group, still led today by its charismatic founder and chairman Peter Handstein. The Group has its own factories and is present in more than 70 countries around the world, either through its subsidiaries or through distributors. We have subsidiaries in the USA, Canada, Italy, Spain and the UK, in addition to Germany and China.
WHAT SETS HAPE APART FROM OTHER TOY BRANDS?
Over the years, since 1986 when the Group was founded, we have become a world leader while retaining our DNA as a German family business with the same founding Chairman Peter Handstein; the same philosophy and desire to make learning more fun and affordable for everyone by putting quality toys made from eco-friendly materials into the hands of children.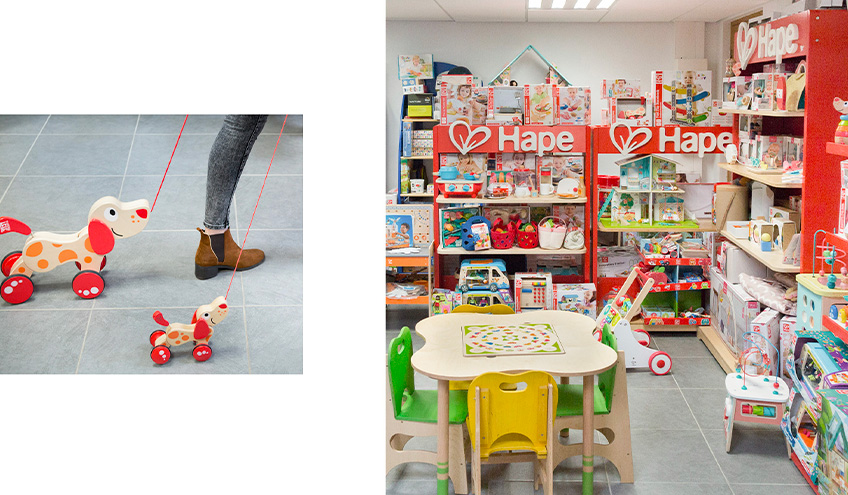 CATHERINE, YOU HAVE BEEN THE HAPE FRANCE DIRECTOR FOR MANY YEARS. HOW HAS THE BRAND EVOLVED IN THAT TIME?
I joined the HAPE France subsidiary when it opened in September 2013, and it has been an incredible adventure. As a competitor on the French market, it took a lot of perseverance to make a place for ourselves. The quality of our products, the innovations and the dynamism of the whole team have enabled us to grow, year after year. I am very proud of the achievements of the whole team.
HAPE TOYS IS ONE OF THE WORLD'S LEADING PRODUCERS OF SUSTAINABLY MADE TOYS. COULD YOU TELL US MORE ABOUT YOUR ENVIRONMENTAL COMMITMENT?

Hape is an environmentally responsible brand whose global commitment is reflected in their implementation of sustainable actions throughout the value chain, from design to production and packaging.

- Use of plant-based plastics, extracted from sugar cane
- Recyclable and reusable packaging, vegetable inks, water-based inks.
- Use of FSC wood
- Use of renewable energy for production with the aim of eventually using 100% renewable energy.
- Water purification and circulation system

The group is a trailblazer in environmentally-friendly toy manufacturing. It has its own 60-hectare bamboo forest – a renewable natural resource – and in 2005, thanks to an alliance with UNESCO, Hape was able to launch the very first complete range of bamboo toys. Since its creation, the HAPE Group has been committed to producing eco-friendly toys and is always on the lookout for natural materials. We make a range of baby rattles from Japanese rice, and certain parts of toys are made from plant-based plastic. The group has also recently invested in a factory in Portugal that will produce cork toys.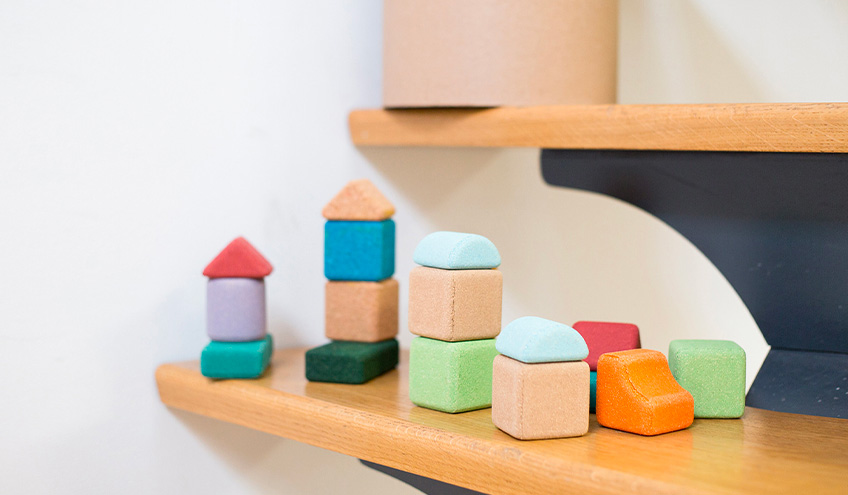 WHAT IS HAPE'S PHILOSOPHY ?
Children do not play to learn; they learn because they play. Playing is essential for children all over the world; if they learn by playing, they will have a better understanding of life and become stronger adults. Hape aims to develop children's initiative through playful experiences. We want to prepare them for a better world ahead.
AMONG YOUR WIDE RANGE OF TOYS, DO YOU HAVE A FLAGSHIP TOY? IF SO, WHICH ONE AND WHY?
One of our "flagship" products is the HAPE Magic Touch Piano, a blend of wood and electronics that won the Grand Prix du jouet in 2018. It is part of the iconic Hape Baby Einstein range, which is a bestseller in the field of early musical education. With this toy, music becomes magic: children learn to play intuitively, discovering and experimenting with different music styles and instruments.
WHAT DO YOU THINK IS THE KEY TO HAPE'S SUCCESS?
HAPE designs and manufactures quality toys that promote children's learning and development. We have the advantage of being manufacturers and working with a team of designers from all over the world (Italy, China, Sweden and many more...). Our toys are traditional, yet they have modern sensibilities. We are known and recognised for the quality of our products, so we are also present in the educational sector: nurseries, schools, etc.
THERE IS NO DOUBT THAT THESE ARE UNPRECEDENTED TIMES. HOW DO YOU SEE THE TOY SECTOR EVOLVING POST-COVID-19?
Our sector of activity has remained intact, and these two years have shown that families will always put their children first, making sure they have a toy to open on Christmas day, on their birthday or any other occasion. Distribution has adapted, and we have seen click & collect and online sales flourish. Parents have also become aware of the importance of games and toys in the education of their children during these different periods of lockdown. In the same way, families spending more time playing board games, or doing constructions or puzzles has brought parents and children together.

New generations of parents and even grandparents are sensitive to the quality of the toys they give to their children and are also looking for eco-friendly brands. More than ever, our wooden toys and sustainable materials respond to the need to preserve our planet for our children and future generations. A beautiful wooden toy is not something to be thrown away, it is passed on from generation to generation.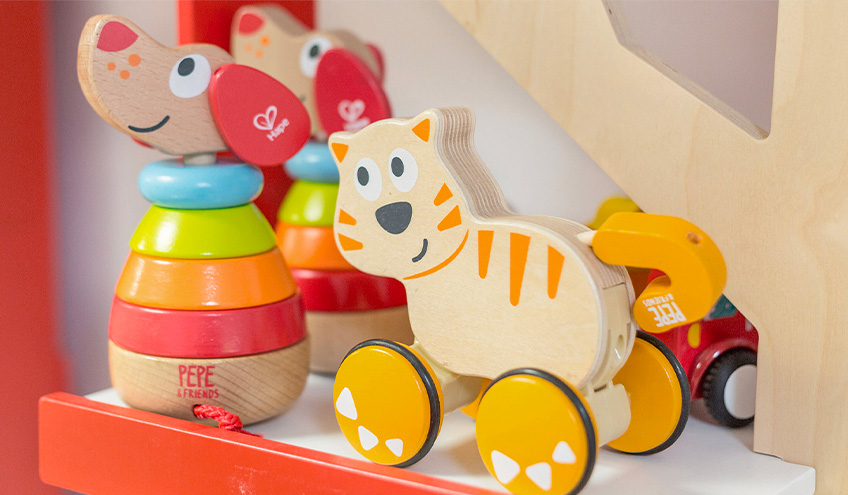 Photos et texte : Yasmina Pérez
Close
Displaying 38 out of 38 items