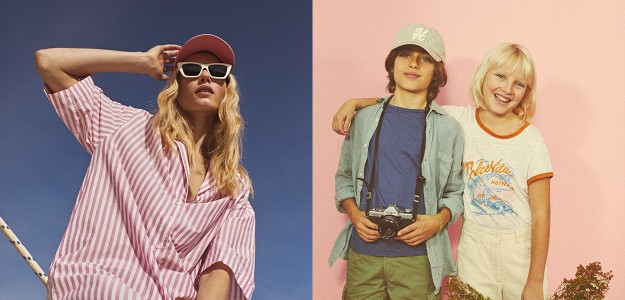 Hartford
Hartford has been creating, what it has coined as, 'alternative classics' since 1979. Mixing European influences with a West Coast vibe, the brand's founder Yves Charenton creates laidback, modern collections. At Hartford, the 'classics' aspect can be found in the timeless cuts and quality fabrics of its garments, while the brand embraces its 'alternative' side with fun prints and cheeky little details that set them apart. The brand's garments are relaxed and comfortable, but always elegant. From Hawaiian shirts with a modern twist, T-Shirts and tunics to shorts, dresses and hoodies, for outstanding essentials that feel as good as they look, you can't go wrong with Hartford.
Find out more
interview

Yves Chareton
The Hartford showroom is situated in an old police station in the 11th arrondissment of Paris, where the assassination of Jean Jaurès took place; a story that fascinates Yves Chareton, the quiet and charming founder of this French brand. Created in the USA in 1979, vintage shirts, influenced by the military, and the West Coast inspire the prints that form Hartford's identity. Blue cotton chambray provides the background for this, along with Tahiti, palm trees and surfboards, as well as many other nods to Yves's hometown, Hossegor, in southwestern France, and his passion for the US. Yves, along with Marinia and Yann – his two children with whom he works – create collections for men, women and children all with the same casual style, as if coming straight from the beach, all while remaining completely elegant.

Where did you get the idea to create your brand?
After graduating from business school, I worked in a New York bank. One day, while having a chat with a friend over some drinks, we came up with the idea. At the beginning, we weren't particularly looking to achieve a lot from it. We simply wanted to dress in American-style clothing, which could only be found at flea markets in the outskirts of Paris. What we liked about these clothes was the materials, the shape of the shirt collars and the military inspiration. For us, El Dorado was what came from the US. We wanted to live our American dream! When looking for fabrics, we met a wonderful man from Brooks who gave us an address. We went there and they understood straight away what we were looking for. It was perfect for our project. We were shown their stock of fabrics and asked if that was what we were looking for. We felt as though we'd discovered Ali Baba's cave!
AND Eventually you began exporting to Europe?
From the get go, the brand wasn't created for Americans but for Europeans. At that time, friends were starting to open up alternative boutiques in Paris, like Globe, which sold Heinz t-shirts, 501 vintage [jeans] and skateboards. It was exactly what we needed. This was our first point of sale. We took part in a trade fair in France in order to make ourselves known and saw immediate success. Everything was made in the US, and the company was based there too. Then in 1982, the value of the dollar shot up, so it became impossible to sell in Europe. This was the moment we decided to take the company back to France.

How can you explain its immediate success?
It worked straight away in France, but the Americans weren't interested at all in the beginning. Then, we became known in Italy and Spain. We started to create swimsuits almost at the same time as shirts and wetsuits. No one sold this type of product, apart from a few American items imported to Biarritz. We're originally from Hossegor in southwestern France, so we were familiar with beach life and surfing, and it was natural for us to create swimsuits. Ultimately, the thing that worked best was that we created items for ourselves.
And music also plays an important role aT HartforD?
Yes, that's true. In the early 90s, Bruce Springsteen went into one of our points of sale in Los Angeles and bought a black linen shirt. He came back the next day and said, "This is awesome. This is what I want for my next tour! I need 50." This gave us incredible publicity. And today, we've noticed that one of our best clients on our e-commerce site is Eric Clapton. He buys a good part of the collection, almost every week. He's quite low-profile so we don't contact him, we don't want to bother him. But it's pretty funny. I'm a guitarist so, obviously, this is a pretty big deal for me.
How would you define the brand's DNA?
I'd say that it's casual, contemporary, with a strong focus on materials – all of which we choose ourselves. They're almost all selected from Italy, France and England. We're conscious of the origins of our materials and the selection of ateliers that we work with, like Liberty or Albini, which is maybe the most beautiful cotton company in Italy. We work a lot with natural fibres; cotton, linen, wool and cashmere, and a lot of chambray and oxford cotton for our shirts. The prints are also extremely important. Ninety percent of our fabrics are exclusive, you won't find the same print from one collection to the next, except for the Liberty prints, which are unique. We have flagship products, which we evolve over time, and favourite colours like blue and khaki.

How do you come up with your collections?
This year, for example, we went with the Riviera theme. The prints were hand painted by our illustrators. We always have an illustrator working with us full-time to work on our prints, which are all exclusive. We can also be inspired by a work of art or by a drawing or photo. Then, we work on our themes.
How did the women's and children's lines come about?
For a long time, we made womenswear to order for certain clients. So, we decided that we absolutely had to develop it and, today, the women's collection is a very important part of the company. Our turnover is forty-five percent menswear, forty-five percent womenswear and ten percent children's wear. The children's line came later in 2007. This was also in high-demand. And for a long time, we collaborated with Bonpoint, creating swimsuits and linen shirts for them. This also worked very well and so we decided we had to develop it.
Your daughter, Marina, manages the women's style office and your son, Yann, is in charge of e-commerce. Is Hartford above all a family affair?
Absolutely. But they were the ones who decided, after other professional experiences, to join me. I didn't asked them to, they had to want to do it themselves.
How would you define your children's range?
The idea is really to take elements from the adult collection and to adapt them to suit children. It's made up of pretty colours and pretty materials that are comfortable to wear, without being too over the top. When we think about our children's collections, we keep 10-16 year olds in mind, even if the clothes start from 2 years old. It's difficult because teens have a very specific style.

What are your must-have pieces?
In a child's wardrobe, you find t-shirts, sweatshirts, polos, knits, shorts and swimsuits. What works best in our children's collections are prints, above all, nautical prints. We can't always use the exact same prints for children as for adults, so we create a few specifically for this range. The next collection, for example, is based a lot around surfers and Tahiti. It could be called "First trip to Hawaii", it's about a child who is very lucky and discovers Hawaii for the first time [smiles].
You have three boutiques at Place des Victoires in Paris and your showroom isn't far from there. What are your favourite places to visit in this area?
The Moulin de la Vierge café [10 Place des Petits Pères], it's pretty much our HQ. The taxidermist on rue d'Aboukir [Design et Nature: 4 Rue d'Aboukir] is also extraordinary. And in the Galerie Véro-Dodat, just a hop, skip and a jump away from Palais Royal, you can find the best vintage guitar shop [François Charle & Jérôme Casanova: 17 Galerie Véro-Dodat].
What is the Hardtford Motto?
"Alternative classic" is our slogan, and it fits us well. It's about revisiting classics and adapting them to modern style. We can style an Oxford cotton or chambray shirt like an older gentleman straight out of the Blues Brothers or like a young man. It's timeless.
Close