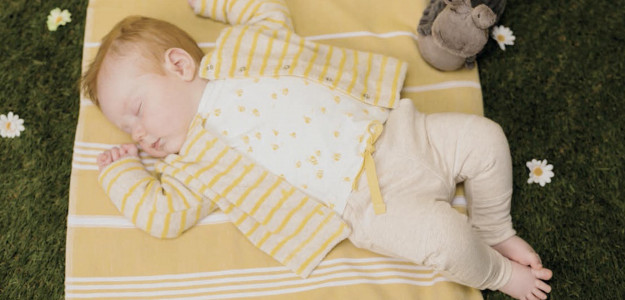 Imps & Elfs
Imps & Elfs were one of the first brands to make organic look so good. Dutch design at its finest, the brand Imps & Elfs offers a range of everyday children's clothing in simple, easy-to-wear cuts. The brand makes clothes whose comfort and softness are incomparable, not to mention sustainable, made from GOTS organic cotton and other fabrics free of nasty chemicals. In line with ILO Conventions, Imps & Elfs employs a strict code of conduct, ensuring their clothes are made ethically and while respecting human rights. From sweatshirts, T-shirts and cardigans to bodysuits and trousers, Imps & Elfs consider themselves as timeless innovators, hoping to make clothes that facilitate life as a kid, and make everyday feel like a new beginning, full of intrigue and possibility. Children's fashion, just as it should be!
Find out more



interview

Fons cohen

tELL US A BIT ABOUT YOURSELF, FONS?
Well I am the father of three girls. Katja and I have been together since our studies and she also works for the company. Besides fashion, my other passions are architecture and cooking.
TELL US THE STORY OF IMPS & ELFS? WHAT DID YOU DO BEFORE THIS?
I have been working in baby and children's fashion for more than 25 years. Before Imps & Elfs I owned a company in Hong Kong, designing and producing for large retailers and department stores. After doing this for many years we wanted to start a sustainable baby and kidswear line with no boundaries in design whatsoever. That is why we started our own brand.
what has made IMPS & ELFS successful in your opinion?
We like to play with opposites. That is why we carry this name. Being an 'imp' is an expression for being naughty. And elf stands for the opposite, the sweet side of the child. In our collection we play with these characters, combining them or separating them. Together this brings an interesting view on fashion. Besides that, we really design for the children. Through our clothes we try to show the child: children's characteristics, like their build and their imagination, get all the space they need. First, you see the child, then you see what he is wearing. The true quality is in the cut.


describe a typical day for you?
The day starts with making sandwiches for the girls. After an espresso I bike one minute to the office. My day is a mix between meetings with design, production, sales, marketing, finance and logistics.
what do you like the most/ the least about your profession?
I like to create things and ideas. I do not like to get stuck into details.
what is your vision of children's fashion?
I hope that kids' fashion will open up a little bit more and won't get stuck in all the classics of the past. Rules are nice to bend. Why do we dress the girls in sweet colours? And boys in masculine clothes?
WHERE DOES SMALLABLE COME IN?
Smallable remains our best online partner! We love what you are doing. Together we hope to stay ahead of the crowd.

Close
Displaying 11 out of 11 items