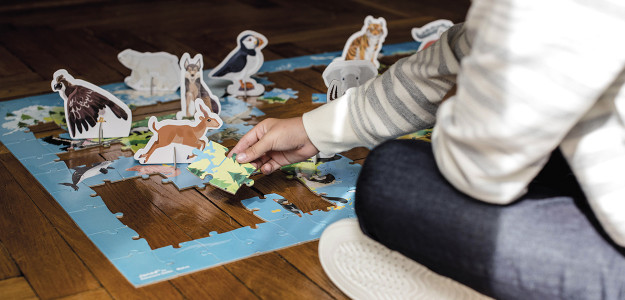 Janod
For 40 years, Janod has specialised in wooden toys. Regularly awarded prizes for their creativity and their sturdiness, Janod wooden toys are made in France, in the Jura region , known as the wooden toy country. Janod designs and develops all of their toys in their French workshop with an integrated team of talented designers. This allows the brand to offer new charming toys each year. The assured contemporary design by Janod has been skilfully applied to their range of toys, which can be handed down from generation to generation to delight the little ones of all ages.
Find out more
The history of the Janod brand
Janod is a French company that creates and sells traditional wooden toys and was founded in 1970 by Louis Janod and his business partner Serge Salvi. This French wooden and cardboard toy brand is aimed at children between 1 and 10 years old. With their playful design, Janod encourage children to dream as they go through the growing-up process while ensuring total safety, as all of the company's products comply with French regulations. In 2004, the CEO Pascal Bernard decided to shift the emphasis onto the brand's creativity. He created a design department so that every year, his teams think up around a hundred new toys that will help children to think and use their imagination and that will accompany them as they grow up. Janod is a timeless, must-have toy brand whose designs have already been awarded 54 prizes!
Find our selection of Janod toys online!
Close