Jérôme Dreyfuss
French designer Jérôme Dreyfuss is the mastermind behind the celebrated eponymous handbag and accessories line. Since launching his collection to critical acclaim in 2002, style-savvy women across the globe, including sophisticated Parisians and celebrities like Julianne Moore, Keira Knightly and Sarah Jessica Parker, have fawned over the designer's creations. Expertly made from luxurious materials such as butter soft calfskin, lambskin and goatskin, Jérôme Dreyfuss handbags are instantly recognisable for their exquisite craftsmanship, clever design details and understated elegance. Designed to perfectly match the lifestyles of fashionable women across the globe, and with a dash of the designer's signature sense of humour thrown in, Jérôme Dreyfuss bags and shoes are the ultimate secret style weapon of chic girls everywhere. After all, who could resist the charms of 'Billy'? Be apart from 'Edouard' or fail to be driven wild by 'Momo'? Find out moreClose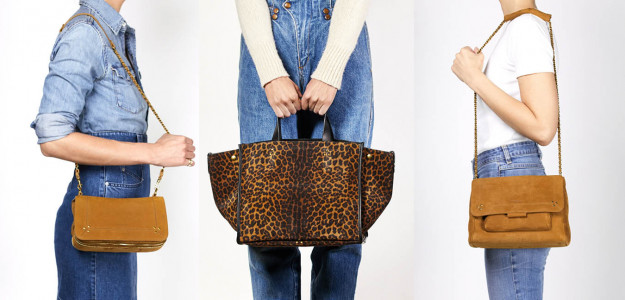 INTERVIEW
Jérôme Dreyfuss

Humble, direct, spontaneous. He loves nothing more than pottering about in his garden, planting and working the soil. Jérôme Dreyfuss, the creator of bags that mesmerize the most elegant women on the planet, has a mission: to do good around him and to make the members of his team happy. We visit his workshop in the heart of Le Marais and share a rainy morning with him.

JÉRÔME, YOU LAUNCHED YOUR BRAND IN 2002. HOW HAS IT EVOLVED SINCE THEN?

I've tried to direct its evolution and not let myself be influenced by choices made by others. I've done everything my way.
HOW HAVE YOU DEVELOPED YOUR OWN STYLE OVER THE COURSE OF YOUR CAREER?

I don't think I've developed my style. I just do what I am. People always ask me how my success has lasted, and I say just be honest. If it's not honest, it won't last. I started to make clothes but then I stopped because I didn't have anything left to say. I think the market can get so saturated that your voice is no longer heard.

WHERE DO YOU FIND INSPIRATION?

I find inspiration everywhere, especially from women in the street. I love observing their movements, the way they hold themselves. I like trying to identify and guess their needs, finding solutions to their problems. My great passion is architecture, and it has similarities with my work in the sense that you need to identify the needs of the people who are going to evolve inside the building and provide the right structure, the right light, the right space for circulation. I think inspiration in my line of work is a similar thing. It's observing a woman and trying to understand her needs, her expectations… It's making a lightweight bag to avoid back ache, for example. So, my main aim is to understand today's woman. I need to move with the times.

TELL US A BIT ABOUT THE CREATION PROCESS FOR YOUR BAGS. WHERE ARE THEY MADE?

I need to work towards overcoming a challenge. What's the problem? I'll find a solution. If there's no challenge, there's no creative process. It's often function that dictates aesthetics, and not the other way around. That means I work with objects I want to integrate into a bag. As for production, there are different workshops for different specialities. I'm proud to say we go out and find the savoir-faire we need. Unfortunately, savoir-faire is dying out here in France. There aren't enough cutters here, for example. That's why I have a workshop in Morocco (my first). We then opened one in France and developed others in Tunisia and Italy. Finally, for five years now we have been running a workshop in India in collaboration with our French workshop in Dijon.

SMALLABLE WORKS WITH BRANDS THAT RESPECT THE PLANET. TELL US A BIT ABOUT WHAT YOUR BRAND AND YOUR LABEL AGRICOUTURE ARE DOING FOR THE ENVIRONMENT.

The environment has always been really important to me and it's something I've been committed to since I created the brand. I don't talk about it a lot because, unlike other brands, I don't want it to be a selling point. It could be a selling point if we were perfect, but we are far from it. If we wanted to be perfect, we wouldn't sell handbags. My job is to make handbags, but how do we find solutions to make the process as clean as possible and keep pollution to a minimum? First, we've always used skins from free-range European animals. That's key for me. Let me explain: when you buy cowhide from Brazil, you need to remember that the fires we saw last summer were started by farmers who wanted more space for more cattle. They need space and to be raised outside. There's not enough space any more in Brazil. There are 150 million cows in Brazil. That's huge. So we need to be careful of where the animal skin we buy comes from and avoid buying it from there. My lambs come from France, Spain and England. We guarantee our customers that the skin we use for our bags comes from animals that have never been injected with antibiotics and have never been ill. This is very important, as it affects the quality of the skin and the animal's welfare. We only use animal skins from the agri-food industry. All the tanning and dyeing process is carried out 80% with vegetable products. We try to use only vegetable dyes, even if this may create differences in colour between the bags.

On top of that, this year, we have launched an initiative with an association called 'Coeur des fôrets' [Heart of the forests], which aims to reforest areas of the world that have been deforested, particularly by the palm oil industry. Fashion is the second most polluting industry in the world. We cause a lot of pollution, so we need to be more responsible. A cargo ship travelling from Le Havre to Shanghai pollutes as much as a million cars. These ships are like floating cities, and I don't feel comfortable with that. We're trying to find solutions, but we're not perfect yet. The agri-food industry produces 17 million square kilometres of animal skin every year. The oldest kind of recycling in the world is taking an animal's skin and making clothes out of it. That's what prehistoric man did! So, I think we need to fight for animals to make sure they live in decent conditions. But I find it hypocritical to say 'I won't touch leather' when fake leather is made from petroleum, which makes it terrible for the environment. It's a complex issue, but we are finding various solutions. It's great that there are so many designers out there trying to find solutions, and I hope we will soon pave the way for THE solution. We don't know what it is yet, but we know we should consume less and better, rather than buying fast fashion. It's like with food; you need to be careful. You shouldn't eat Nutella, for example, even though it's delicious!

WHY DOES EVERY BAG HAVE A MAN'S NAME?

You want the real story? On the first bag I made, the handle was too short, and a friend came to try it out in the office. She put it on her arm and because it was too short, it was pressed against her chest, and I said I would like to be a handbag myself, haha. So since then, they have always had men's names.

WHAT DOES A TYPICAL WORKING DAY LOOK LIKE FOR YOU?

I get to the office early in the morning, between 7:30 and 8 a.m. In the morning, I run my company: I see my admin and financial manager, I see my salespeople. In the afternoon, I ask not to be disturbed so that I can take care of production. I dedicate the morning to the business and the afternoon to the product.

WHAT DO YOU LIKE THE MOST ABOUT YOUR WORK?

Creative meetings. Whether that be setting up a boutique, speaking to architects, visiting workshops…

WHAT ARE YOUR DREAMS FOR THE BRAND?

I want things to be done well. In house, that means making sure the people who work here are happy and we have fun. In the end, I think one of my proudest achievements will be having opened up my employees' eyes to environmental issues. Everyone made fun of me when I started out fifteen years ago. The key for us is not to get bigger but to be happy, so that totally changes our perspective. There's no point running after money. It's all about making people happy! I think that, in general, if people remembered that the only aim in life is to be happy and make those around you happy, we wouldn't live in a world like the one we live in today, full of jealousy. There are plenty of interesting philosophers who have reflected on this subject. People like Pierre Rahbi and committed environmentalists explain what happiness can mean, and it can be as simple as planting vegetables and watching them grow! Personally, I do a lot of gardening; it makes me happy. Planting trees, knowing that you are doing something positive to your surroundings… I'm sure a lot of people will find what I'm saying ridiculous, but maybe there will be two or three who find it interesting. I think it's important to be a vehicle for values like tolerance and not for luxury, money and celebrity, because that's just not possible any more. I would like to be a counterpower.

A FILM:
The Bridges of Madison County. It's the most beautiful love story around.

A BOOK:
I was moved by The Kite Runner by Khaled Hosseini. I really like Murakami too.

A RESTAURANT IN PARIS:
Le Dauphin - 131 Avenue Parmentier

WHAT DO YOU LIKE TO DO IN PARIS WHEN YOU'RE NOT WORKING?

When I finish work, I get out of Paris and get my hands in the soil. I have a cabin in Fontainebleau forest and a house in Spain, where I spend all my time in the garden. I don't do anything else: I don't go out to eat, I don't go to the beach. Man's megalomania is destroying nature and I am determined to fight it, but it's hard..

-

Photos and text by Yasmina Pérez
Close