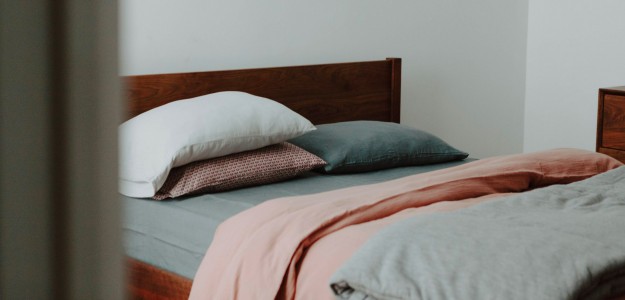 Lab
Founded in 2010 by Elodie Laleous, French brand Lab offers a wonderful line of household linen and home accessories. Having worked for several years in fashion for major labels like Chloé and A.P.C., Elodie embarked on her Lab adventure. Armed with bolts of surplus fabric from A.P.C.'s previous seasons, she created her first collection for the brand and the rest is history. High-quality fabrics, timeless prints and opulent colours are at the heart of Lab's creations, which include household staples such as cosy quilts and blankets, luxurious
bedding
, drapes and
curtains
. Each collection is designed in Paris and made in France, by skilled artisans, in the brand's Cambrai workshop. If you are looking to elevate your interiors with exquisite linen, you've come to the right place! Lab also has a beautiful range just for kids,
Lab – La Petite Collection
, that both style-conscious parents and imaginative little ones will adore.
Find out more
interview
​Elodie Laléous
Mum of three, entrepreneur, designer and founder of Lab. and La Petite Collection, Elodie Laléous is a woman of many talents who adores imagining up new eco-responsible products and artisanal savoir-faire. She recently welcomed us into her dreamy home and workshop space, located about 30 minutes outside of Lyon. After preparing a delicious fruit salad together with her three kids, Elodie spoke to us about her brands, how the adventure began and what's next for their collections.

How did Lab. get its start?
I created the brand in 2010 while I was still working at A.P.C. I was setting up my first home, an apartment in Paris, and I was having trouble finding bedding that was pretty and with subtle patterns. That's when I thought to myself, "There's so much to do and create in this sector." So, I started creating collections, using surplus fabric I bought from A.P.C. It was really important for me that the products were made in France. During my studies, I did an internship in a textiles factory in my hometown, and just as I was wanting to start working in the fashion sector they're closed down. I knew I wanted to try save them, their manufacturing centre, their know-how and luckily, I was successful in doing so. My goal was to offer products that were made in France, while remaining reasonable from a price/quality standpoint.


What gave you the idea to start your children's fashion range, La Petite Collection?
Our range grew quickly and our foray into baby linen was a natural progression. Also, I had just had my first baby. In our boutique, whenever clients saw our baby bedding and linen they would think we were a baby or kids' boutique, so I decided to create a small collection of children's clothes to complete our offer. That's where the name of the brand comes from: La Petite Collection ("The Small Collection"). The idea was to offer a small collection of clothing staples with roomy cuts, that were comfortable and could be worn for as long as possible. Our clothes are made in Mauritius by a family of artisans who have been in charge of production since our first season.
At Smallable, we're passionate about sustainable fashion and design. What are you doing at Lab. and La Petite Collection to be more sustainable?
All Lab. products are made in France with no minimum production requirements. We're also about to launch a range of zero-waste kitchen products. I'm a fan of the notions of quality over quantity; consuming less but better. With La Petite Collection, we recently launched a pre-order option, which gives us a more precise idea of how many items we need to produce. I am also thinking about launching a project to help mums who are looking to resell their children's La Petite Collection clothes to encourage a longer life for the products and boost the second-hand market. We could provide them with images of our products that we've already taken as well as descriptions etc.
Where do you find inspiration?
I find inspiration everywhere and in everything. It could be in the metro, the lighting in a street, or in a print that I see someone wearing. Also, strangely enough, I am more creative when I have to work within limitations, than with a blank canvas. I like having constraints and finding solutions to problems.
If Lab. and La Petite Collection were a saying, what would it be?
Less is more!
What's next for Lab. and La Petite Collection?
I would like for each brand to evolve in their sectors. I'm also looking for an associate to help me further develop the commercial and communication aspects of our businesses.
How do you balance your professional life with your personal one?
It's all a matter of there only being a certain number of hours in a day. There are times for work and there's time for the kids. But you have to be organised! My life is very compartmentalised. With three children and two brands, I don't have hobbies, but I adore what I do so I don't really feel like it's work either.


What's a place that takes you back to your childhood?
My neighbour's house in Normandy, I spent a lot of time there. They were often renovating or redecorating the place. They always had a woodfire burning, which is a habit I still do today. It's so cosy!
Describe your perfect family weekend in Lyon for us.
On Saturday morning, my kids have their extra-curricular activities. Then we head to the library. We come home with a big pile of books and all jump into bed for a big story telling session. It's fun! We also regularly organise home cinema nights. Our kids are starting to get to an age where they can appreciate cinema, so for us it's a real pleasure to share that with them and watch how they appreciate the films and forge their own cultural identities. We also love spending time with friends. We often have a load of people at our place, it's great. I love cooking for everyone.
Close