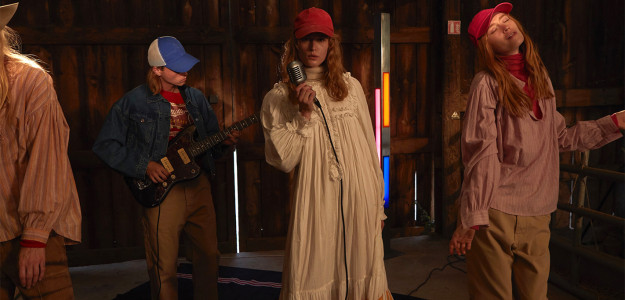 Laurence Bras
Equal parts timeless and contemporary, French fashion designer Laurence Bras has been surprising and delighting the fashion world with her eponymous brand since 2015. However, the story doesn't start there. Barely out of her teens at the end of the 1980s, Laurence launched her first boutique in her hometown of Rouen where she garnered a following for her highly coveted ready-to-wear collections. Living between Paris and Delhi, Laurence's collections bear the trace of her two homes with a distinct style that also draws inspiration from the spirit of the times, her childhood memories, and day-to-day trends. The brand's approach is shaped by simplicity and elegance and offers women a complete wardrobe of day to night pieces guided by materials and fabrics that are good for both body and soul.
Find out more
The Laurence Bras Story

Laurence Bras is a family affair, like many others in the fashion industry. Born in Rouen, Laurence Doligé was raised in the fashion world and launched her first creations from the back room of her mother's workshop at just twenty years of age. The designer built her label's identity around memories, drawing inspiration from nostalgic smells or shapes, to create unique fashion with a delicate touch.

As an avid traveller, hungry for new experiences, Laurence Doligé lived in Delhi, India for 10 years where she drew inspiration from local life, landscapes, and colours.

Today, more than ever, the brand is anchored among the most in-vogue fashion labels of its time, and now its with the help of her two daughters that Laurence Bras is continuing to write the family story. With the support of Gil Bonnaud, president and CEO, and Pia Doligé, head of communications, the designer is free to delve into a range of possibilities, and to explore her artistic direction in complete freedom.
The label creates casual, fashion-forward designer clothing for women with Franco-Indian influences. their garments are made in ateliers in India, Italy, and Portugal.
Close
Displaying 27 out of 27 items