Laurence Bras
In 2015, sisters Laurence and Anne Doligé created the luxe womenswear label, Laurence Bras. Raised amongst the fashion industry, the sister duo saught out to provide sophisticated and elevated pieces that everyone could wear with ease, and never compromise on style. Laurence Bras offers a refined collection of clothing, drawing inspiration from the sisters' passion for both French and Indian culture to create strong pieces mixing exotic prints, traditional embroidery and beautiful silhouettes. Laurence Bras is a unique and feminine brand which will delight every fashion addict.
Find out more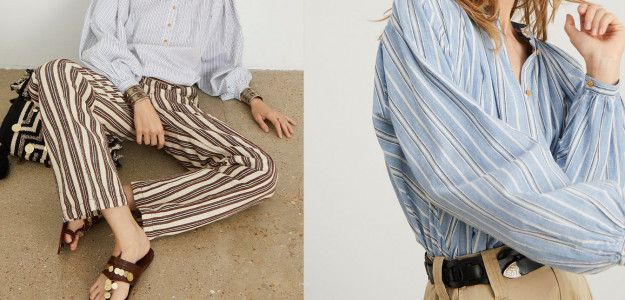 The Laurence Bras Story
Laurence Bras is a family affair, like many others in the fashion industry.
Born in Rouen, Laurence Doligé was raised in the fashion world and launched her first creations from the back room of her mother's workshop at just twenty years old.
The designer built her label's identity around memories: a smell, a particular shape etc. Thus creating unique fashion with a delicate touch.
As an avid traveller, hungry for new experiences, Laurence Doligé lived in Delhi, India for 10 years where she drew inspiration from local life, landscapes and colours. Following this wealth of discoveries, Laurence decided to collaborate with her younger sister, Anne, in 2015 and at the same time took back her maiden name to start the Laurence Bras adventure.
Today, these two partners in crime bring together their talents, knowledge and strengths. One knows what women want from fashion, the other knows how to design clothes that will wow them.
The label creates casual and trendy
women's designer clothing
with Franco-Indian influences and their studios can be found in India, Italy and Portugal. Discover the selection of
women's jackets
,
dresses
, shirts and more on Smallable.
Close