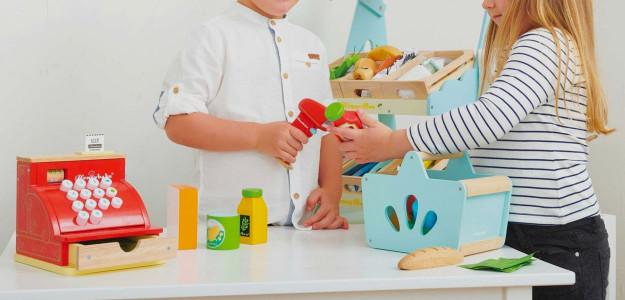 Le Toy Van
This family-run business has been making toys for children since 1995. Le Toy Van wooden toys have charmed children and parents the world over with their remarkable quality and undeniable creativity. Designed with love in Britain with a flare of French touch, Le Toy Van has proved that traditional toys can still be innovative, playful and adored by children. They are an essential brand when it comes to family fun. Le Toy Van makes all of its toys with ethical, sustainable tactile materials, encouraging a lifetime of playfullness.
Find out more
The history of the Le Toy Van brand

Le Toy Van was created in 1995 by Englishman Georges Le Van. They were one of the first manufacturers of painted wooden toys in the world. These high-quality painted toys were initially designed for the UK market but, following their success, the company quickly developed on the international stage.

Le Toy Van wooden toys have a subtle vintage design that will charm both parents and children! All products are guaranteed to be safe for little ones, thus winning over even the most conscientious parents. To ensure this, Le Toy Van tests all its paints and varnishes before applying them to any toys, so that children can play while their parents enjoy total peace of mind. Le Toy Van is a lovely children's toy brand that takes the utmost care of your little ones' well-being.

Discover our selection on Smallable!
Close