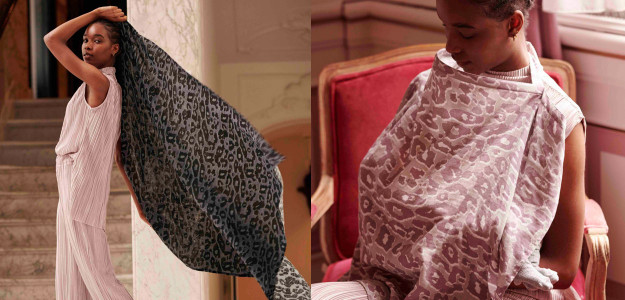 Lemej
Lemej was founded by best friends, Evelyne and Carolien in 2018. After becoming new mothers, Evelyne and Carolien found themselves searching for a discreet breastfeeding solution that was missing from the market. As new mothers, the two women knew that a functional, discreet and stylish alternative was an essential. Lemej specialises in nursing aprons made from the finest natural materials in subtle colours and fresh patterns, designed especially with mother and baby in mind. The name stems from the French expression "le meilleur", meaning "the best" which is what Lemej strives for with their products. Lemej's nursing solutions are inherently stylish and chic, but never stray far from functionality.
Find out more
interview
Evelyne Kadouch-Vergne and Carolien Karthaus
This sweet story was born from the desire of best friends Evelyne Kadouch-Vergne and Carolien Karthaus, both mums, to create an accessory to help other mothers to feel comfortable when breastfeeding away from home. They strongly believe that motherhood can be combined with an active life. Lemej's shawls are stylish, practical and made of the finest natural fabrics. Based in Amsterdam, Carolien and Evelyne take care of all the details with love from designing the collections to preparing the orders. We chat with them about their brand, the current global situation and their favourite things to do in Amsterdam with kids.

Evelyne, Carolien, can you tell us how your brand began?
When we started Lemej Evelyne had 2 children and Carolien just gave birth to her first child. We are both ambitious but also wanted to spend as much time as possible with our kids. We found this challenging, especially during the breastfeeding period. We understand that breastfeeding can be really challenging, but also really special, so wanted to create something that reflected that, but also make it more fun and stylish, so that feeding could be easier, no matter where you are or what you're doing. Something to help mothers be and feel more like themselves, while doing the utmost for their little one. This is where the idea to start Lemej was born, a tool that helps us to make breastfeeding easier while being away from home. The name comes from the French expression 'le meilleur' meaning 'the best', made of the finest natural fabrics (wool, silk and cotton), which feel comfortable and plush for mother and child. The functionality, with a stiff, adjustable hoop at the top so you can still see your baby while feeding, with some added touches, remains at the core, but the beauty and quality of these gorgeous accessories is what makes them stand apart.
What is Lemej philosophy?
For a long time, motherhood has been characterized by the belief that a mother's domain is primarily the domestic one, but Lemej's happy to see this is changing. In more and more Western-European countries women are encouraged to develop professional lives as part of their experience of motherhood. Lemej feels the urge to contribute to this development by designing tools to make it easier for mothers to move, while they're still giving their children what they need. Lemej believes that motherhood can be combined with an active life guided by personal ambitions comfortably. While being a mother it is possible to maintain or develop an identity which leads to an authentic self, without making concessions to the child's safety and security needs. Breastfeeding makes many women feel inhibited in their mobility. By designing the Lemej feeding Shawl, Lemej contributes to the flexibility of these mothers and their families. It's a stylish and functional accessory that allows mothers to create a secure and restful environment to breastfeed babies anywhere and at any time of the day. By using the Lemej feeding Shawl, the mother can be on the move to pursue her aspirations, while she is safely nursing in style. Lemej wants to offer more convenience to women who feel uncomfortable when they feed in public, but also to their babies who can easily get distracted in environments as such. The ultra-breathable Lemej feeding Shawl has a handy opening which makes it possible for the mother and child to keep in touch during feed, while reducing outside stimuli. Lemej provides a practical but high-quality solution for breastfeeding wherever and in which situation the mother and child are. Made from luxurious, soft and natural fabrics.

Can you detail your process when designing your collections?
We love to be inspired by new couture collections and prints. Also, we visit museums and can be inspired by the print or details from a piece of art. We read fashion magazines, watch amazing entrepreneurs and moms on instagram to decide what our next collection of prints would be. We don't design seasonal, so we choose our prints carefully and take in consideration that they are not subject to trends. If the prints make us 'greedy', we hope our customers feel the same as with the new collection of a high end fashion brand.

Breastfeeding is a really special moment for mothers. You have created a very practical item that helps mum and child to feel comfortable. Could you please describe your product? What fabrics do you use?
We understood that breastfeeding can be really challenging, but also really special, and we wanted to create something that reflected that, but also made it more fun and stylish, so that feeding could be easier, no matter where you are or what you're doing. Something to help mothers be and feel more like themselves, while doing the utmost for their little one.
Lemej only uses luxurious, lightweight, soft and natural fabrics to make nursing as comfortable as possible for both mother and child.
We are certainly living through different times right now, how have you been spending your time and what is inspiring you right now?
We are very thankful to have spent more time with our family the past months. In January, Carolien gave birth to her second son and so that precious 'cocoon time' was prolongued. While production came to a complete stop, it was a great challenge for us to introduce new prints, but we weren't able to deliver them directly. We are very grateful for our clients who have pre-ordered our shawls and swaddles. In the meantime, we could pick up to-do's that weren't on our priority list before. With production we've always had the ambition to become more sustainable and now we've had the time to search more sustainable fabrics. Also, we came up with the idea of 'recycling' your feeding shawl: customers can continue using their Lemej shawl after breastfeeding. Simply send it back to us and for €15 we'll transform it into a beautiful shawl for your little one, a reminder of the love and warmth you gave them during their early life. We recycle 90% of the original shawl to create a sustainable and unique keepsake for their journey through childhood.

Can you tell us about your experience being mums and having your own business at the same time?
It can be very challenging to manage our time between business and our family. But having our own business also means that we are able to manage our own time and be flexible and present when needed and wanted. For which we are very grateful for.
What has motherhood taught you?
It taught us to make choices, prioritise, put things in perspective, be patient, love unconditionally, live in the moment and to sometimes not take things too seriously.

Do you have any advice for people who are starting an entrepreneurial adventure these days?
Make a plan and talk about it to people that inspire you, be careful that you don't take all opinions to serious but let it help you to improve your plan. Be dedicated, realistic and keep focus. Create a small team around you, can be freelance but make sure you know your own qualities and let others do what they are experienced in. Don't think it is too difficult and just go.
What is LEMEJ hoping for and dreaming up right now?
We hope to give breastfeeding mothers a guide to a more lively motherhood, instead of the feeling they are tied to home with their newborn. Our feeding shawls are made for the mum's comfort and not for the opinion of the environment. Whether you want to breastfeed out in the open or with our shawl: we hope that small steps will be taken into normalize breastfeeding and make it a part of your lifestyle. We hope that with our stylish products and luxurious feeling we can create a new, more 'lively Motherhood' and get rid of that 'old-fashioned' image.
What do you like at Smallable?
The quality of the brands, such a wide range of the most fashionable and stylish version of essential baby- and mommy musthaves. We love that with Smallable all our favourite brands are together in one site with a clearly overview.

You are based in Amsterdam. What do you like about the city?
Amsterdam is an amazing place to live with kids! The diversity is big and because everything is accessible by bike, you can easily visit one of the beautiful museums, take a walk in the park and visit the zoo in one day. There are amazing theatre- and musicshows for kids and plenty of playgrounds to make a pitstop. Also, a lot of restaurants set for kids with a playcorner or entertainment.
What is your favourite restaurant?
We love to visit one of the amazing vegetarian restaurants Amsterdam has to offer. When we want to treat ourselves during a hard day of work at the office, we go to Neni Amsterdam for their amazing sandwich Sabich. This Israelian restaurant is also great for dinner and has amazing cocktails.
Do you have any secret tips to share? :)
Oh so many! Give us a heads up when you are headed to Amsterdam :)
What is your favourite activity to do with kids in Amsterdam?
Visit one of the amazing museums, kids theatres or kids concerts. We love to take our kids to the Concertgebouw where they occasionally program classical concerts for kids. The Amsterdamse bos and Vondelpark are great for (long) walks. It has a small kids pool that is filled with clean water every day during the summer period.
A book:
The Book You Wish Your Parents Had Read: (And Your Children Will Be Glad That You Did) Amazing reflections on how not to take your own childhood into your own parenting. Listen to their emotions and accept them, but also not being afraid to show and tell your emotions.
A film:
Peter Rabbit, such an amazing movie both for kids and their parents :)
Your current music playlist:
From classic music, to r&b and pop.
Photos and text by Yasmina Pérez
Close