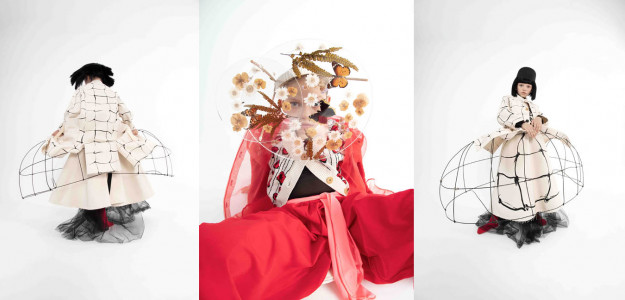 Little Creative Factory
Clothing for children
aged 0 to 99, designed as unique pieces with the intention of creating fewer, but better, items - this is exactly what Little Creative Factory offers. The brand, originating from Barcelona, entices us (and its loyal following) with its original collections, its attention to detail, and, as its name suggests, its creativity. Little Creative Factory represents a pure passion and desire to create a
children's brand
that is true to designer Cristina Fernandez's ideals and vision.
Sustainably-minded
, distinctive and innovative, Little Creative Factory crafts clothes for kids and women that play with fabrics, volumes and layers, creating a rich and playful universe, and enabling us and our kids to forge and experiment with our own individual styles.
Find out more



interview

​Cristina Fernandez
Cristina, the founder of Little Creative Factory, welcomes us into her office situated right in the heart of Barcelona, in the fashionable and artistic quarter El Born. We are intrigued to discover the atelier where Cristina and her team find their inspiration. Behind her aquamarine eyes, lies a dynamic woman guided by her dreams. Cristina has a deep love of nature and needs to be by the ocean in order to find balance. Her children, Ona (Catalan for 'wave') and Roc (Catalan for 'stone') are her two biggest sources of inspiration. On her patio, filled with greenery and life, Cristina tells us about her journey: of how Little Creative Factory began and the philosophy behind her brand.

Tell us about how Little Creative Factory began.
Generally, in life we can either see the glass as half empty or half full. When the economic crisis hit Spain, I decided to see my glass as half full. I was convinced that this period could be synonymous with opportunity. During this time, I created a Japanese fabric hat for my daughter, Ona. My friends and people in the street would stop me and ask where I had bought it. So, I decided to make a few more and that is how Little Creative Factory was born. It was an unexpected mix of a fabric hat for my daughter and an opportunity that life gave me!
What is the best advice you've been given?
Follow your dreams. And that is exactly what I did. I consider myself to be a dreamer who had the chance to make my passion my trade.
What are your "little creation secrets"? how do you work?
Originally, I was an architect and worked for a few years at a studio designing large buildings. For me, it's natural to envisage ideas with shapes and volume. With fashion collections, it's sort of the same thing. It all starts in my head; I think of forms accompanied by fabrics and colours that I note and sketch in my notebook. That's how my new creations see the light of day. It starts with a concept, a three-dimensional idea that is then drawn in two-dimensions. Ultimately, fashion and architecture are two three-dimensional art concepts.
The children's clothing market has evolved significantly over the past few years. How do you make your brand stand out?
We try to make each collection different and a reference point. We want our collections to have meaning and to send a message to society. It's not just about making pretty dresses or different jackets. We want children to have an experience with our collections. We want them to play and wear our pieces without any rules. They are clothes that have been designed to express the personality of each child through a play between blends and juxtapositions. Our ideas don't follow trends, they are timeless and evolve with the children they are designed for.


What motivates you during difficult times?
It's true that there are difficult times, tough periods, where unexpected issues arise, as well as complicated situations, but it's all worth it when you see positive results. For example, two months ago, Little Creative Factory became the first brand to be invited to the last edition of the Petite Parade Kid fashion show during New York Fashion Week. It was an absolutely incredible experience! We forgot about all the hours of work, all the agony and fear because we were where we wanted to be. Our clients are very important to us. Whenever one of them sends us a message with a photo of our designs worn by their children, it's very motivating! it's moments like this when we realise that all the tough moments have their advantages, and that gives you the strength and energy to continue to work hard and [pauses] fulfil your dreams.
What do you do to balance your work and family life?
For me, the most important thing isn't about the quantity, but about the quality of the time spent with my children. When I'm with my five-year-old daughter and my two-year-old son, I forget everything else. Emails don't exist, nor do upcoming meetings or WhatsApp messages. These moments are the most important, my children have to feel that they are my priority and there is nothing more important than that. I need these family moments too - to laugh with them, to play and to give to them cuddles - [these] are all things that are essential in order to go back to work with more energy.
Can you tell us about some of your current and upcoming projects?
We have a lot of ongoing projects: collaborations with bloggers, fashion shows in New York, the development of the brand on the Asian market (this year will be the first time we participate in Playtime Tokyo), and others that are in stages that are too early to talk about! We never stop dreaming and, luckily, a lot of these dreams are coming true bit by bit.
What are some of your favourite fashion brands?
Those that are moving, that have something to say, that evoke emotions and leave room for imagination. But, I do admit, I am very drawn to Spanish brands!
What do you like about Smallable?
When you talk about Smallable, you're talking about fashion and trends with two big capitals. Smallable is a reference point each season, an incredible selection of brands and products that we are thrilled to be part of. I love the Smallable style with its unique French charm. I'd also like to mention its team! Professionals who take care of each collection that we present them with. It's extremely easy and enjoyable to work with the Smallable team.

What are your favourite must-do activities with kids in Barcelona?
We are very lucky to live in Barcelona because there are lots of activities to do with the children. Nothing is easier or more enjoyable than exploring the city by bicycle or going for a walk by the sea and getting a delicious ice cream while listening to the waves. For garden enthusiasts, I would advise Parc de l'Oreneta where there is a little steam train and lots of play areas for the little ones. I also like Parc del Laberint d'Horta a lot, with its rows of cypress trees that lead to a beautiful pond filled with goldfish. If you would prefer to visit a museum or gallery, I would suggest you go to the PLOM Gallery [Carrer de Sèneca, 31] or to Cosmocaixa [Carrer d'Isaac Newton, 26]. PLOM Gallery is an art gallery geared towards children; a unique space in Barcelona, which stimulates children's creativity, imagination and self-confidence. They aim to create an emotional bond between children and art.
With its Foucault pendulum and activities for children, Cosmocaixa also has a magical forest with exotic animals. Cosmocaixa is always a great experience for both children and adults. This large museum holds a planetarium and a host of fun and educational activities, which open children up to new horizons. I also advise taking a look at the website www.mammaproof.org, where you'll find lots of original ideas for activities to do with children.
And restaurants?
Green Spot [Carrer de la Reina Cristina, 12]. It's a vegetarian restaurant for non-vegetarians situated near our office in El Born. The menu offers a variety of international influences – Japanese, Indian, Mexican, Middle Eastern, Asian… and it's all delicious!


A place you go to disconnect?
Cadaqués, to listen to the waves. It's a small fishing village in Costa Brava, at the end of a long road. When you're there, time stops. The blue of the sky blends seamlessly with the blue of the sea, the white houses are so inviting and its little hidden coves are a real paradise.
Where is your next/was your last holiday?
My last holiday was in Marrakech, the inspiration for our next summer collection…and that is all I can say! The next trip will be a mix of tranquillity on the isle of Formentera, and of unrest in Japan, where we will be presenting our new collection at Playtime Tokyo.
What are the most played songs on your current playlist?
I'm very eclectic in terms of music. It depends on my mood and the moment. However, I have grown up with an appreciation for film music. The music from Amélie fascinates me; it takes me on a journey to Paris, makes me smile and puts me in a good mood. Mary Poppins was also one of my favourite films when I was little and now I really enjoy singing all the songs with my daughter Ona. As you may know, Amélie and Mary Poppins are two beautiful films, funny, with a touch of innocence - a real characteristic in dreamers!
What is your motto in life?
Life begins at the end of the comfort zone…
Close