Louis Louise
Louis Louise is a French fashion brand that makes quality clothes for kids and women. Inspired by her daughter, Louise, designer Julie Melier first started Louis Louise in 2006 as a small line of kids' clothes. Over the years, the brand has grown to offer a comprehensive and luxurious range of clothes for children aged zero to 12 years, as well as a popular women's fashion line. Each season, Louis Louise leaves us spellbound with their imaginative, slightly retro-inspired collections in timeless cuts and soft, breathable fabrics. From floaty frocks and blouses to classic tees and shorts that are perfect for playtime, Louis Louise makes clothes with a twist that are ultra-wearable, with just a hint of something different. Find out moreClose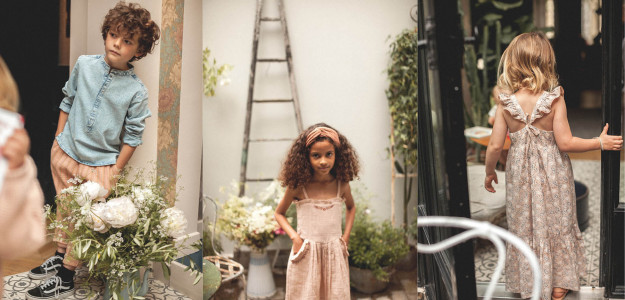 THE LOUIS LOUISE STORY
Louis Louise started out as a small family affair and has since grown into a range for all the family. Following a degree in applied art and a couple of years working in the décor industry, French designer Julie took her interest in textiles to create her first collection, a line of
pyjamas for girls
and
boys
. With the support of her family, in 2006 she decided to launch her own brand, Louis Louise. Behind the scenes, Julie's brother Léo works on Louis Louise's management and her mother Michèle helps with accounting. Since the brand's first collection, Louis Louise has now evolved to offer a full range of children's clothes for kids aged zero to 12 years, as well as a women's collection.
To design Louis Louise's collections - from its whimsical
children's clothing
to its bohemian
womenswear
collections - Julie takes inspiration from her surroundings. She cites her daughter, Louise, as her muse, while her childhood memories inspire her motifs, and colour her collections with nostalgia.
Season after season, the Parisian brand infuses its collections with tenderness and originality, striking the perfect balance between attention to detail and creativity. A staple brand in the world of children's fashion, Smallable is proud to present its selection from Louis Louise's latest collection.
Close