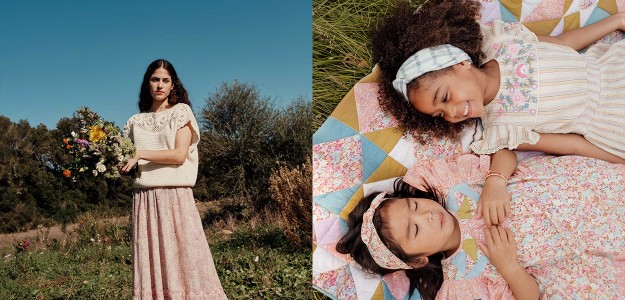 Louise Misha
While travelling in India, friends Marie and Aurélie decided to embark on a new adventure, creating a fashion label for girls... What started out in 2012 as a collection of handmade jewellery for little girls has since grown into Louise Misha, the poetic Parisian brand for girls and women that we know and love today. The brand makes beautiful, bohemian-inspired clothes and accessories for women and girls, aged 0 to 14 years old, in breezy, exquisitely-patterned fabrics. Meticulously crafted, each piece in the Louise Misha range is unique with all the brand's embroidery, macramé and pompom detailing done by hand. The brand works will skilled artisans in India, Italy and China to create its clothing, while its socks and tights are made in France and its baskets crafted in Morocco. Nostalgic, whimsical and full of special little touches, Louise Misha has created a special sartorial universe that we, and our daughters, continue to fawn over season after season.
Find out more
interview
Marie Pidancet
Marie Pidancet is not only the founder of Louise Misha, she's also a talented artistic director and designer, known for her delicate, feminine creations. We recently caught up with Marie in Paris, where she welcomed us into her beautiful apartment. A self-declared travel addict, Marie has decorated her home with precious trinkets, artisan creations and vintage finds from her travels. Much like the pieces she creates for her brand, her apartment is eclectic, bohemian and vintage-influenced. Over a nice cup of tea, Marie spoke with us about her career, the company she's created and her beautiful designs.

MARIE, TELL US HOW THE LOUISE MISHA ADVENTURE BEGAN. WHAT INSPIRED YOU TO CREATE YOUR BRAND?
Ever since I was little I dreamt up clothes. Fashion design and pattern making were an obvious choice for me after I finished my high school studies in literature. So, I took classes at the Atelier Chardon Savard (a fashion school in France). Over the next seven years I worked for various different brands. But by the time I turned 30, I wanted to express my own desires, not those of the brands I worked for. I wanted to be free. The birth of my two nieces was a turning point; I wanted to make clothes for them, but I didn't know anything about the world of children's fashion. The light bulb moment happened in Delhi, India. My friend Aurélie and I were blown away by the country, the colours, the exuberance… We felt like anything was possible. That's what made us create Louise Misha in 2012. At the start, we only sold jewellery. Our products were a big hit straight away. Soon after, we developed a ready-to-wear line for girls, then a women's range in 2016, then a baby collection in 2017. It all came about very naturally. We followed our intuition and listened carefully to our customers. Two years ago, Aurélie decided to start a new life. I continued to develop Louise Misha, and the women's swimwear and lingerie line were born. Our customers loved it. This summer, we are launching a collection we are particularly proud of. It's an organic range for women, girls, babies and, for the first time, boys! Ever since it was created, Louise Misha has advocated for kindness, respect and quality. We want to go even further with this commitment. This line will be made exclusively from organic and natural-based materials (organic, fair trade cotton) and is GOTS-certified. I can't wait to reveal the new range!
TELL US A BIT ABOUT YOUR OFFICE IN PARIS. HOW IS THE TEAM ORGANISED?
We are lucky enough to work in a beautiful loft in the heart of the 11th arrondissement. It's our little haven and the Louise Misha home. It's soft, colourful and lively. The team is made up of around fifteen people divided into four departments: administration, marketing, design and production. My business partner, Claire, manages the administrative section and production departments. Meanwhile, I take care of design and marketing. We've struck the perfect balance. We complement each other.
WHAT IS YOUR BRAND PHILOSOPHY?
Louise Misha is a state of mind. Joy, colour, open-mindedness, curiosity, a taste for travel and adventure and, of course, kindness. Within the team, we always make sure we listen to each other and treat each other with respect and kindness. This is very important for me. Our team is mainly female (there is just one man on the team currently); even the workshops we collaborate with are led by women. So, of course, Louise Misha is built on femininity. This femininity is conscious and feminist. We are fiercely determined to change mentalities in order to free ourselves from the patriarchy, which has done and continues to do untold damage to women's causes.
LOUISE MISHA STRIVES TO MAKE EVERY ONE OF ITS PIECES UNIQUE. TELL US A BIT ABOUT THE CREATION AND PRODUCTION PROCESS.
I never find inspiration in fashion trends. Every collection is a new journey. I always want to tell a story that is as personal as possible. Day to day, I collect photos, materials and colours, and keep them in my (many) notebooks. This is the starting point for the collection. Then, I talk about them with my colleagues. We bring our ideas together. We share our perspectives. They work with the pattern maker to prepare the technical dossiers, then we submit the patterns to our workshops. Next comes a long series of exchanges before the final prototypes are created.


YOUR COLLECTIONS ARE IMBUED WITH A SENSE OF ADVENTURE AND A LOVE FOR TRAVELLING. WHERE DO YOU FIND YOUR INSPIRATION?
I do, indeed, travel a lot. I love it. I couldn't live any other way. I need to nourish myself. I'm very curious. I like going to exhibitions, the cinema… I love bargain hunting in vintage stores. For me, inspiration is everywhere.
WHAT'S YOUR FAVOURITE PLACE IN THE WORLD? AND YOUR FAVOURITE TRAVEL MEMORY?
Definitely India. It's the most inspiring destination and the place that best reflects me. I'm lucky enough to go there regularly. I need that dose of intensity and colour. The people I meet and the things I discover there are always magical. It's simple: every time I go there, I come back with new ideas. But my favourite travel memory is still one of my first holidays. At 20-years-old and without a penny to our names, my brother and I went to Morocco by coach. We slept on hotel terraces, doing nothing more than wandering around the country. It was bonkers. I have a wonderful memory of a night we spent laughing and playing cards with Tuareg locals in the desert. I'll never forget that night.
WHO OR WHAT ARE YOUR FASHION AND ART INFLUENCES?
My grandfather, Jean Laude, was a poet and art critic with a passion for African art. I grew up surrounded by pieces he liked. That shaped my imagination and developed my tastes for primitive art, travel and, more generally, folklore and local cultures. My father, meanwhile, loved paintings. He introduced me to various artists who still influence me today, such as Matisse, Schiele and Von Dongen. As for fashion, it's vintage pieces that always inspire me: old embroidery, fine lace, antique pieces.
IS THERE A LINK BETWEEN LOUISE MISHA'S CHILDREN AND WOMEN'S COLLECTIONS?
The women's line came four years after the children's range, as we had received various requests from mums who loved the Louise Misha look. At the start, it was just women's versions of the pieces for girls. This proved so successful that we decided to design more personal garments. Our creations adapt to every stage of life. At six months, the main requirement is that the clothes make nappy changes easy. At four-years-old, little girls love to spin around in their dress and need to be comfortable enough to run and jump to their hearts' content. Women like to be both elegant and comfortable, so that they can go about their day at one hundred miles an hour. Sometimes I repeat a fabric, a print or some details throughout both lines. So, there are resonances between the collections.

BEING A MUM AND AN ENTREPRENEUR CAN BE A REAL CHALLENGE. HOW DO YOU ORGANISE YOUR DAY-TO-DAY AND BALANCE YOUR PERSONAL AND PROFESSIONAL COMMITMENTS?
Being an entrepreneur means accepting that work has an important place in your life. I work a lot, so I have little time for my private life. At the moment, I struggle to combine work and social life. But I would like to get there one day. Whenever I have a little free time, I always dedicate it to my son, Samuel. He's seven and our quality time together is truly special. For day-to-day things, I can rely on his dad. I know I'm lucky. Without him, none of this would have been possible.
WHAT IS THE BIGGEST CHALLENGE YOU HAVE FACED IN YOUR CAREER AS AN ENTREPRENEUR?
Going from designer to business owner hasn't been easy. When you start off, you can't fathom the number of different skills you will need. But I never got discouraged. I learnt to surround myself with the right people, to delegate. Nowadays, I run a business with 15 employees with different specialities: management, human resources, finance…
These parts aren't so glamorous! I'm so lucky to be supported by my new business partner, Claire, who takes care of the administrative and financial aspects. I created Louise Misha because of my passion for design. So, I see managing my business as a challenge. Without management, I can't create. I feel really responsible for the people I employ. All these people have decided to come with me on this adventure. I can't disappoint them!
HOW DO YOU WANT THE BRAND TO EVOLVE?
Louise Misha has grown very quickly. Today, we want to focus our attention on two main axes. First: our environmental impact, which I would like to be as neutral as possible. The fashion industry generates a lot of pollution. We are looking for alternatives so that we can make environmentally responsible garments. Our upcoming organic line is part of this mission. We are going to roll out this experience for all our clothes, wherever possible. We are also working actively to change our packaging and stop using plastic. Then, we would like to develop our relationship with our customers by opening pop-up stores in France, South Korea, Australia and the USA, where the brand has been very well received. We might even open our own permanent stores!

WHAT IS YOUR MANTRA?
My mantra is anything is possible. We should never be limited by what others make us think. My various trips to India have always been very spiritual. I believe in karma. I'm certain that you get back what you give in life.
WHAT DO YOU LIKE THE MOST ABOUT SMALLABLE?
I love the quality of the products and the regular attention it brings to new designers. The site is a real gem! You've managed to create a strong identity. Well done! Then, of course, Smallable was one of the first websites to trust in us and support our Louise Misha adventure. I met Cécile Roederer, the founder. I really admire her career and her talent. She's a wonderful example of a businesswoman.
YOU LIVE IN PARIS. WHAT ARE YOUR FAVOURITE KID-FRIENDLY DESTINATIONS?
On the weekend, I often head to Ground Control, which is near my home. It's a multi-disciplinary, independent living space. The book shop is great and they do lovely breakfasts; my friends and I go there to eat while the kids play together. Then there's Arkose, which my son loves. It's a climbing centre with spaces reserved for children. The hardest part is always leaving!

DISCOVER LOUISE MISHA'S LATEST ARRIVALS, INCLUDING SMALLABLE'S EXCLUSIVE COLLABORATION WITH THE BRAND, NOW ONLINE.
PHOTOS & TEXT BY YASMINA PEREZ
Close
Discover our other brands