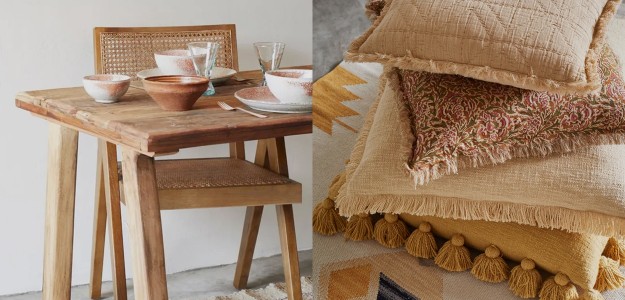 Madam Stoltz
Specialising in home design and décor, Madam Stoltz is a creative partnership between Danish designer Pernille Stoltz and her husband Peter Bundgaard. It all started in the 1990s when Pernille visited India and was first referred to as 'Madam Stoltz' by the polite locals. Fast-forward a couple of years, having fallen in love with India and its incredible artisanry, when starting her first brand Pernille knew she wanted to name it after this charming moniker. Weaving inspirations as varied as traditional Indian styles and techniques with those of minimalist Scandinavian design and nature from the Danish island of Bornholm, Madam Stoltz now offers a well-rounded collection including furniture, lamps, candles and mirrors.
Find out more
L'histoire de la marque Madam Stoltz

Créée en 1995 par Pernille Stoltz, la jolie marque Danoise Madam Stoltz a su s'imposer comme l'une des marques incontournables de ces dernières années. Derrière ces produits à l'influence orientale se cache une véritable histoire que Pernille se plait à conter sur son site. Loin de l'idée de lancer une marque de décoration, Pernille Stoltz cherchait principalement à financer son projet de backpacking, un voyage de trois ans qu'elle financera en vendant des bijoux faits en inde. Curieuse, elle décidera de se rendre dans ce pays et en tombera immédiatement amoureuse.

Inspirée par les couleurs, les tissus et le savoir-faire indien, Pernille Stoltz trouvera l'inspiration nécessaire à la création de son label, Madam Stoltz. Inspirée par la culture indienne mais également par la nature et les matériaux tels que le bois ou la pierre, Pernille créé des produits uniques, façonnés à la main qui donneront à votre intérieur un air de vacances. A chaque collection, Madam Stoltz nous surprend avec ses accessoires en grès ou encore en corne, dont le design unique transformera n'importe quelle pièce.
Close