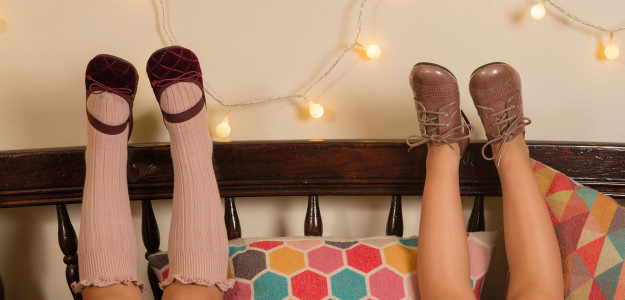 Manuela de Juan
Manuela de Juan created her eponymous label in the heart of the footwear industry in Alicante, Spain. On a mission to redefine children's footwear, Manuela de Juan created a line of shoes inspired by the classic Parisian style with a cosmopolitan touch. Manuela de Juan sets itself apart from competing footwear brands by thinking outside the box; with a combination of meticulous craftsmanship and refined materials, such as tanned leathers, Manuela de Juan exudes originality and character. Manuela de Juan now offers their coveted styles in a desirable collection for the little ladies in your life; both mum and daughter can strut in style together. A worldwide success this footwear brand has set the standard for authentic and creative styles. So step out and be sensational in a pair of shoes from Manuela de Juan!
Find out more
interview with Antonio Lopez-Roca,
of the brand Manuela De Juan
Antonio Lopez-Roca Juan is leading the brand founded by his mother, Manuela de Juan, in 1970. With a background in economics and extensive experience in the world of footwear from a very young age, Antonio decided to join the family business in 2001 creating his own shoe factory. With more than 100 people currently working there, this is the only factory with eco-friendly certification in Spain. Antonio is a real multitasker: he oversees production, works closely with his sales and marketing teams and also deals with the collections' design. Accompanied by his dog Luna, Antonio shows us the exciting and complex process of designing footwear and reveals the brand's secrets of success.
How did Manuela De Juan start?
In 1970 my mother, Manuela de Juan, at the age of 22 opened a few footwear stores and, at the age of 25, launched a collection with a range of 25 colours, which very modern for the time. This was and remains the essence of the brand: the variety of colours. We have always believed that children have to have fun and not be forced to stick to the 4 or 5 basic adult footwear colours. In 2001, we set up our own eco-friendly factory where we have more than 100 people working at the moment.
what are the advantages of a family collaboration?
There are many. Almost everything I know is thanks to my mother and my family. However, it is very important to be able to adapt to the current situation and do things differently from how they were done before. I believe it is important to keep the artisan touch and introduce new technology.
Your mother created this brand in 1970. What has been one of the best pieces of advice she has given you?
The best advice she has given me is that we remain faithful to the essence of the brand - adapting to trends while being elegant and offering the best possible quality. My mother also taught me the importance of working with people. For us, teamwork is essential and we can now say that we have a consolidated template. We have created an internal training and incentive program because one of our goals is that our team is motivated and feels comfortable in the workplace.
Where do you get inspiration from?
My inspiration comes from various sources. From my travels, my experiences with different people, my weekend getaways, visiting a museum or simply walking around a foreign city. I travel over 25 times a year attending fairs, and am lucky to have many friends scattered around the world. Really getting to know other cultures is something that enriches me a lot and I think it is, one way or another, reflected in the collections.
What are your "little fabrication secrets", how do you work?
We work in a very organised way. There are several shifts at the factory which remains in continuous operation from Monday to Saturday. Moreover, we have made a very large investment in technology and all the materials we use are environmentally friendly.
How do you manage to couple an eco-friendly mind-set and manufacturing?
It's not easy. It was a slow process but our goal was clear: to create a factory where workers do not suffer physical problems and to choose the highest quality materials, while always considering the well-being of children. We only use pure and eco-friendly materials, solar energy, water based glue and vegetable tanned leather.
Angelina Jolie, Jessica Alba, Victoria Beckham... Plenty of international celebrities are clients of yours. What does that mean to you?
Sarah Jessica Parker buys shoes for both her daughters and herself. The British, Danish, Dutch and Swedish Royal Families also like our products and Allesandra Ambrosio and Halle Berry call us each season to get models that they cannot find in stores. Another reason to work even harder is our desire to offer a high quality product.
What are the day to day challenges for the brand?
Maintaining quality, be more stabilised in the future - not in terms of sales but in terms of internal growth - and further progress in technological development. We try to fully get to know the markets in which we work to get the greatest return.
Any projects coming up?
Yes, we are about to launch a new footwear brand: 100% organic and affordable Akido Kids. They are fresh and versatile fabrics with different prints. We wanted to respond to a strong demand from our customers in the US, particularly in California.
How do you imagine the future for Manuela de Juan?
Our aim is to consolidate the European market and to reinforce our brand image in Spain. We really want people to know us, to see what we do and how we do it. We want to be identified as a premium brand in the children's sector in terms of design and quality.
Where can you be found when you're not working?
I have an olive farm where we produce olive oil. When I am not working, I like to spend time there where I am close to nature. Walk in the countryside with my dog Luna.
What is your favourite restaurant in Alicante and Valencia? And favourite hotel in Spain?
Paco Gandía in Pinoso, Alicante and Alkázar in Valencia. And Hotel La Bobadilla in Granada.
A core belief?
Do things in an unconventional way - atypically.
Manuela De Juan is avaible at Smallable online and in our Parisian concept store 81 rue du cherche-midi - 75006.
Close