Masscob
Behind the elegant Spanish womenswear brand, Masscob, lies Marga and Jacobo. This couple combined their names and styles to create Masscob. The brand's collections are entirely authentic; they reflect the creativity of both designers, as well as their love for high-quality pieces and refined materials. The duality of femininity and masculinity is reflected in their feminine dresses and tailored blouses. Masscob caters to those with a romantic and relaxed style and is defined by feminine silhouettes and quality craftsmanship. Find out moreClose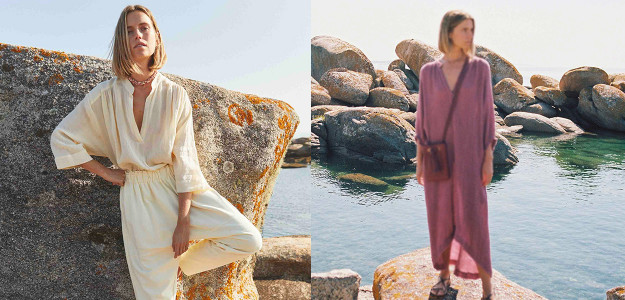 The Masscob Story
Created in 2003, Masscob is a Spanish brand whose name is born from the combination of its founders' names: Margaret Massanet and Jacobo Cobian. It was on a return flight to their native Coruña that Margaret and Jacobo met, a chance encounter that would lead to the creation of their brand.
Through their creations, the Spanish couple bring out their personalities: one masculine and the other feminine. Searching for balance between, these two opposites are at the very heart of their work.
Masscob's women's fashion pieces are imagined, designed and, above all else, tried and tested! Margaret and Jacobo like to parade the pieces around their Coruña studio and test their prototypes on moving models in order to strike the perfect balance, mixing the different cuts, materials and styles that are at the very heart of the brand's DNA. The key for the designers is to remain authentic and spontaneous.
Masscob is a bet that paid off, relying on simplicity and creating timeless pieces for women, sitting somewhere between casual and bohemian, but always with style.
Close