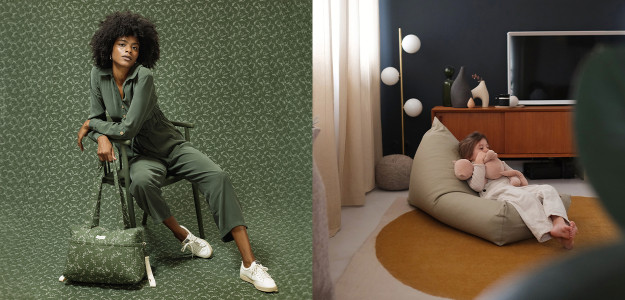 Nobodinoz
French-Spanish homeware brand Nobodinoz believes that changing the world begins with childhood. With this philosophy driving their brand, they strive to create well-thought products for the whole family that are of the highest quality, safe for the environment and that showcase their manufacturers' craftmanship. These values are built into the DNA of Nobodinoz, whose products are designed to last and be passed down through generations. Their range of over 250 products – which spans furniture, décor, storage, linen and toys – is entirely designed and made in Europe with all of their textiles produced in Spain in line with the Oeko-Tex Class 1 certification. From unique and colourful bedding to nursery essentials and more, Nobodinoz is a brand that appeals to parents as much as it does to children.
Find out more




interview

Murielle et Roman Bressan
Meeting with the Founders of Nobodinoz

YOUR BRAND WORKS WITH A LOT OF LOCAL ARTISANS; CAN YOU EXPLAIN TO US IN A LITTLE MORE DETAIL ABOUT YOUR RELATIONSHIP WITH LOCAL PRODUCERS?
As early as 2012, we were working against the current by focusing on local production. The trend at the time was to manufacturer wherever it was inexpensive, to produce a lot cheaply, to buy and to throw out. We chose to take a chance on the expertise that could be found close by in France and Spain. By being in control of the whole production chain, we avoid additional transport costs and intermediaries that add no value to the product. We manage to make high-quality products made in Europe while keeping our prices competitive. This requires working hand in hand with the artisans, understanding their work and their production constraints in detail so that we can always find a solution. We've managed to help support certain companies that were struggling and that have subsequently been able to revive their businesses. Workshops in villages such as Catalonia for textiles, the Jura for toys and Castile for knitted products. Creating work is also essential for the life of our regions. In total, we have given jobs to more than 200 artisans. It is something we're very proud of.
CAN YOU TELL US A BIT ABOUT YOUR CHOICES AND STANDARD OF MATERIALS?
We want our products to combine beauty, quality, material and technicality. The product development process is very thorough and takes time. It always starts by choosing the material, the textures and the colours. We love natural materials like cotton and wood. After that it all comes down to the construction of the weave, the design the final details and the feel. Standards are reassuring to customers but they're not sufficient. You need to do product trials, test them and continuously keep trying until you get the right result. For example, the development of the highchair and the baby bouncer that we have just launched in collaboration with the designer Marc Venot took more than two years. Our organic double cotton muslin that we use on our bed canopies and swaddling cloths took one year to finalise. On average we do about thirty trials to develop a colour, and we do this for each type of fabric. Whenever we have two options that give the same aesthetic result, we systematically choose the one which is higher quality and better for the environment. For example, our corduroy is made from recycled fibres.
WHAT ENVIRONMENTAL INITIATIVES IS NOBODINOZ TAKING ON?
Nobodinoz was born "green". Our commitment was to work with local artisans and to revive a savoir-faire that we did not want to lose. By making this choice, we are also choosing to reduce the transport chain and to ensure that we are working with professionals who are abiding by European environmental standards and who often go above and beyond these standards. An artisan protects the land on which they live; they don't pollute the water that they drink. Because we buy all our materials directly ourselves, the choice of organic cotton and natural materials happened instinctively. We also wanted to make products that would last, that would be handed down, that would not be bought just to be thrown away. During this decade, the world has finally realised the challenges of climate change. We have three children, it's their future that counts the most for us. Recycling, buying sustainably and locally, being aware of our carbon footprint when making purchases or travelling, all these things have become natural reflexes in our daily life both at home and in the office. We seize every opportunity to do better for the environment. Each of our collaborators also thinks along these lines in their own domain and offers solutions. By acting together, the world will change.
CAN YOU TELL US A BIT ABOUT THE QUALITY STANDARDS OF YOUR BABY RANGE?
For babies, aside from the CE standards that are on all of our products such as our cots, highchairs or changing tables, we also have the Oekotex Class 1 certification. We are members of the Aitex textile manufacturing association in Spain in order to guarantee the highest standard when it comes to ensuring the safety of textiles for children's skin. It's worth mentioning that the fabrics go through more than ten preparatory procedures from dyeing to printing and finishing before they can be ready to use. Each of these steps, if they are well done, will lead to a high-quality product. We monitor each one of these processes in the factories that are all within a 40km radius from our offices.
WHAT IS CURRENTLY BEING DEVELOPED FOR YOUR BABY RANGE?
In 2021 we are launching our new collection of furniture called Growing Green. This collection will round off our baby range. There will also be a few surprise colours and products in our baby range as well as our décor and kids' ranges that we are continuing to develop.
WHAT ARE THE VALUES OF THE NOBODINOZ BRAND?
Our values can be summed up easily in our motto: "changing the world starts from childhood".

Close
Discover our other brands