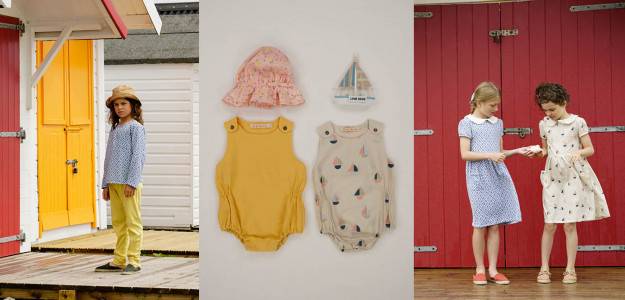 Omibia
After the birth of her first child in 2007, Mercedes Bermudez decided to create a beautiful line of children's clothing, thus Omibia was born. This children's fashion line is both sustainable and respectful of the environment. Each season, Omibia offers a beautiful collection consisting of timeless garments that are comfortable and easy to wear for boys and girls. From knitted jumpers to flowy skirts, all items are manufactured locally in Portugal and Perù with the most refined materials.
Find out more
interview

​Mercedes Bermudez
The raindrops shiver down the window pane. The train carriage is empty. We cross the imposing forests south of London under a grey sky, enveloped by a cloud of silence, until arriving at East Grinstead, a town known for its organic farms and home to Omibia's headquarters. Mercedes Bermudez, the brand's founder, greets us with a delicious meal she has taken great care to make. We talk about her career, about how Omibia was born and about her day-to-day work on the project. Mercedes is part of the talented generation of Stella McCartney, John Galliano, Alexander McQueen and Sybilla, all of whom graduated from the prestigious Central Saint Martins in London. Having accumulated a wealth of experience at the highest echelons of fashion design and lived for 3 years in New York, Mercedes discovered the importance of following the natural course of things in all areas of life. It was at that moment that she decided to launch her own children's fashion brand, Omibia, with one clear mission: to create excellent-quality pieces from 100% natural fabrics, prioritising the people, places and natural methods involved in the process.


How did Omibia come to life?
Ever since I can remember, I dreamt of having my own brand, thinking of what I would call it, and imagining the different clothes I could create. I inherited my grandmother's sewing machine when I was just a teenager and began making all my own clothes. I grasped the opportunity, developed the skills and discovered my passion for making clothes. After completing a degree in Fashion Design at London's Central Saint Martins, I learnt the ropes of the fashion industry while working for various prestigious fashion companies around the world. I took time out, with my husband, to raise our baby son Miró, in an idyllic house, at the top of a magnificent mountain, overlooking a luminous lake north of Madrid, Spain. Spending precious time and having such space to experience our baby growing and becoming a boy, was the gift that enabled me to develop the path to building my own baby and children's clothing company. I became determined to create my own brand with the highest ethical, organic and sustainable standards, while ensuring an enduring and distinctive style. Omibia was born.
How did you come up with the name and what is the idea behind it?
The 'Om' in Omibia is the sacred sound in the Hindu and other ancient religions. As a mantra it has deep spiritual and high creative power. The 'bia' derives from bios, Greek for life. Omibia, 'purest in life', just felt right.
How would you describe your brand?
Omibia is a luxury baby and children's clothing company whose mission is to make clothes that fit well, are of the highest quality, have a distinctive style, but also pay maximum respect to the people, places and natural processes involved along the way.
What fascinates you about kids' fashion?
I have always loved kids' fashion, even before I had one of my own. I am inspired by traditional techniques, colour palettes that change like the seasons, fabrics that flow and form like the elements of nature and garments that fit like a hug. Omibia's fashion statement is a distinctive style which evolves organically from season to season, year to year. We have a prevailing style which appeals to those who like children to look like children.


How many children do you have? How does that influence your work?
My son is my inspiration. My early collections were modelled on him, his behaviour and his activities. The way that he interacted with the world of nature made me realise exactly what all children need: quality, comfort, durability and style.
How do you balance your work and family life?
I love my work and live my life to the full. I continually strive to find the perfect work - life balance. I am driven by creative passion but have a tendency to expect too much of myself. I am learning to pace myself.
What are your sources of inspiration?
I start with a profound sense of wonder, and end with wonderful ideas. I pay attention to the subtle details in what I admire most in life, from the worlds of nature, art, design, photography, travel and culture. I intend to transcend boundaries to create truly global kids' fashion.
How is your creative process and how are the collections made?
Each new season brings new challenges. We are designing for now and future generations. Rough sketches are the seeds of the final designs that are generated from creative collaboration with our manufacturers. Items are handmade, machine-made or a combination of both.
Could you please describe a typical day at work?
There is never a typical day, I am event driven and as such, never know what to expect or what exactly I will be doing from one day to the next. I simply 'go with the flow'. Every day is different and since I am involved in all aspects of the company, I could be designing, sourcing fabrics, directing manufacture, marketing, promoting my brand and so much more.



What do you do on your free time?
I love spending time with my family and friends, going for long walks with our dog, eating out and discovering unfamiliar places. On my own I love reading books, going for a yoga class and cooking a healthy meal.
Favourite activity to do with family in London
I love London. I love visiting the museums and galleries, going to restaurants, picnics in the parks, the flea markets and trading my wares.
Favourite restaurant in London
I live in Forest Row which is south of London, nestled in the English countryside, surrounded by natural forest and organic farmland. I am used to 'eating the view' and spoilt for choice. When I go to London I usually eat at the Chelsea Arts club in Chelsea.
What are Omibia's upcoming projects?
Simply to continue to do what we do well and to grow my brand organically.
Omibia's dream is…
Omibia's dream is to embrace new people, partners and processes to become a truly global and eternal Omibia family. Omibia's vision is to make the world more aware of the negative environmental impacts of unnatural fabrics and artificial processes and to offer a real alternative. We are continuously raising consciousness and spreading kindness around our planet. Every child embraced in Omibia clothing is an ambassador for a better future.

Close