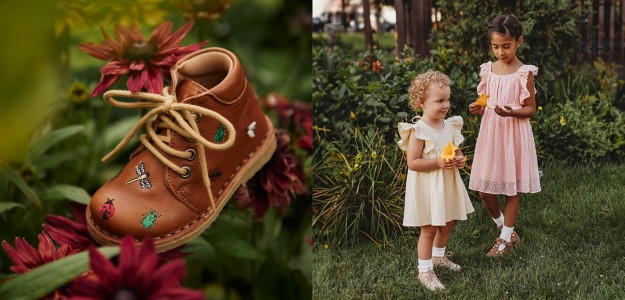 Petit Nord
More than a fashion brand, Petit Nord flaunts a timeless collection of children's shoes and slippers, which are not just lovely and comfy, but sustainable and ethically-made. We fell hard for the brand's beautifully-crafted shoes in sumptuous, high quality leathers and designs that are classic and wearable. But it is the philosophy behind Petit Nord that really inspires us. Taking cues from its Scandinavian heritage, Petit Nord privileges the beauty of minimalism and prioritizes respectful, environmentally-friendly practices. Each season, the brand works to implement ecological practices into its production: from assuring its shoes are chrome-free or made from recycled or vegetable-tanned, biodegradable leather to researching how best to reduce its environmental footprint, Petit Nord strives to make the planet a cleaner and safer place to live. If that was not enough, Petit Nord donates 100% of all sales from MoreBabiesPlease accessories towards fertility treatments… All this to say, Petit Nord has truly got heart and soles covered.
Find out more
Interview
Nadia and Christian Dolmark-Dejer
Petit Nord has been helping children find their feet since 1998. This Danish brand – renowned for its exceptional quality and sustainable production methods – has helped thousands of babies take their first steps and supported the feet of countless young adventurers as they navigate childhood. We caught up with Nadia and Christian Dolmark, owners of the brand, and designer Shirley Bredal, to learn more about Petit Nord footwear and the design process that goes into each pair.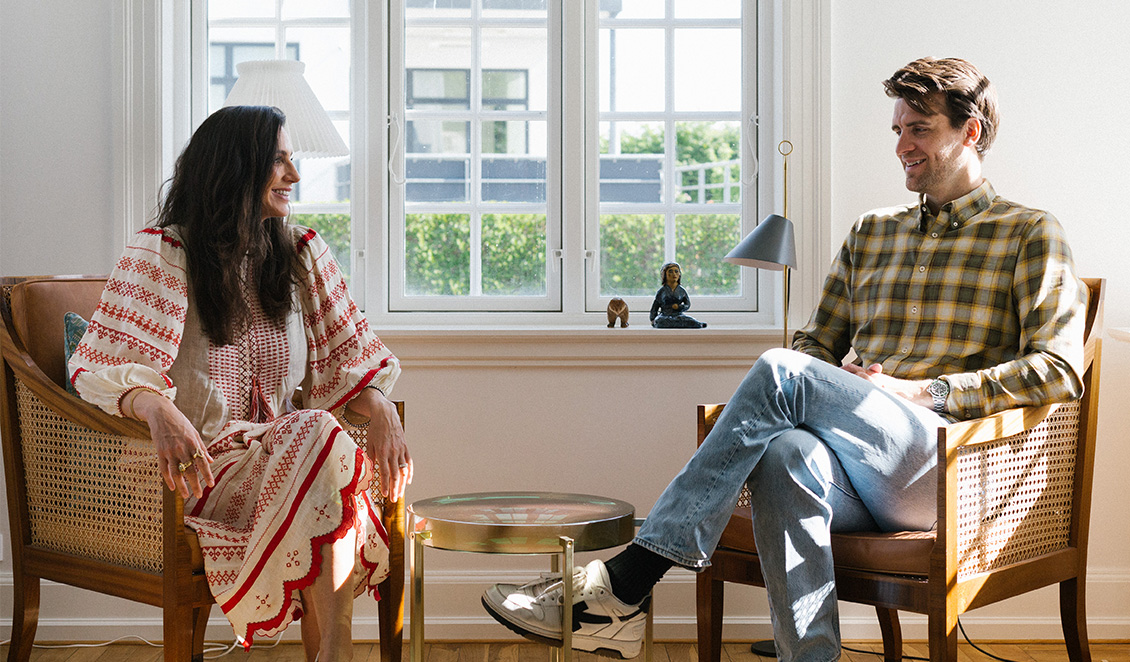 Nadia, could you tell us how and when the Petit Nord adventure began ?
I was shopping for shoes at my usual favourite children's store – a tiny little treasure in the heart of Copenhagen – for my twins aged 1 ½ years, when the friendly store owner mentioned that the shoes that I was buying would not be produced next season. It turned out that after 20 years, the owner of the small brand Petit Nord wanted to embark on a new adventure and was selling her company. It was a lightbulb moment for me, I thought: what a great opportunity! I decided to give the owner a call. This happened in 2017 and the rest is history!

What is your role in the company?
I am one of the owners and oversee Petit Nord's sustainable agenda. I also play a big part in the brand's creative design strategy and take a great interest in the production process.

How would you describe the brand ?
Petit Nord is a classic Danish brand which places great emphasis on beautiful, practical design and has a strong sustainable profile.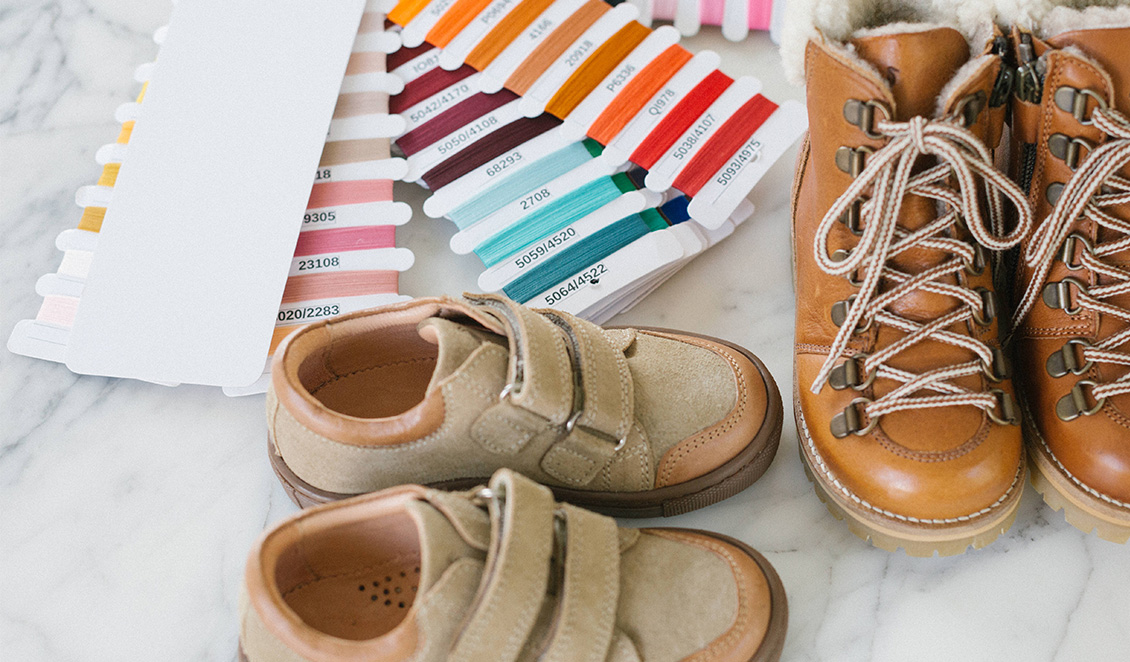 What do you love about kids' fashion ?
I love that you can be more daring and playful with kids' fashion. Everything is also so much cuter in smaller sizes! It seems that when you grow up, you become more conservative and set in your ways. Kids' fashion lets you play and be creative on a whole different level!

Could you tell us a bit about the design process of each collection ?
Our philosophy is to create beautiful classic designs that parents will fall in love with – and nothing less than that. We are very intentional about our designs and believe in the longevity of truly classic and beautiful footwear. Therefore, we build on our collections, rather than recreating something new each season. We draw a lot of inspiration from Shirley's other brand Shirley Bredal and we love working with embroidery – which has become a strong part of our DNA at Petit Nord.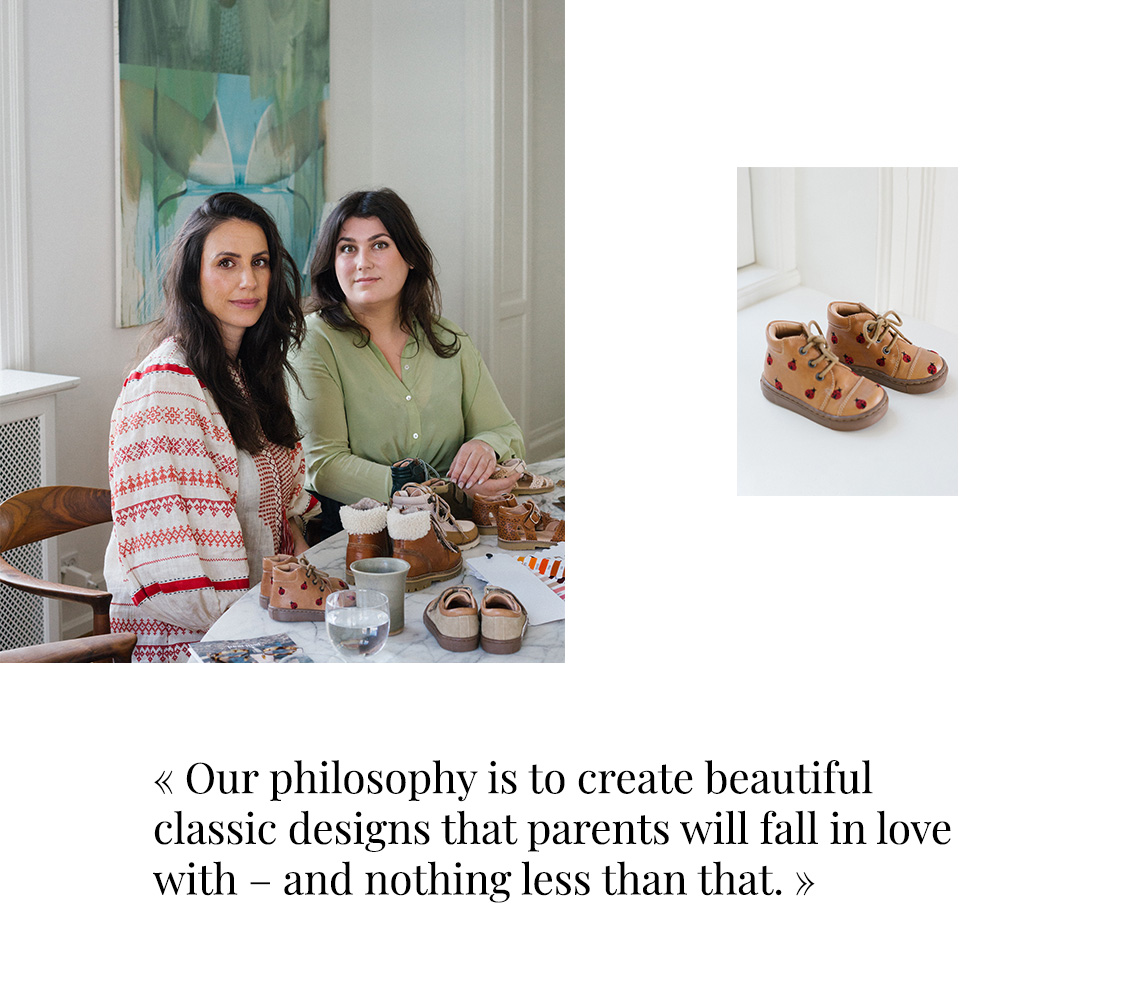 What does a typical day in the office look like for you?
Our workplace is quite different from most. We do not have a conventional office. Our core team is in Copenhagen, Denmark, but we have employees that are spread across the globe. Therefore, most of our meetings are virtual. This gives us the possibility to be flexible with where we work from. When we are all together, we are super productive and effective – but there is always time to chat, laugh about a silly joke, and touch base on each other's personal lives. The important things in life.
And what about a typical day with your family?
A typical day with the family starts with our youngest son, Norr, waking us up at 6am. My husband, Christian, normally makes breakfast for the whole family – his specialty is pancakes filled with vanilla and cardamom. Then he drives our two older children to school. After that our workday starts! We meet the team and dive into the day's agenda. When the kids are home after school, we do our best to be present with them. We like to play basketball in our courtyard and lately hockey has also become a hit! On a beautiful day, we would take our bikes and cycle to the local ice-cream store and eat them in the sun by the sea. On a school night, time just flies – so we normally order food so there is more time to read books and chat about the day. We go to bed at the same time as the kids, as we never know what the night will bring with a little baby in the house. This is a snapshot of our lives at the moment, and we are loving it!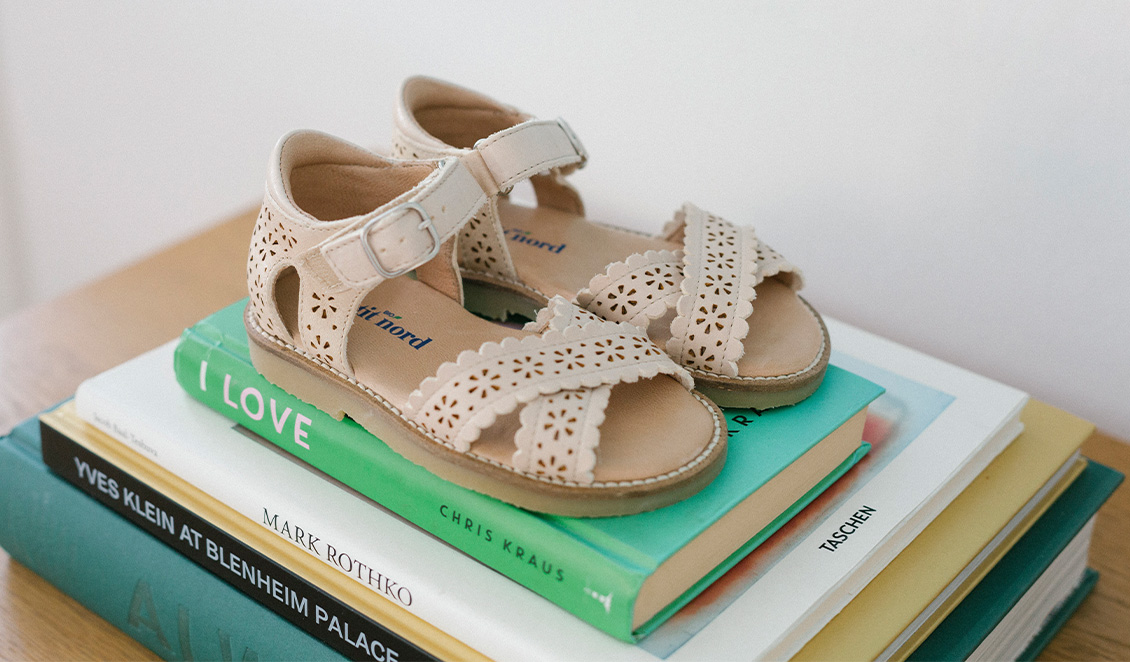 What are your dreams for Petit Nord ?
We dream about being the favourite choice for mothers when selecting their first shoes for their kids.

Petit Nord is part of Smallable's 'Greenable' selection as the brand has an environmentally conscious approach. Could you tell us a bit more about your sustainable practices ?
We strive to use high quality sustainable components on our shoes wherever possible. We do not compromise on this at any point, even though eco-friendly elements are much more expensive and more difficult to work with. However, we are very selective when working with sustainable materials. For example, we are hoping to develop a line of vegan shoes and have been looking for the perfect material for years now, but still haven't found the right one. Even if a material is labelled vegan – it can still be full of plastic. This we are not interested in. Every season we try to introduce a new sustainable initiative. For now, we work with vegetable tanned leathers in specially developed Petit Nord colours, and we use recycled materials for our TR sole as well as rubber components and upcycled materials as seen on our rainbow sandals. There is so much more to do – our sustainable journey has just started!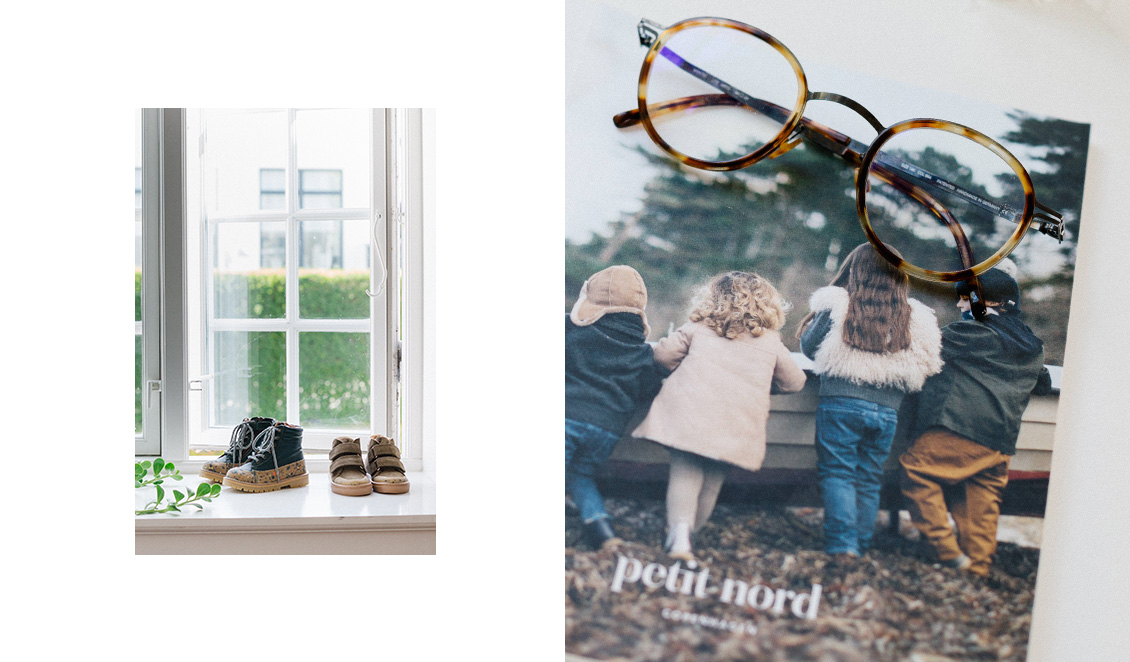 What do you like about Smallable ?
I think Smallable has great taste! I love the style. All the items Smallable presents are a lovely combination of effortless chic, cool, and playful. Just what a child should be wearing!

For a family visiting Copenhagen, what would you recommend they see and do ?
Definitely check out Tivoli amusement park in the heart of Copenhagen! I would also suggest visiting Experimentarium and the zoo.

What's your favourite restaurant in Copenhagen ?
Restaurant Maison. It's a gorgeous French-inspired bistro with delicious food and a relaxed vibe.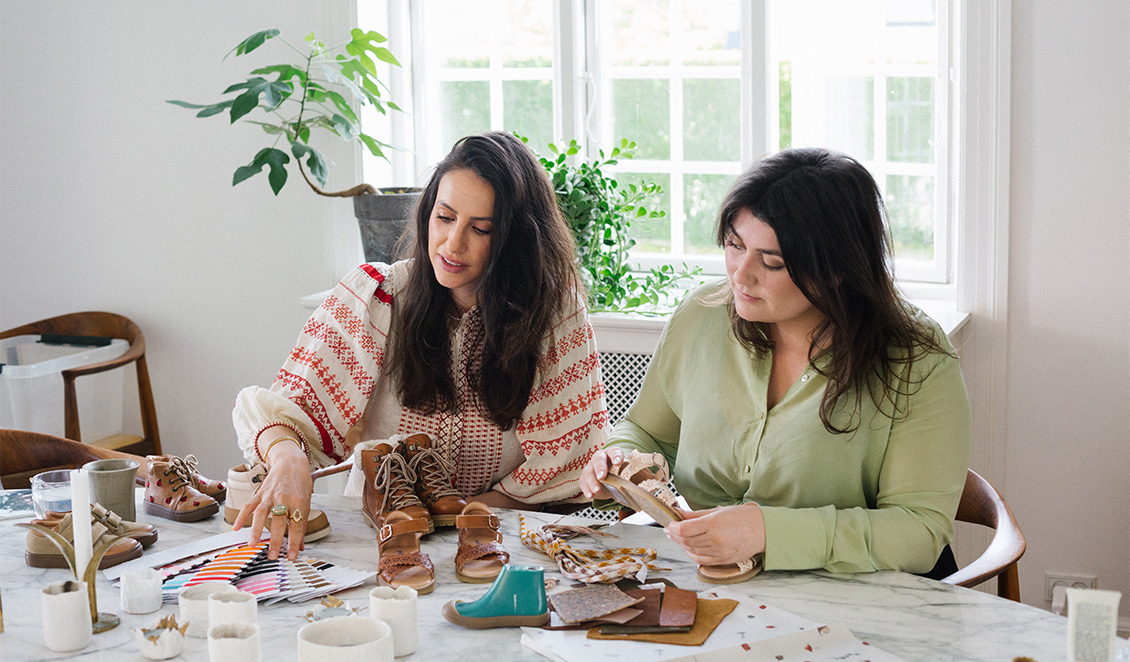 Photos & text © Yasmina Pérez
Close