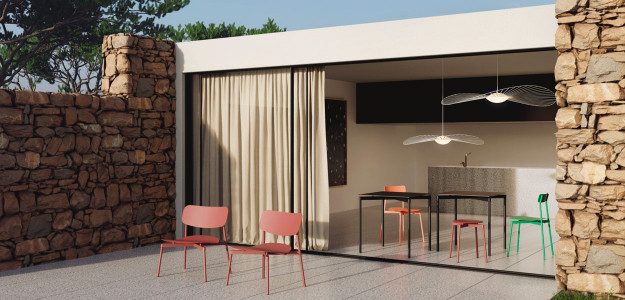 Petite friture
Parisian design label Petite Friture was founded in 2009 by Amélie Dupassage. The label boasts an exceptional line-up of furniture, design and home décor from must-know contemporary design talents, including Constance Guisset, Pierre Favresse, India Mahdavi and Noé Duchaufour Lawrence. A regular on the design fair circuit, Petite Friture has gained a cult following for items like its Vertigo Hanging Lamp, its Bubble Glass Hooks and its quirky animal-shaped Petstools stools. Aesthetic, playful and refreshingly optimistic, the collections from Petite Friture surprise, uplift and resonate with all kinds of design lovers – whether they be singles or families, kids or kids at heart and grownups.
Find out more



interview

Amélie du Passage
With a diploma from the HEC business school under her belt, Amélie Du Passage started her career as a writer for the Minister of Culture, Jean-Jacques Aillagon, before going on to work at the FIAC (International Contemporary Art Fair) alongside Martin Bethenod. In 2009, the design lover followed her entrepreneurial spirit and founded Petite Friture, a contemporary design studio, of which she is now the artistic director.

Amélie welcomed us to the new Petite Friture showroom, recently set up in Montreuil in a reconverted factory. A luminous space, ideal for presenting all the brand's lighting and furniture collections.


AMÉLIE, CAN YOU TELL US ABOUT YOUR EXPERIENCE AS ARTISTIC DIRECTOR OF PETITE FRITURE?
I have always been passionate about design, but for me, this project is all about encounters. It's thanks to these encounters that we can create collections that are as bold, unique and sustainable as ever. For each project, we've managed to collaborate with talented manufacturers and designers that all share the same expectations when it comes to success and to creating beautiful products. Whatever the project, the challenge is finding the balance between respecting the creative intention of the designer; ensuring the piece fits with the Petite Friture brand; and then fitting these two considerations into a technical and economic framework that allows us to offer customers high-quality, long-lasting products. Each project is therefore a serious challenge!
« It involves sticking to my intuition, identifying, meeting,
presenting, coordinating, and above all being fulfilled in the process.
It's a real people-centred experience."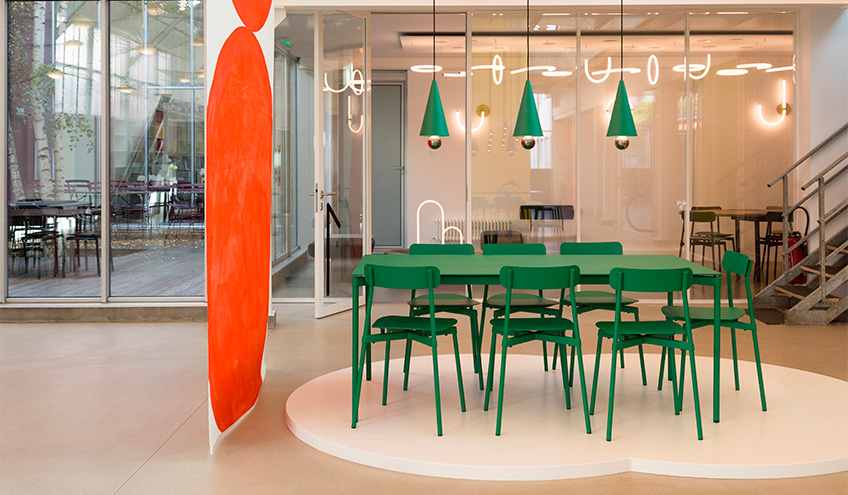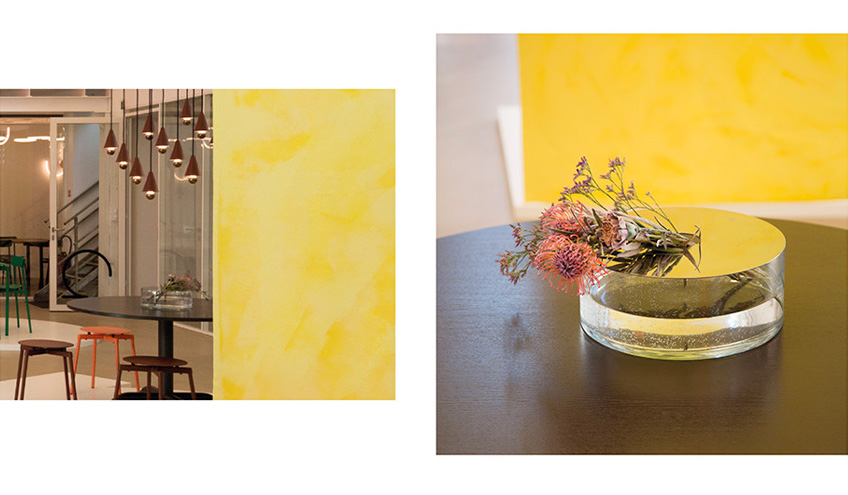 HOW DID THE PETITE FRITURE DESIGN STUDIO COME INTO BEING?
In 2010 when Petite Friture started, there were very few design studios dedicated to representing homeware or furniture designers. Even though the concept had existed for a long time, the sector was in need of new energy. There was lots happening in the design industry at the time, yet the offer was still fairly limited, with not a lot available in between IKEA and the high-end (mostly Italian) design studios. A whole generation of designers had emerged in France from the ranks of ENSCI, ENSAD, Camondo, as well as the RCA in London, the Design Academy in Eindhoven and the ECAL in Lausanne. Some of whom had done stints at the already well-known design studios such as Bouroullec or Starck.

To bridge the gap between a market in search of innovative and well-positioned design and a creative scene teeming with talent, a pool of new vendors was needed. In France, Petite Friture was one of the pioneers. In 10 years, we have built up a real team of 40 highly committed collaborators.
WHAT IS THE STORY BEHIND THE NAME?
For me, the name 'Petite Friture' [meaning 'Small Fry' in English] evokes a quiver, a vibration, a creative bubbling which I think is characteristic of the brand. But it also evokes the pleasure of meeting new people and a meal shared between family or friends. Petite Friture is ultimately a term that sums up, in an offbeat way, a unique, free, generous, energetic and optimistic spirit. A spirit that we call 'Libre Garde'. The name 'Petite Friture' therefore came quite naturally when we set out on this adventure.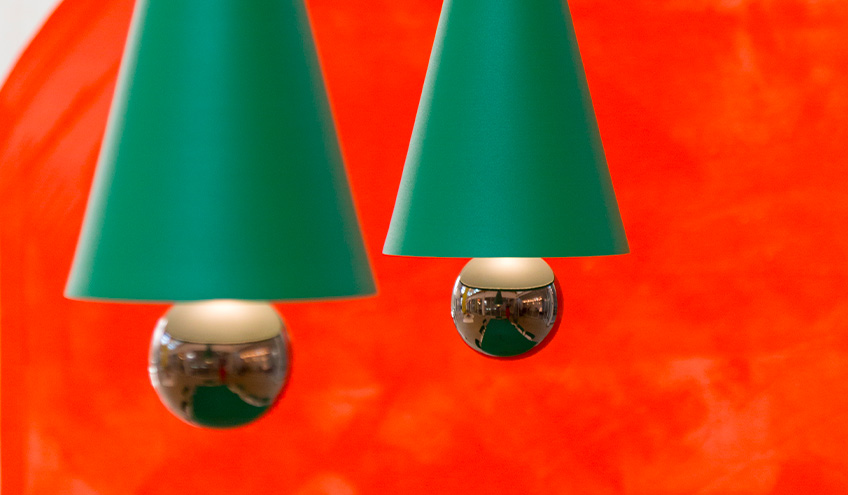 HOW WOULD YOU DESCRIBE THE BRAND'S PHILOSOPHY?
If I had to sum up the philosophy of Petite Friture, I would say that our job is first and foremost to have an 'eye': to be able to identify emerging designers with a daring design approach, which aligns with our DNA, and whose pieces are driven by timelessness, rather than trends or standards. With them, we develop a lifestyle range that covers lighting, furniture and accessories. Our customers come to Petite Friture for exclusive products that they wouldn't find elsewhere. To define our philosophy, we invented the term 'libre garde' which refers to an approach anchored in encounters, intuition and discoveries.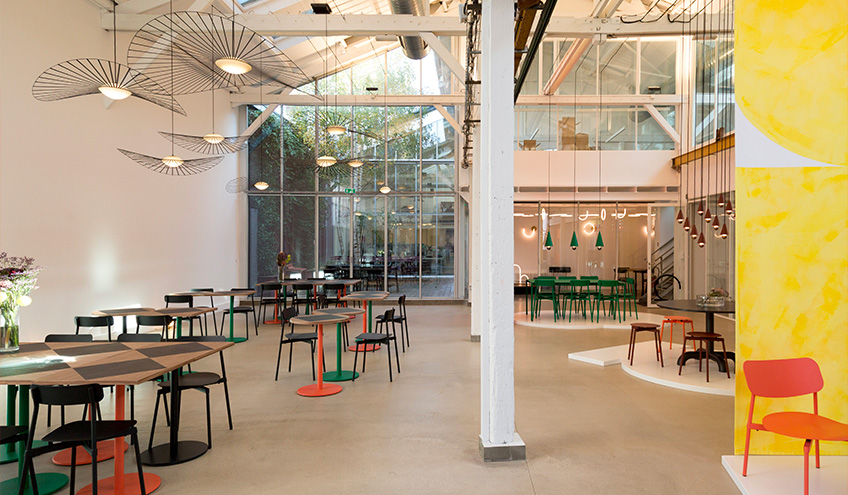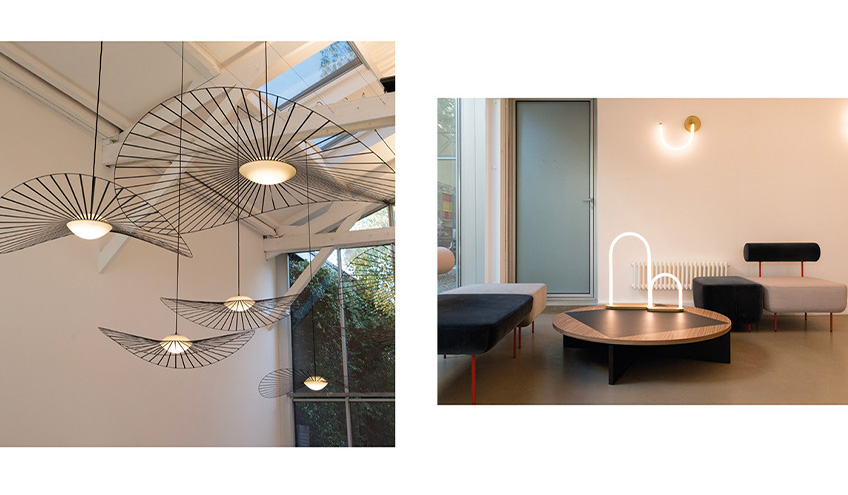 «I like to say that a creation
only has value in so far as it is shared."
WHAT AMBITIONS DO YOU HAVE FOR THE BRAND?
Today we're present in about thirty countries, with selective distribution. Our short-term goal is to make Petite Friture a lifestyle brand that cannot be ignored, with an identity that's independent but also optimistic and conscientious. Following this "libre garde" state of mind that I mentioned before.
Our aim is to accelerate our growth, particularly internationally, starting with the United States, while strengthening our commitments in three key areas: to create well thought-out, eco-designed, sustainable objects that are anchored in the circular economy philosophy; to boost social and local engagement to promote inclusion and collective bonding; and to cultivate ideas and talents and instill a participative dynamism in our teams."
COULD YOU NAME SOME OF THE ARTISTS WHO INSPIRE YOU?
I have plenty! My sources of inspiration are multiple and multidisciplinary too. Recently, I was lucky enough to have dinner at Mory Sacko's restaurant – a young chef whose cuisine sits at the crossroads of his Japanese, African and French influences, his food takes you on a really unique journey! I also went to see the Martin Margiela exhibition, a designer who I have followed for both his fashion as well as his art. I find him very inspiring because he has always broken with convention. He is a true artist. Finally, I was very moved by the Josef and Anni Albers exhibition at the Museum of Modern Art in Paris, which brought together more than three hundred magnificent works (paintings, photographs, furniture, graphic works and textiles). I love their work, their aesthetic and everything that this couple gave to the Bauhaus, as well as their motto 'open eyes'. They're iconoclasts, totally uncategorizable.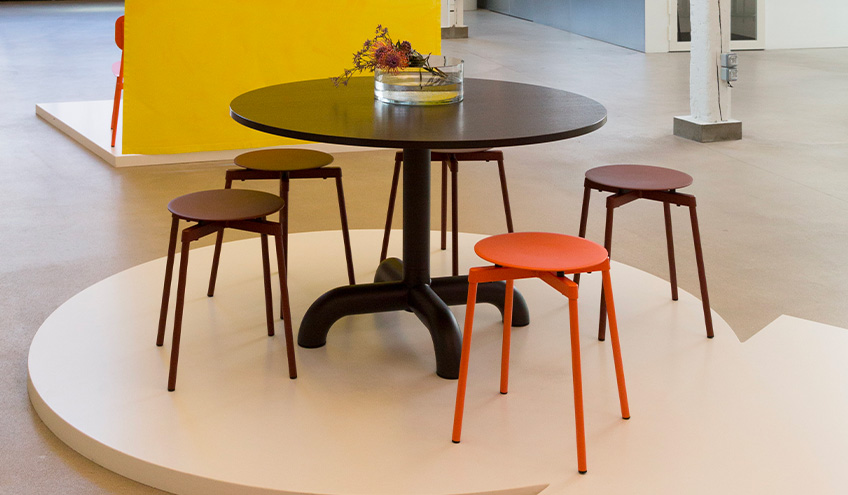 THE PETITE FRITURE COLLECTIONS ARE PRODUCED IN CLOSE COLLABORATION WITH INTERNATIONAL DESIGNERS. WHAT ARE YOU LOOKING FOR IN A DESIGN?
We now work with around thirty French and international designers. Our main ambition is to bring talented designers to the fore, to create bridges, to shine a new light on design, with a mindset that is optimistic, free, generous, open and demanding. Finding a designer also means accompanying them, pushing the creative limits, and ensuring the quality of production, while also making sure that it makes sense from a financial perspective. The aim is always to create collections that will last. And without forgetting the quirky, larger-than-life, sometimes surrealist touch that makes all the difference and is the hallmark of our unique style.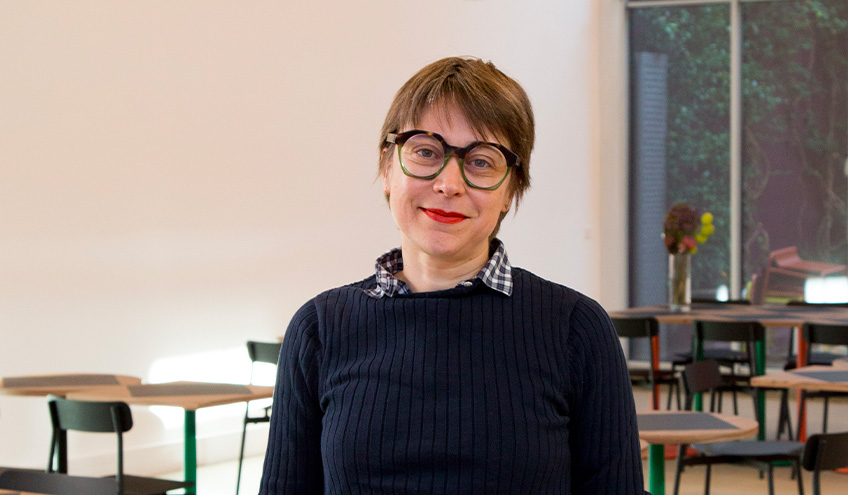 THE VERTIGO PENDANT LAMP IS ONE OF YOUR FLAGSHIP PIECES. CAN YOU TELL US ABOUT THE COLLABORATION WITH THE DESIGNER CONSTANCE GUISSET?
Since the beginning, we've always developed products that are built to last, and that our customers want to live with for a long time. Products that stay in the collection, that don't follow trends and that don't go on sale. This durability is woven into every stage of production, from the choice of materials to the assembly and the finishing touches. Vertigo could not be a better example of what durability means to us. It was an extraordinary challenge to develop a graphic pendant lamp that was disproportionately large, yet light and airy. The collection has become a design icon. Faced with such success, it was important for us to keep supporting the design. To display it in quality environments, but not to overexpose it either in order to maintain its desirability. To preserve its price and with it the remuneration of the entire value chain, starting with its creator, Constance Guisset, and all those who have patiently made this product by hand every day in France for the past 10 years. To combat counterfeiting. To grow the production while maintaining the demand for quality. In short, to prolong the life of this product by taking care of it. In 2020 we launched the Vertigo Nova which follows the same design as the original, but with the addition of some new options. It features an integrated, LED and dimmable light source as well as an enhanced finish and central glass globe.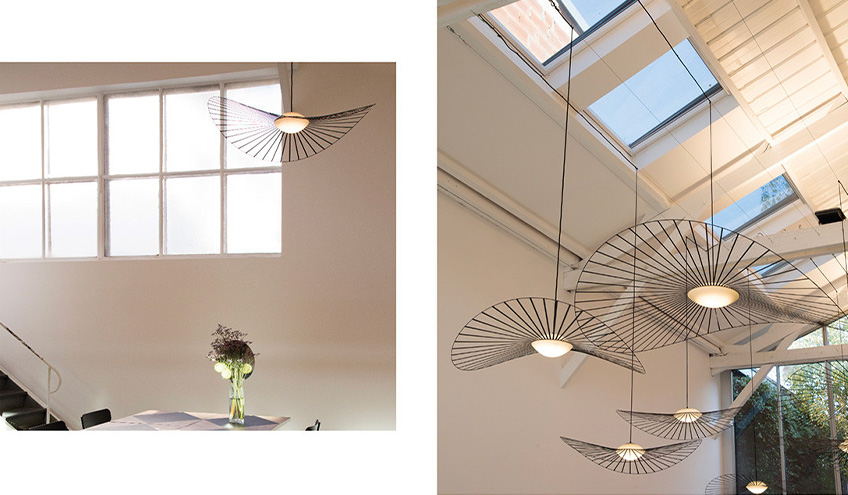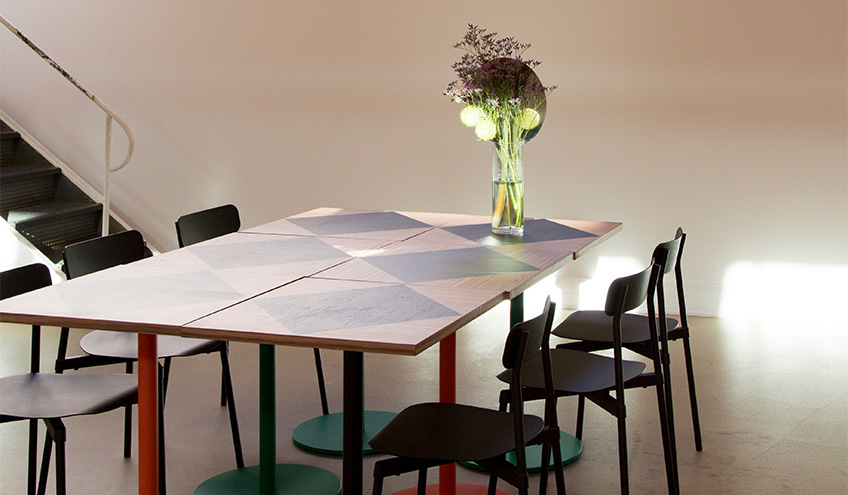 HOW DO YOU MAINTAIN A WORK-LIFE BALANCE?
That's a great question and a constant challenge! I like having a busy life, but I have always forced myself to set real boundaries between my personal and professional life because they are separate worlds. At the same time, I am able to work at home and conversely interact with my family life in the office. I believe that this agility allows you to maintain a balance. In a few years our children will be able to tell us whether we succeeded in maintaining this balance.
WHAT DO YOU LIKE ABOUT SMALLABLE?
Smallable has always had a highly curated and sophisticated offering. I love the varied selection of products and that you can always discover new brands and find inspiration.
FINALLY, SMALLABLE LOVERS ARE ALWAYS KEEN TO DISCOVER NEW PLACES. YOU ARE BASED IN LONDON AT THE MOMENT, DO YOU HAVE ANY FAVOURITE SPOTS YOU'D LIKE TO SHARE WITH US?
I really like the cultural offer of London. I love going to the TATE for example, because the exhibitions are amazing. I love the magnificent art galleries in Shoreditch, and the creative design workshops in Hackney, a slightly edgy area that has managed to stay authentic. And to rest your soul, I recommend getting lost in Hampstead Heath, a huge park with a magnificent view across all of London. It's extraordinary! And for the gastronomes, a visit to one of Ottolenghi's unmissable cafés is a must. His cuisine transports us into a world of creative, fresh and unique flavours! It's a guaranteed escape without having to leave the table!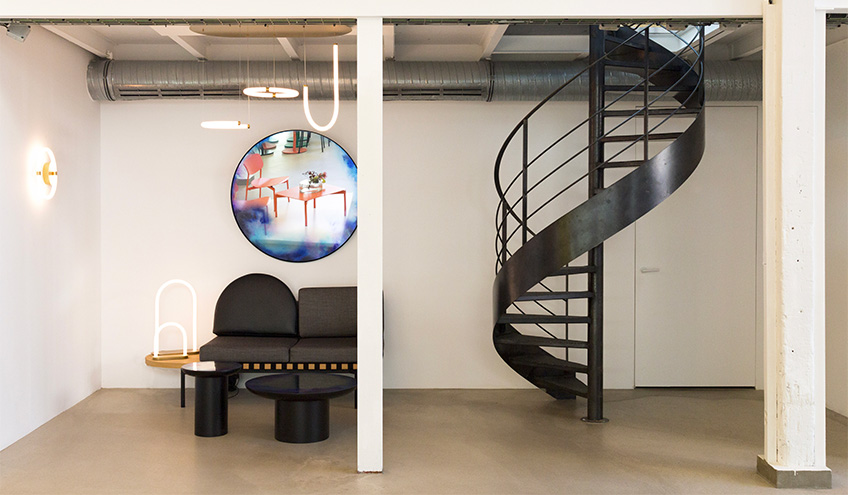 Close