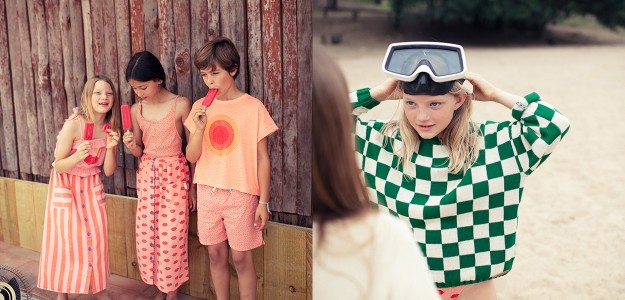 Piupiuchick
Porto-based, Portuguese brand, Piupiuchick has been encouraging kids to live life to the fullest since 2012. From comfy clothes to cool accessories, there's a Piupiuchick piece for every child's adventures. Each season captures the passion, creativity and humour of childhood, which is what makes the Piupiuchick so darn delightful!
Find out more
interview
Mariana, Inês and Marta
Situated on the Portuguese coastline where the Douro river flows into the Atlantic, Porto offers spectacular scenery with remarkable architecture that is full of colours. Here, we visited Mariana, Inês and Marta, three charismatic women, and the founders of Piupiuchick. Time flies with the trio. Together we talked about the brand, their passions, and about how they have successfully managed to find balance between family life and work.

How did the idea for Piupiuchick came about?
When we started planning Piupiuchick, in 2011-2012, Portugal was in the middle of a severe financial crisis. All of us had other personal businesses at the time that suffered and stagnated. We then started thinking about new projects and came up with the idea of creating a brand for kids - something fun and with a sense of humour - to overcome the general feelings of the time. The first collection was a success, and sold out in 15 days.
The three of you - Inês, Mariana and Marta - all founded the brand. Can you tell us a bit about yourselves and your roles within the company?
We are two sisters (Inês and Mariana) and a very good friend (Marta). Inês is an architect, passionate about fashion and decoration. She is responsible for the creative process and the development of the collections. Mariana is a former environmental engineer, passionate about communication and sustainability. She takes care of marketing and sales. Marta is an interior designer, passionate about organisation. She is in charge of all financial and operational matters.
How did you come up with the name and what is the idea behind it?
We would love to say there is a romantic story behind the name of the brand, but no. The idea was to find a word that would not mean anything in any language, but still sound nice. With very limited resources for online marketing it was certainly a good advantage, not to compete with an existing word that would bring up billions of results in search engines.
How would you describe the brand?
Piupiuchick is a tribute to childhood. Each collection is a story that we want to tell our children. Stories about our childhood: how we lived, what were our plans, what was the music we loved and the TV shows we watched when we were their age. Above all, it's an attempt to show them how important these memories that they are creating now are.
What are your goals for Piupiuchick?
We have so many. We definitely want to grow the brand, to reach more families all around the world. We want to share our stories with them, too. But we want more than just growth in itself. We want to be the best brand we can be; a brand our kids will be proud of. Not only because of economic success, but also because we seek to respect the environment and to respect the communities who are produce our goods, by contributing to their happiness and quality of life. A brand that promotes equality, freedom and peace.

Where does the inspiration for your collections come from?
Our inspiration comes from the experiences we had as kids. We always travel back in time to bring back the most important memories we had from that time. From photos, stories our grandparents told us, music, TV shows we watched and iconic brands we liked. A lot to review, a lot to tell!
What is your design process and how are the collections made?
We start by choosing what story we want to tell. From there, we search for inspiration from old photos, old movies, TV shows, music, advertisements, and we let our imagination work. The most difficult part is to know when to stop.
What do you love most about your work?
We love to be part of a project that is growing and that we are proud of. Every day is a challenge between so many different tasks and decisions to be made. But we love that. We are also very lucky to live in a city (Porto) that is so close to the renowned Portuguese textile industry. Production is just around the corner and we drive there very often to see how it is going, to get to know all the people involved and to learn from them.
Do you have children? How does that influence your work?
Yes, we do! We always have many children running around. Inês has 2 kids – Constança (12) and Lourenço (10). Mariana has 3 – Salvador (9), Concha (6) and Mateus (2) - plus, a crazy Frenchie, Tommy! And, Marta has 2 - Guilherme (10) and Maria do Carmo (7) - and is expecting baby number 3! They are very much involved in the daily life of Piupiuchick. They love to come to the office. During school breaks it is a bit chaotic. They like to paint, to draw, to dance, to play. And sometimes our concentration goes with them… Sometimes it can be difficult to work, and to keep the office as clean and as organised as we like, but we will miss these days so much when they're gone. They like to be heard and to help to make decisions on colours, prints and models. To have a balance between boys and girls it is also very good for making sure we have plenty of options for all of them.
How do you balance your family life with your work life?
That is the most difficult and challenging part. Our kids and husbands are hugely supportive of what we do. However, it is not always easy to balance when we have to work nights or during weekends, or when we need to travel and have very long days away. And that is happening more and more often. We always have mixed feelings. But we are very lucky to have such strong family support.
What is important for you when choosing clothes for your children?
We always look for pieces that are made by independent brands like ours. Brands that put all their creativity and life in their collections. Brands that are sustainable and fair. Brands that are fun and that have a strong identity.
Describe your family's ideal day.
A perfect day is a day when we all go to the beach together and we stay there until the sun goes down. We are very lucky to live by the beach and we tend to have very good weather in Portugal. The kids love to be there, where they are free and unplugged.
What is your favourite and least favourite part of the children's fashion industry?
We love to be able to speak to the world through our collections. To be able to tell stories and to contribute to a better world, step-by-step. On the other side, there is the reality of big fashion brands. Brands that don't respect people and their audience, and that don't respect the environment. It is overwhelming the impact of such industry.
What do you like about the city of Porto?
Porto is a beautiful old city by the river and the sea. We are lucky to live and work on a three-kilometre radius of everything that is important for us: our kids' schools, our parents, our friends, and the beach. It is a city where it is very common to go for lunch at you parents' house or to gather with friends. It is a very good city for families.
What are your three favourite restaurants in Porto?
There are very nice restaurants in Porto. Near the beach, and more popular with locals than with tourists, we like: Casa Vasco (Rua do Padrão 152) and Cafeína (Rua do Padrão 100). If we're in the old city centre, we like Puro 4050 (Largo São Domingos 84). But if you really want to taste traditional Portuguese food, you cannot miss Taberna dos Mercadores (Rua dos Mercadores 36) in Ribeira.
For a family visiting Porto and its surroundings for a few days, what would you recommend to see and do?
If you come to Porto with kids, choose a hotel or an apartment in the Foz district, near the beach. Take a day to visit the city centre, getting around on the old electric tramline. It's a very nice trip with a beautiful view to the Douro river. Get lost in the streets of Ribeira, with a view to the Port Wine cellars. Then, head to Rua das Flores to have lunch or go to the other side of the river to Afurada for a traditional fish meal.
Plan a second day, nearer Foz, and walk by the beach. Go to Museu de Arte Contemporânea de Serralves (R. Dom João de Castro 210), a Museum designed by Portugal's most famous architect, Álvaro Siza Vieira. A visit to its beautiful gardens is a must. Continue by visiting Casa da Música (Av. da Boavista 604-610) and don't forget to take your kids' skateboards.
Is there any other place in the world you could imagine living?
There are many places we would like to travel to. We could imagine ourselves living in other places, but we would have to bring all our family and friends, and that would be one hell of a task! So if we had to choose, we are definitely happy staying here (in Porto).
Close