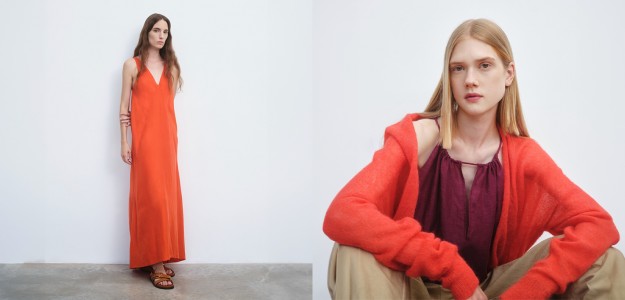 Pomandère
Created in 2007 by Italian fashion designer Carlo Zanuso, Pomandère is a women's fashion brand that stands out for its meticulous attention to detail and the materials used in each of its creations. Discover the beautiful earthy colours and elegant cuts of Pomandère.
Find out more
interview

Carlo Zanuso
Created in 2007 by Carlo Zanuso, the Italian brand Pomandère stands out for its meticulous attention to detail and the materials used in each of its creations. This women's fashion brand produces romantic clothing with carefully worked fabric and colours.The Pomandère story began in the family dressmaking workshop. It was there that Italian Carlo Zanuso learned the ropes before embarking on the launch of his own brand. Always inspired by the iconic shirt, Pomandère diverts and revisits this indispensable fashion item season after season. Sophisticated, contemporary and with a retro touch, Pomandère also works the graphics of its creations to bring them a minimalist touch, meaning that they can be easily and stylishly teamed with many other items.

Carlo, could you please tell us how you got the idea to create your brand?
Pomandère was born from a personal passion and it was influenced and inspired by our 40-year family shirt-making tradition. This led to the creation of a craftsmanship brand whose goal is to carry forward the Italian tailoring know-how.
Where does the name of your brand comes from?
The name comes from researching perfumes. As each of our collections comes from a different source of inspiration and piece of history, a potpourri of spices and fruits came out to be the best representation of what we were creating.
What is an average day at work like for you?
At the stage of creation, I'm particularly interested in the touch of fabrics, I try to create unique colour combinations. This is the part of my job I prefer.
What are your fashion and art references?
The 20s has always fascinated me, mainly for the elegance and attitude of that time. Regarding the arts, I would definitely refer to informal Post-War Art, as I feel that the spontaneous and defined traits lend themselves to my job.
What are your sources of inspiration?
We always start with a short journey in order to collect images of landscapes, these pictures help us find the inspiration we need for our collection; it gives us an idea of the colours we want to use.
If you had to define Pomandère in 3 words, what would they be?
I think Pomandère can be described by these three words: craftsmanship, sobriety and timeless elegance.

Who is the Pomandère woman?
The Pomandère woman has a great personality, she is independent and able to integrate masculine staples because of her strong femininity.
What is your main challenge?
The most important challenge for us is to find a supply chain we can count on, a supply chain that can guarantee the high quality of our products. We always start with the fabrics, which are often created exclusively for us in order to create special and unique pieces. This is how we pass on the Italian know-how.
What are your next projects for Pomandère?
Our latest project was Pomandère Living; a line of homeware accessories dedicated to tableware, with products made from linen. Our Pomandère Living collection also includes a selection of beauty products made from natural fragrances that come mainly from fruits and flowers. I'm really excited about this new project; home and décor have always been among my biggest interests.
The perfect place to dream?
An ancient village nestled in the green hills. A stroll through its antique markets and lunch with a view.
A book?
Un Filo d'olio - Simonetta Agnello Hornby
A FILM?
Un'ottima annata - Ridley Scott
Close
Displaying 33 out of 33 items