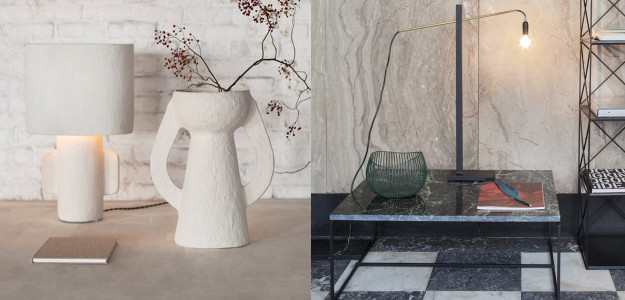 Serax
Founded in 1986 by brothers Axel and Serge Van Den Bossche, Serax is a family-owned design brand based in the city of Kontich, Belgium. Offering a wide variety of homewares, from the kitchen to the living room, Serax works with over 65 talented designers from all over the world to help conceptualise their collections. Anita Le Grelle and Paolo Navone are some such collaborators, each adding their own distinctive touch, and making for a wide variety of unique and highly coveted pieces. Serax believes that collaboration is the key to their success. Discover the latest collections from Serax at Smallable now.
Find out more
interview

​Sébastien Van Der Elst
Serax Commercial Director
The world of Serax is beautiful and inspiring. With items such as tableware, indoor and outdoor furniture, pottery, lighting, flowerpots and even leather bags. What do all these items have in common? Natural materials, traditional craftsmanship and a special sensitivity. Founded in 1986, Serax has become a worldwide benchmark of beauty and design. We visited the headquarters in Antwerp. A 2000 m2 space which magnificently reflects the brand's DNA and houses the offices, showroom and shipping warehouse. Great taste oozes from here. Plants fill the space, light streams in through huge windows, every atmosphere is bathed in style and creativity. Serax is a design brand beyond compare that bases its business model on collaborations with artists and designers season after season. We shared the morning with Sébastien Van Der Elst, the company's Sales Director, who showed us behind the scenes of Serax and unveiled the story of a captivating project, which is the stuff dreams are made of.




























SERAX STARTED OFF IN 1986 AS A SMALL BUSINESS AND IN TWENTY YEARS IT HAS BECOME A MULTI-NATIONAL COMPANY BASED IN ANTWERP WITH OVER 65 EMPLOYEES. COULD YOU TELL US ABOUT THE BRAND'S EVOLUTION?
Serax is the label created by Serge and Axel Van Den Bossche, two brothers who, from a young age, accompanied their mother selling flowerpots. They later took over their mother's business and ten years later Axel wanted to develop his own label, a collection of unique products. To do that, he decided to call upon international designers. This is the way the company is evolving. The Henry van de Velde prize in 2014 was a great recognition of the work done and became a key moment for the brand, which is being driven towards new collaborations and opportunities. Today, Serax is still managed by Axel Van Den Bossche while his wife, the designer Marie Michielssen, is the creator of many of the company's bestsellers such as the "Cactus Vase" and the "Marie" recycled paper pot.
WHAT ARE THE KEYS TO SERAX'S SUCCESS?
The brand's DNA: craftsmanship, working with designers, our international team of over 65 employees and a love for design. The successful coordination of these elements has made Serax a strong brand today.



SERAX COLLECTIONS ARE PRODUCED IN A HAND-CRAFTED WAY IN CLOSE COLLABORATION WITH PASSIONATE DESIGNERS FROM ALL OVER THE WORLD. WHAT ARE SERAX'S DESIGN OBJECTIVES?
One of Serax's objectives is to bring harmony to our customers' interiors and exteriors. To do that, we are constantly developing new collaborations and new products. We are a democratic design platform. Leading designers can make a proposal as well as smaller artists. Each collaboration has a beautiful story behind it that we try to convey not only through the product but also through the presentation of the collection, in the showroom etc. We take care of every detail. We are proud of the close and rewarding relationship that we have established with our partner designers: Ann Demeulemeester, Yotam Ottolenghi, Marie Michielssen, Bea Bombaers, Anita Le Grelle, Sergio Herman, among others.

IF YOU HAD TO DEFINE THE WORLD OF SERAX IN THREE WORDS, WHAT WOULD THEY BE?
In 3 words, that's not enough! We are a platform of designers who create lifestyle products that bring happiness to our daily lives.
WHERE DOES THE BRAND NAME COME FROM?
The brand name comes from the first names of the two founders. The brothers Serge and Axel Van Den Bossche.
WHAT DOES DECOR MEAN FOR SERAX?
For us, decor and design means giving the consumer the chance to have something unique: designer pieces at reasonable prices. Our goal is to give the consumer the chance to stand out by offering them different, hand-crafted and unique collections.

WHAT ARE YOUR SELECTION CRITERIA WHEN YOU DECIDE TO WORK WITH A NEW DESIGNER?
First of all, the collection or products offered by the designer must be in line with the Serax DNA, of course, but it is also very important for us to check that we have the capacity to produce these products in an artisanal way and to be able to distribute them. All our product ranges are made by craftspeople.
FINALLY, SMALLABLE LOVERS ARE ALWAYS KEEN TO DISCOVER NEW PLACES. YOU ARE BASED IN ANTWERP; WOULD YOU HAVE SOME GOOD PLACES TO SHARE WITH US?
- August Hotel is fantastic!
- Le Pristine (a Sergio Herman restaurant)
- The Jane: A two-star restaurant, named "The most beautiful restaurant in the world" in 2015 at London's Restaurant & Bar Design Awards
- MOMU, The Antwerp Fashion Museum.
Close