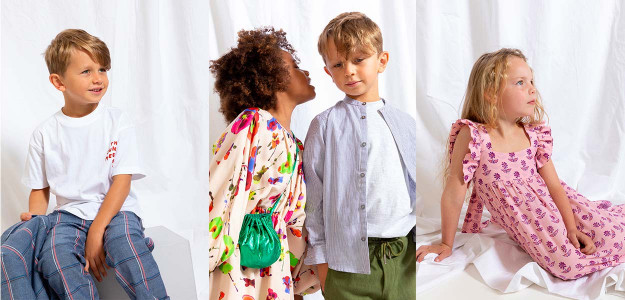 Simple Kids
Simple Kids is the work of Melanie Ireland, an English-native and fashion designer now living in Belgium. Melanie founded the Antwerp-based kids' fashion line in 1997 after the birth of first child. Inspired by vintage fashion, beautiful fabrics and her worldwide travels, with Simple Kids, Melanie crafts graphic, slightly retro kids' collections that we adore. For kids aged 3 months to 14 years, the children's clothes from Simple Kids are meticulously made, colourful and anything but 'simple'.
Find out more
interview
Melanie Ireland

tell us about who's behind the simple kids brand.
Simple Kids is me, Melanie Ireland, and my team: Nathalie van Doormaal, who creates the collection with me; Charlotte Peeters, who works on finance and strategy, and Caroline Duynslaeger, who takes care of the commercial side for us. When the production arrives, we have a big team of family and friends who also assist with dispatching.
HOW DID SIMPLE KIDS COME ABOUT? WHAT DID YOU DO BEFORE STARTING THE BRAND?
Before I worked as a women's fashion designer. But I had wanted to follow my own path for a long time, so when I fell pregnant I decided to start a collection of kids' fashion.
HOW DO YOU CREATE A COLLECTION? wHAT INSPIRES YOU?
We start by collecting all the things that we like - colours, prints, images, pieces of embroidery - and then we try to bring everything together in line with our vision. It's a bit like a puzzle we put together. When I travel, that inspires me a lot.
BELGIAN BRANDS ARE WELL-KNOWN FOR THEIR CREATIVITY AND FOR BEING AVANT-GARDE. how do you explain that and WHERE do you feel THAT simple kids fits into that movement, alongside other brands like GOLD, MAAN, ANNE KURIS...?
You're exactly right. Belgian brands are known for their creativity. We all have our own identity and style, and it's clear that this comes from Belgium. In fact, we are quite in your face because we don't make classic or traditional clothes for children. In Belgium, parents put lots of effort into dressing their kids with style.


IF SIMPLE KIDS WAS A BRAND FOR ADULTS, WHAT WOULD IT BE LIKE?
It would be very similar because we have created our creations based on the clothes we like wearing ourselves. People often ask us why we don't do a collection for adults. That's why these last seasons, we've already created our favourite items in sizes 16 and 18. It's nice to be able to wear our own pieces.
what are your upcoming projects for simple kids?
To open our own stores would be nice and good way to show our vision of our collections.
and how does smallable fit into all that?
We've been big fans of Smallable from the very beginning and are really happy that Smallable sells our collections. It gives us excellent online exposure, in a way that's very positive. We like your very refined site design, the magazine and Cécile and Pierre's excellent taste.
can you share with us a few of your favourite addresses or secret spots from your travels?
In Antwerp, we have a number of shops for kids that are really nice: Kids on the docks, Brussel, Space Antwerp.
Restaurants in Antwerp: Veranda, Klein, The Jane.
Restaurants in Paris: Le Dauphin and we always go to Rose Bakery.
Restaurants in New York: Lure, Freeman's, Vic's and Gitanes.
Destination recommendations: My last trip was to Tulum in Mexico and Burma, which I really loved.
Close
Displaying 42 out of 42 items