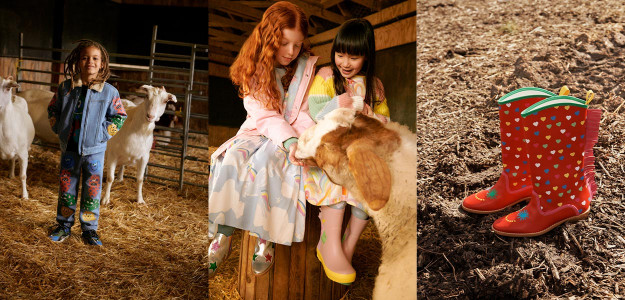 Stella McCartney Kids
After creating her eponymous fashion house in 2001, Stella McCartney launched her children's collection in 2010. Designed for children aged 0 to 16 years, Stella McCartney Kids offers a comprehensive range of comfortable
clothing for kids
that is fashion-forward, while also being
ethically-made and environmentally-conscious
. A lifelong vegetarian and animal rights activist, Stella is often considered a pioneer of green and ethical fashion, having built her brand on respect for animals, the environment and mankind. Constantly seeking to innovate and revitalise the industry, the brand uses green materials like organic cotton and sustainable viscose to creates its fashions, while also researching new eco-friendly alternatives. Season after season, Stella McCartney Kids continues to delight with its luxurious but wearable clothes, full of playful details, that you can feel good about your kids wearing.
Find out more



interview
​
Stella McCartney

Stella, when did you first become interested in children's fashion?
I've wanted to do kidswear ever since I've had my own, and even a bit before. People kept asking me over the years when I would start my own kids' line. Designing kids clothing is something quite personal to me because I'm a mother, so to be able to see my kids wearing something I've designed is very fulfilling. But at the same time, I have had to think of what would appeal to other parents and children and create a collection that is not too precious, but yet sustains a certain quality. Pieces that your kids will want to wear out on an everyday basis, but still special enough that you will want to hand down to your next child or your children's children.
We really admire how both your clothes and your company reflect your ethics. What does sustainable fashion mean to you? And what are the day-a-day obstacles when working this way?
As I try to do in everything I do, having ethics in the collection is also critical for me. Especially in clothing for children, it is important to consider where the fabrics are coming from. I use a lot of organic fabrics in the kids' collection, not only is it sustainable for the environment but it is also a way of protecting children from being exposed to too many chemicals, it's in a sense trying to provide a sense of purity. It's important for me to say, "I'm not perfect" and that for me, it is about the principle. Sustainability is important and it is about changing a mind-set. Everyone can do really simple things to make a difference and every little bit counts. It's not "all or nothing", it is about making an effort. We owe it to ourselves and the industry to do more - because it's not only about designing clothes or accessories anymore, we must think beyond that. When we start each season at Stella McCartney, we ask ourselves, "How can we do this in a more sustainable, responsible, and environmental way without compromising on design?" In any other design industry – be it cars, architecture, technology – everything is being modernised, and I strongly believe that fashion – even if you are dipping into its history for inspiration at times – can be modernised in the approach we all collectively take. It's about the bigger picture, about the future of our world and how we can help impact that.
Where do you find your inspiration?
My kids' collection is always inspired by the spirit and energy of kids in general. But I also get inspired by some memories that I have as a child and try to incorporate a little of that in parts of the collection. I also look at what we are doing for the ready-to-wear collection and try to translate some elements into what would make sense for a kids range, so that there is a connection between the two. Plus, we try to involve all the kids in our lives and make it a bit of a family process.
Can you explain your creative process when creating a new collection?
As a brand we react to what's going on around us, picking up on the general feeling within the atmosphere and really trying to represent millions of women, men and children instead of isolating one type of person and trying to make she or he the starting point of the whole collection. When I'm designing I very much design each item rather than outfits. I'm not really a head-to-toe designer person. Every piece is an object. I 'm very interested in the psychological aspects of what I do. I'm much more driven by the way people choose the things that they wear and how it makes them feel good, affects their mood. I try to take that on board.
What do you like the most about your profession?
To be honest, I've never felt comfortable saying, "I'm a fashion designer." Somehow, it never seemed to sum up exactly what I do. I'm far more interested in why and how we choose the clothes we wear, the psychology behind it. What we wear reflects who we are, it transforms us, heightens our emotions, lifts our spirits, and can define how we present ourselves to the outside world. As a designer, having my work enter the real world and be worn is the greatest achievement because this means that you've gone beyond design and into a person's heart.
How would you define your style?
Effortless, naturally sexy, naturally confident and modern.
What's your message to the children who wear your collections?
I always wanted to design children's clothes, having my own kids made it more relevant to me and actually pushed the idea to become a reality. When I design kid's clothes, I want the boys and girls who wear them to feel they can be themselves and not have the feeling that they were dressed by their parents or by anyone else. It's important that children are allowed to express themselves through their clothes and give them a sense of freedom and allow them to be carefree. Kids' clothes should have a feel of innocence and youthfulness, while allowing them to mix it up as they get older, adding in their own personal flavour. My kids' collection is really about that, it is eclectic and embodies a lot of contrasts. It's about kids having fun and being kids. It has a lot of humour, playfulness and wearability; which is really important and part of the general identity of my brand. It is reflected in my ready to wear and accessory collection, adidas collaboration, fragrance and lingerie. The idea that I have, when I design for kids, is connected to the image that I have with the house of Stella McCartney and when I am designing all the other collections. It is one philosophy, one voice, one language.
Close