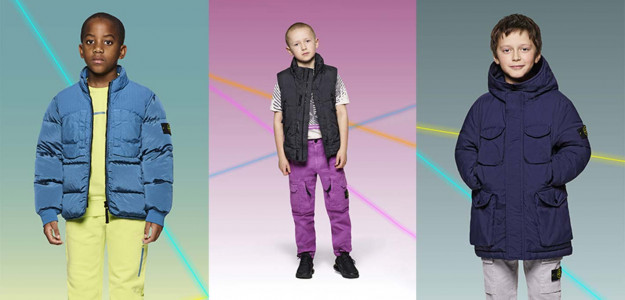 Stone Island
Stone Island is an Italian sportwear and apparel brand known for its innovative design and their extensive research in fibres and textiles. Founded in 1982 by art director Massimo Osti, the brand has been headed by Carlo Rivetti and Sportswear Company since 1994. Known for its distinctive compass patch logo and its streetwear-inspired looks, Stone Island started as a cutting-edge brand for men, but since 2005 has been creating collections for young boys from two to fourteen years of age. Experimentation, innovation, functionality and practicality define the Stone Island collections for both men and boys. The brand researches constantly to create and enhance its fabrics, and to pioneer production techniques never before used in the fashion industry. Melding technical gear with a timelessly cool aesthetic, Stone Island has gained a cult following around the world for its jackets and clothing, as well as with celebrities like Drake and Travis Scott. Resilient, modern and super easy to throw on, your (little) guys are bound to find a new favourite item in the Stone Island collection.

Find out more
interview

Carlo Rivetti
Creative Director and Chairman of Stone Island
Stone Island, founded in 1982, is much more than a fashion brand. It is also stands for innovation, research and technology and is a pioneer in streetwear culture. We visited the brand's headquarters in Ravarino, Italy to find out more about the business and their creative process. Carlo Rivetti explains how the brand has evolved over the past 30 years, maintaining the same values and philosophy since the beginning.
CARLO, HOW WOULD YOU DEFINE YOUR BRAND STONE ISLAND?
Stone Island is a unique field of experimentation and innovation. We have a wealth of savoir-faire and expertise around the creation of fabrics and garments as well as their reaction to colouring and other treatments. Stone Island's DNA is the pride and passion which transpires from all the people working with me on the brand, that have now influenced generations of men.
STONE ISLAND IS NOT ONLY A CLOTHING BRAND BUT HAS ALSO A STRONG EXPERIMENTAL PHILOSOPHY REGARDING TEXTILE TECHNIQUES, DESIGN PROCESS, FABRIC INNOVATION etc. HOW DO YOU MANAGE TO COMBINE BOTH DESIGN AND SCIENCE?
Stone Island was actually born out of a mistake. This truck tarpaulin ended up in the company's warehouse, and so we tried to make jackets out of it. We received what was essentially trash, so we decided to wash it. We washed it over and over, and eventually, the trash turned into treasure. I remember when the first Stone Island pieces appeared in shops windows, it seemed like they came from another planet. Back then, people were wearing suits and ties; it was a different world. Since the brand was born out of a mistake, out of fabric that had nothing to do with clothing, Stone Island has always had that DNA of diversity. We've kept the same approach. We have our own view. We are a product-oriented company, totally focused on that. This approach means that for each product, we start from the material, and the material defines the function, and therefore the design. Each part of a Stone Island jacket is made for function – it's never just aesthetic.
STONE ISLAND HAS BEEN AN ICONIC BRAND FOR MORE THAN THREE DECADES NOW, SO YOU HAVE HAD DIFFERENT GENERATIONS OF CUSTOMERS. IN YOUR OPINION, WHAT CONNECTS YOUR CURRENT CUSTOMERS WITH THOSE FROM THE 80's and 90's?
In the '80s and '90s men wanted to reassert themselves, beyond uniformity. The same is happening now, there is a need for authenticity. After being intoxicated with overly marketed products, those with an authentic and strong DNA are winning again. Stone Island is an authentic brand, with unique technical knowledge and passion for the product. I have the best customers in the word: when I meet them, when I visit our stores for an event or other, they speak about Stone Island and about the products with light in their eyes, with love, respect and intensity. They call me Carlo and I feel like I am a part of their lives. Different cultures and people meeting and sharing one common passion. I know that I am very lucky to be where I am, Stone Island is one of the few brands that brings people together like this. The interest of young people for Stone Island has increased a lot in recent years, it is something that we sought after. This drive came from looking at my sons, I realised I had to talk to their generation, I didn't want my brand to get old with me. And I also felt that because of the brand's values it had all the elements, attributes and stories to be able to catch the attention of younger people. It felt as if a wave was arriving and hitting Stone Island. We didn't change the brand, we just realised that we have so many stories to tell about our products and research. Through today's platforms and media that allow immediate and direct connections, our storytelling could inform and appeal to both younger generations as well as our consolidated fan base. Stone Island is now very transversal, actually, I do not believe in a world divided in age groups, I feel that that concept is obsolete… maybe because I am growing older laughs. I believe in a world where aggregation is made by common denominators. In our case – as I said – passion plays a big role. We also have our original customer base, I feel a great responsibility toward them, they know us so well, for them we want to go on making true, real and innovative products.
COULD YOU PLEASE DESCRIBE YOUR DAY-TO-DAY TASKS?
I am the Creative Director and the Chairman of Stone Island. But most of my daily work is as Creative Director – the part I enjoy the most! I spend half a week in Milan and half in Ravarino, the town in the province of Modena, where our headquarters are located. I mainly spend my time with the design team; our daily agenda changes according to the time of the season. When in Ravarino, we investigate fabrics and treatments, we study our incredible historical archive and we collaborate with the various departments that are linked to the products. Our in-house colour laboratory is an amazing department capable of combining advanced technology, experience and human capacity, that over the years has developed more than 60,000 different dye recipes. When in Milan we concentrate more on ideas and styles. I often travel, for meeting, speeches and I never miss an opening of a Stone Island store! I am doing what to me is the best job in the world, and I am glad to be able to work with my family in the company.
WHAT DO YOU LIKE MOST ABOUT YOUR JOB?
The entire product process. At Stone Island that starts with raw yarns and fabrics specifically engineered for our needs. That's the aspect that excites me most: the material research, the many dye and treatment tests, the design and construction aspects, choosing the colour palette. And then eventually seeing the samples as part of a whole collection and then worn by our customers. That is magic to me. I believe that to have the chance to drive a company such as Stone Island is a unique and exciting experience.
WHAT INSPIRES STONE ISLAND? WHAT IS THE CREATIVE PROCESS FOR EACH COLLECTION?
At Stone Island we study everything from uniforms, to work clothes and active sportswear. The brand's archive is impressive, and I own one of the most interesting military uniform collections. Besides that, we find inspiration in everything that is around us; art, design, architecture, nature, people's behaviour... I'd say that it is functionality that drives the design and aesthetics. At Stone Island everything starts from performance, and how the item will be used, and ultimately that leads to the creation of beautiful items too. But performance, fabrics, and treatments are the core of our work. Once we get these, they tell us where we should place them. The design comes next. Most times, when we test a new fabric or treatment, we don't have kilometres of fabric to use, so we use the so-called "sleeves." They are literally sleeves and provide a three-dimensional approach to the piece of fabric we put into the machine. Nobody designs a piece before checking the test results. Again, we get beautiful items, but textile research is the priority. Our products need to perform before we try to make them beautiful. When we start working on new materials or treatments, we don't know when we will be able to propose the final product. Sometimes it takes years before we can include a new textile into a collection.
ARE YOUR KIDS' COLLECTIONS AN ADAPTATION OF THE ADULT COLLECTION OR DO YOU CREATE SPECIAL GARMENTS FOR KIDS?
The path through materials, innovative treatments, experimentation, and functionality is applied also to the Junior collection, which interprets the fabrics and the inspirations of the adult line, with a specific and careful re-design for boys between two and fourteen years old. The Junior collection is cute and cool, and I love it even more since I've become a grandfather - now with five grandchildren!
CAN YOU TELL US ABOUT SOME OF YOUR FAVOURITE INNOVATIVE TECHNIQUES?
The SS'20 collection features the Hand Corrosion technique for example. It's a treatment born from Stone Island's research: the garments are dyed with special colour formulas and then undergo a manual bleaching process with a corrosive white paste. Residual dye remaining on the surface highlights the architecture of the garment. This artisan process, applied on cotton satin garments of military origin, makes each piece unique and one of a kind. Another fabric I like a lot is the Nylon Metal Watro Ripstop: a trilobate nylon yarn, with grey weft and white warp. When the garment is dyed, it takes on unbelievable metallic and tonic colours.
WHERE DO YOU SEE STONE ISLAND MOVING FORWARD? WHAT ARE THE BRAND'S DREAMS?
The main challenge is to continue growing, in the holistic sense of the word, as we have done for the last 6-7 years. A very important aspect of this is that we do not need and have no will to change our language, we don't need to 'adapt'. I really believe in 'continuous evolution'; I am not stuck in the past, and an innovative company cannot be either. I love to imagine changes through the Stone Island lens, that maintain our DNA, our approach and our language. We are working hard on investigations and innovations... I look forward to the future, I am excited, because I cannot wait for new technologies that I can reinterpret in my own way.
WHAT ROLE DOES SUSTAINABILITY PLAY IN THE BUSINESS?
Sustainability is a very important and an essential topic for our company. For many years we have been working hard to minimise the impact on the environment, acting on processes and products. It is a long-term process and a constant commitment of ours.
WHAT MAKES YOU HAPPY ABOUT STONE ISLAND AFTER MORE THAN 30 YEARS IN BUSINESS?
What makes me happy and proud is that the philosophy and values haven't changed at all. We have kept the same approach, and for as long as I am here, I will defend it as one of the most sacred things I have.When I go through the archive, I see consistency, season after season.

Photos and text by Yasmina Pérez
Close