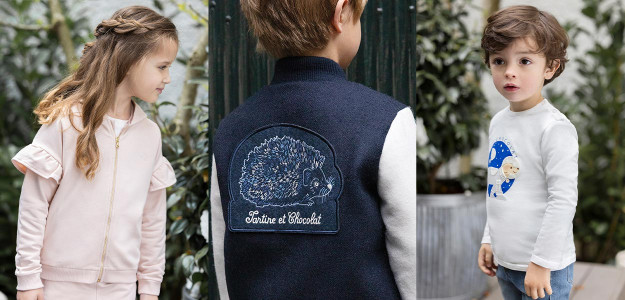 Tartine et Chocolat
Tartine et Chocolat has made a name for themselves in the world of kid's fashion through their attention to detail, their inspirations and their French refinement. What sets Tartine et Chocolat apart is their spirit; a genuine desire to create beautiful things with a distinct elegance. This brand has charmed its way into the hearts of many and is beloved by parents and their children around the world. Tartine et Chocolat's style is modern, timeless and most importantly, chic.
Find out more
interview

Emilie Zannier
For almost 40 years, Tartine et Chocolat has provided us with the perfect finishing touches to our children's bedrooms. Created in 1977 by Catherine Painvin, the brand quickly became a timeless classic, known for its clothing as much, plush toys and perfume. Its visual and emotive identity takes users, from generation to generation, back to their childhood. These are the emotions that Emilie Zannier –Chairwoman and Creative Director of the brand– was anxious to preserve. She greets us in the brand's emblematic offices, situated in the Saint Germain district of Paris. Open since 1955 and entirely redesigned by the interior designer Dorothée Meilichzon, they provide the perfect setting for a trip down memory lane.

How was Tartine et Chocolat born?
Catherine Painvin, the founder, had an enormous amount of energy and willpower. Painvin created the brand before she turned 30. At the time, she was recently divorced and had to take care of her three children while managing the company at the same time. Making her a pioneer for that time! While watching the broadcast of President Kennedy's funeral, she observed children in their stylish coats and realised that there weren't any refined brands dedicated to children in France. This was her ah-ha moment. She then spent a summer in the United States to understand the Anglo-Saxon style.
Where does the name come from?
Her children used to call her "tartine" and their stepfather "chocolat". Snack time was a magical moment for them where they would all gather. It made sense to use this name for the brand.
Why do you think that the brand was such an immediate success?
Catherine was a visionary in her decision to bring together multiple products besides textiles. From the beginning, she offered childcare products and met with Givenchy to create the brand's iconic perfume. She created soft toys including Leon the Hedgehog. Painvin always envisioned a global brand, not just a simple clothing line.

What was your aim when you bought the brand in 2004?
Like everyone, I thought that the brand was very beautiful However, when we visited the boutique, it was clear that it lacked means and had room for improvement. People love Tartine et Chocolat, it reminds them of their childhood and they see it as a symbol of high quality. I knew it wouldn't be easy, but it was just a question of waking the Sleeping Beauty.
What was your main plan of action?
I always start with the key aspect – the product. We started collaborating with a stylist in order to create a product that was timeless but also on-trend. Next, we gathered all of our licensed products – toys, furniturem etc. – in order to rework the collections with even higher quality. We started from scratch. Today, the team includes a Collection Director and our stylist, Laurence, who works freelance in order to provide us with an outside perspective. Next, we have seven additional team members who work in creation, graphic design and model making. We also have other teams dedicated to childcare, furniture and toys.
What makes Tartine et Chocolat different from other brands?
Above all, it's the sentiment. Today, luxury brands begin creating childcare products as a way to expand globally, but the thing that makes us different is the feeling that our brand evokes. Tartine et Chocolat is associated with a smell, a soft toy and how it feels. Those who were joint at the hip with their Léon the Hedgehog when they were little smell his scent and are taken straight back to their childhood. This is the same when you see the Garda stripes that have been a staple for our brand for a very long time. New mothers in their 30's come here because they want to buy something for their baby that they had when they were young. It's an amazing phenomenon.
And what made the brand so successful abroad?
It's the French aspect that makes it so attractive as a brand, as well as its timeless and elegant qualities that I definitely didn't want to change when we took over. Tartine et Chocolat works very well in Russia, which was our first international market along with the Middle East and South Korea, where we have 120 points of sale.

Have the colours and materials you use evolved over time?
During the first five years, we only used pastel colours. Then our export developed enormously, even overtaking France, and we were faced with needs and tastes that weren't all necessarily the same. So, we decided to offer more vibrant colours, which were very well received, even in France. For the next two to three years, we became more daring. As for materials, we pay close attention to how they feel; the softness and up-keep are a priority. We tend to use very high quality and very comfortable materials.
What are the signature Tartine et Chocolat pieces?
All baby items, such as the Babygro Birth collection, the Garda pyjamasm etc. People come to us looking for a certain level of quality and refined detail. We have also been working on our junior range for a few years, with dresses for little girls that aren't too bling-bling, bourgeois or sombre, but still with that French elegance.
Has the Tartine et Chocolat child evolved?
I think that, today, we can be very comfortable in jeans and a large jumper one day, and wear a chic little dress the next. Defining the Tartine et Chocolat child by describing them as the model child doesn't appeal to me. I find it quite sad and, actually, the model child doesn't exist. I think that, today, mothers want practical and comfortable clothing for everyday wear as well as elegant clothing for a family event or party. I think that we can cater for all children, especially during a particular moment in their life. I think that the world is like that today, we want to change our style, price range and quality and not be pigeonholed. Our values have stayed the same for all these years; to be elegant, timeless and to demand quality. And finally, to always be sentimental.

In your advertising campaigns, there is always the notion of innocence and dreams. Is this important for you?
We're a brand dedicated to children and concentrate uniquely on this universe. The world is really tough, even more so over the past few years, so it's important to preserve this period of childhood. We wanted to keep the notion of taking our customers back to their childhood, this is why parents come to us, to be reunited with the hedgehog, the Garda. All of these things remind us of when we were young, of the happy times and we want our children to experience this too. It makes both children and parents happy! We want them to dream, and for there to be magic and poetry.
Fairy Tales are also very present in your collections.
Yes, they're very much linked to the brand. We're associated with this notion of enchantment and timelessness. Still today, we tell the same stories, even if the medium has changed.

And if Tartine et Chocolat was a story, which one would it be?
I think it would have to be Donkeyskin, it's just like us! It's pretty and magical.
This year, your famous boutique in Paris had a makeover. What made you decide to do this?
We redesigned the boutique in preparation for Tartine et Chocolat's 40th anniversary next year. I thought it made sense as we'd already done a lot of work on our products, and we've ended up with something that we're very proud of today. The concept was created by architect Jacques Garcia 10 years ago, so it all needed updating. This was the moment to find someone who understood our aim to create something that was timelessly modern. The interior designer who designed it all, Dorothée Meilichzon, understood this perfectly. She's completely modern and very on-trend. She's worked on trendy bars and restaurants, but she also uses her traditional French expertise. In the boutique, she used wooden flooring, mosaics, and lots of handmade touches. It's exactly what we did with the brand, transposed through décor. It was her first time designing a boutique, and she really did a wonderful job. It's high-end without being ostentatious, and it's both modern and full of French tradition at the same time. She's also a new mother herself, so that inspired her too.
What are your favourite Parisian addresses to visit with children?
The Natural History Museum, because I have two sons aged 5 and 6 years old, so they naturally have a passion for dinosaurs! For a restaurant, I'd say La Gare and for a garden, Luxembourg – a real classic.
What is the place that takes you back to your childhood?
My grandmothers' summer houses. I would always spend 15 days in the heart of Auvergne with my grandmother on my mother's side. With my grandmother on my father's side, we would go to the seaside. I remember taking long naps…I would go without my parents; these are precious and magical memories that will always stay with me.
And if Tartine et Chocolat had a motto, what would it be?
It would revolve around the idea of transmission, of the intergenerational link. We provide values, smells and soft toys all in one…These are items we keep. Mélanie Laurent, who came to the boutique told us, "I'll send you a photo of me with my hedgehog toys that I've kept." This happens quite often, we get back old products because people hold onto them. It's quite unique.
Discover the Tartine et Chocolat décor pieces and fashion items on Smallable online and in our Parisian concept store at 81 rue du Cherche-Midi – 75006 Paris.
Close