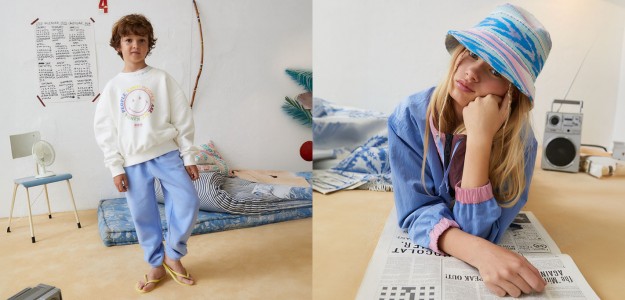 the new society
The New Society is a kids fashion brand, full of feel-good values. Made in Portugal from natural, organic and soft-washed fabrics, the brand makes clothes that are special and unique enough for this new society they are helping to create. The New Society presents a pure-spirited, kind-hearted and conscious range of children's clothes that reflects the ideals behind the brand with its classic, wearable pieces, perfect for innocent childhood adventures. We particularly respect how The New Society's collections are sustainably and ethically made with the admirable hope of creating a new generation of passionate and principled of fashion-lovers.
Find out more
interview

​Estefanía Grandío
We stop off in Madrid on a sunny autumn morning to catch up with Estefanía Grandío, founder of Spanish children's fashion brand the new society. The brand is based in the heart of the city on one of the most charming streets in the neighbourhood of Justicia. Estefanía shares with us how and why she decided to start her own brand and how she's made it her mission to create more eco-friendly collections.



Estefanía, you created the new society in 2016. Can you tell us a bit about where your interest in fashion comes from?
Ever since I was little, I've used fashion and other artistic outlets as a way to express myself. I started by creating my own looks: I would look in my grandma's attic for my mum's and my aunties' old clothes and spend the day putting together new outfits. I always liked to follow artists who inspired me, too. I liked photography too for a while, but when I had to decide what to study there was no question: I went to Madrid with my mum to visit design schools and started my degree in fashion at eighteen. I've been in the business for sixteen years now. In my second year at university I got my first job, then two years later I was working for Zara, and since then I've worked for companies like Massimo Dutti, Burberry, Oysho, Hugo Boss, etc… I started out as a designer, then went on to be a design director.
When and why did you decide to launch your own brand?
At Hugo Boss I was head of the women's sports range, and there I worked with Jason Wu and discovered that my working style was leading me down a more concept-creation pathway. I wanted to find the initial spark for the collections and use my passion for all things vintage as a source of inspiration. I then fell pregnant with my second child and during my maternity leave that Christmas, I decided it was time to do something for myself. The idea had always been floating around my head, but right at that moment, I suddenly felt I needed to bring together all my experience and knowledge of what a brand should be to launch my own business. I had always been involved in women's fashion, and when it came to dressing my kids, I realised what I could offer was missing from the children's market. I wanted to create a brand that thought about the whole look, with timeless and beautiful pieces.
How would you describe your brand's DNA?
I always say our garments are based on emotions. I can't explain my inspiration in a few words. A collection takes about six months to be developed, and every single one is closely linked to my emotions, feelings and the things I'm obsessed with at that precise moment. But my aim is always to create timeless, beautiful and sustainable clothes. Quality clothes that last. My style is quite eclectic: it's sporty yet romantic, sometimes boho, sometimes clean and simple.



What are The New Society kids like?
The new society is for any child. I think we offer versatile looks that can adapt to a lot of styles. Parents really love our brand because they can pass their love for fashion down to their children through our clothes, and I think kids also feel good in them.
What kind of production methods do you use?
We make our products in small workshops, using sustainable methods.
Why did you decide to commit to a more environmentally-friendly production?
It wasn't really a decision, but rather the reality of things and how society evolves. We should all be aware of the footprint we leave and respect the resources at our disposal.
What materials do you use in your collections?
We work with materials that recycled, eco-friendly or at the very least from a natural source.
What future eco-friendly projects lie ahead for you?
All our bags are already biodegradable. We are working to ban plastic from all our processes and start using botanical dyes. We also plan to recycle our clothes and find a new use for them. That's one of our big projects for next year.
Where do you see The New Society in five years' time?
We've grown really quickly, so now I'm taking a bit of time to think it all through and make the right decisions. I want to consolidate everything we've done, grow in a healthy way and improve in every aspect: processes, customer service, quality, sustainability. I've got a lot of projects in mind that I hope will have materialised in five years.


Discover the latest from the new society online now.
Photos & interview by Yasmina Perez.
Close