Vanessa Bruno
Raised by a Danish mother and a French father, Vanessa Bruno made the most of her various origins to build her brand which launched in 1996. Since then, she has been designing clothes for women who are like her: independent, urban, gipsy, boho, sophisticated and elegant. With her unique style, Vanessa Bruno offers women the ability to feel comfortable without any compromise on elegance or femininity. Her designs are minimalist yet sophisticated, the fabric is cut into pure lines aiming at enhancing the modern women's silhouette and comfort imposes itself through elegance. Thus, in Vanessa's hands, a cotton canvas, a few sequins and a simple shape were enough to transform an everyday object into a timeless and essential fashion accessory: the iconic Cabas tote for which the brand has become synonymous.
Find out more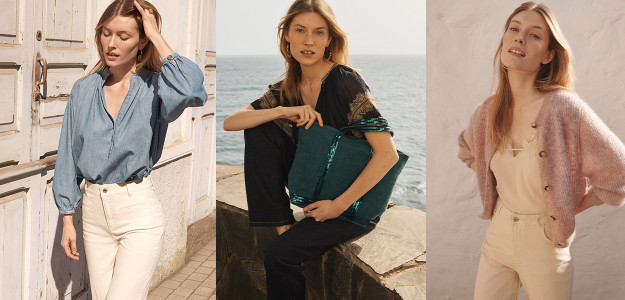 THE VANESSA BRUNO STORY
Vanessa Bruno created her eponymous brand in 1996. Her vision was to support and dress women in their everyday lives, making them feel sublime with her elegant collections that reflect the effortless, chic Parisian style. In the years since, Vanessa Bruno has become a key designer brand regularly seen on the fashion set. From dresses and blouses to jumpsuits, trousers and remarkable accessories, each season Vanessa Bruno's collections strike the perfect balance between casual and refined, feminine and carefree.
Close