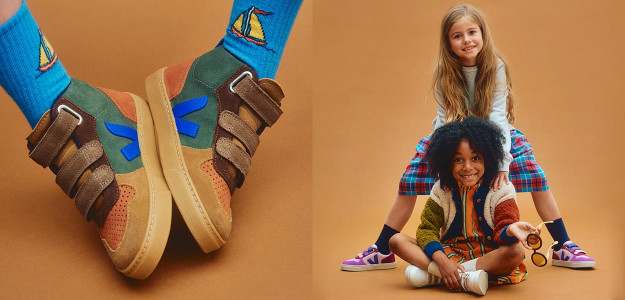 Veja
Veja is the radically transparent French sneaker brand known for its environmentally-friendly production methods. Founded in 2004 by Sébastien Kopp and Ghislain Morillion, the brand privileges ecological materials, think: organic cotton, vegetable-tanned leather and natural rubber, all fair-trade. All Veja trainers, including their
shoes for kids
and
women
, are made in Brazil with respect for the environment. Veja has pioneered a new approach to production in the fashion industry, championing ecological and fair-trade practices, creating solidarity from the producer to the consumer. Sticking to classic styles, inspired by 1970s Brazilian designs, Veja trainers are as popular among the fashion set as they are with kids. Good to the planet and easy to wear with any outfit, join the green revolution with a pair of Veja trainers!
Find out more



interview
Sébastien Kopp
The sneaker brand Veja ("look" in Portuguese) has been standing up for transparency in fashion since 2004, when it was founded by Sébastien Kopp and Ghislain Morillion. When founding the brand, the pairs' goal was to create eco-friendly trainers using transparent manufacturing methods, with its guiding principle being the reduction of CO2, packaging and transport. Veja deliberately chooses not to spend money on advertising as part of their strategy to reduce costs. The money saved is then reinvested into sourcing fair-trade raw materials, environmentally-friendly production, technological research and better compensation for their partners. The sneaker brand deals directly with producers harvesting wild Amazonian rubber and organic cotton, who themselves are accompanied by NGOs that provide them with technical support for the production of organic, fair trade cotton.

Not just well-made, Veja trainers are well-loved around the world. Instantly recognisable with their signature 'V' logo, Veja makes trainers for women and men, as well as kids' trainers, that are resolutely cool. The brand reinvents classic sneaker designs in vibrant colours, fun patterns and a range of styles - velcro, laces, high-tops and low-tops. At Smallable, we're big fans of what this brand stands for and their effortlessly cool designs, so its always a pleasure to present you with our pick from Veja's latest collection of trainers for babies, kids, teens and women.
How DID the Veja project COME ABOUT?
Veja is the story of two friends who wanted to give their lives a little more meaning, and create a project that could make a change by setting an example. We created Veja when we were only 25 years old, and we decided to completely change the way sneakers are made, by sourcing raw materials in a different way. Veja buys its organic cotton directly from small, Brazilian producers in order to make the canvas for its sneakers. For the soles, we buy the wild rubber directly from communities living in the Amazonian forest. We have the sneakers made in Brazil in a factory that respects workers' rights, and the warehouse that stocks and dispatches orders is a company that promotes reintegration in France. Veja means "look" in Portugese, and we wish to show that it is possible to change things on a large scale. At the start of our project, many people advised us to abandon it and told us we didn't stand a chance. This motivated us even more, and gives us even more energy today.
How do you explain your rapid success, even though you don't advertise and the competition is strong?
Word of mouth. The fact that we offer a very different project. The extreme attention we give to the design of our sneakers.
we get the impression that today Veja is seen as a 'cool' brand, and that the brand's community involvement and everything behind that is almost forgotten. how do you see it?
In fashion, aesthetics take the lead and everyone wants to wear cool sneakers. Many people adore Veja without knowing the real, ecological and social project behind the brand. We believe very strongly in collective intelligence rather than in advertising. We believe it is up to the customer to inform themselves and decide. Consumerism can truly change the world of tomorrow. This is the battle that we have chosen. Every day we receive enormous amounts of emails saying, "I have been wearing Vejas for 3 or 4 years, and I have only just discovered the reach of your project". We consider these the best messages that we could receive. Customers who discovered Veja thanks to its design and who have become interested in what we do prior to the production process.
Tell us how a pair of Veja sneakers is made (the different stages of production)?
We buy our organic cotton for making the shoe canvas according to fair trade principles. We began with an association that included about 50 small, local producers (family farmers), and today there are 700. We buy wild rubber from the Amazon according to fair trade principles: this material composes 40% of Veja soles. It allows for economical farming of the Amazonian Forest, without endangering it. The leather that is used for Veja shoes is vegetable tanned, with Acacia bark, without using chrome, which makes it a more ecologically-friendly leather and we have developped new, ecologically-friendly materials.
You have a commitment in the field. how do you see the situation with your Brazilian partners evolving?
Our project has created a veritable, healthy rivalry and the local cooperatives and small producers are developping in the region in which we work [Ceara/ Northeast Brazil]. It is very moving to see the changes there. In the Amazon, it is true that our impact is minimised given the scale of the forest, but it has inspired other projects.
What are your future projects?
To reinvent ourselves every day.
Close