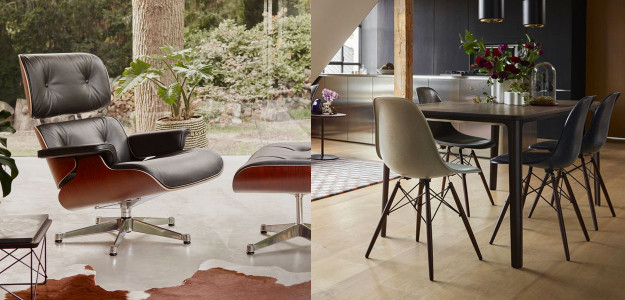 Vitra
The renowned Swiss label, Vitra, specialises in design and home décor accessories. Founded in 1950 by Willi and Erika Fehlbaum, this family-owned business creates durable, contemporary furniture and objects with a strong emphasis on good design, quality materials and craftsmanship. From vases to chairs and lamps, Vitra partners with legendary international designers, such as Charles and Ray Eames, Alexander Girard, George Nelson, Verner Panton and Jean Prouvé, to offer authentic and aesthetic products you won't find anywhere else. No ordinary furniture company, Vitra truly is a must-know label for any design lover.
Find out more
The Vitra story
A LABEL LIKE NO OTHER
Vitra is a furniture and design label from Switzerland. Created in 1957 by Willi and Erika Fehlbaum, Vitra is now considered one of the most important designer furniture brands. Home to some of this century's finest international designers, the Vitra catalogue includes masterworks from big names such as George Nelson, Verner Panton, Charles & Ray Eames, Isamu Noguchi, Jean Prouvé and Alexandre Girard, as well as contemporary designers like Arik Levy, Jasper Morrison, Michel Charlot and Ronan & Erwan Bouroullec. Having evolved far beyond simple furniture design, Vitra now endeavours to foster well-being with its comprehensive range of furniture and objects that are not just aesthetic, but functional, facilitating daily life.
THE VITRA CAMPUS: A PARADISE FOR DESIGN ENTHUSIASTS
An authority in the world of architecture and design, the Vitra ethos centres around its creative ateliers, where its products are developed and made. In recent years, the brand has created a veritable 'Vitra village' in the Swiss town of Weil Am Rhein, which is now home to the Vitra campus, including the VitraHaus (Vitra's flagship store), the Vitra Museum and the Vitra Shaudepot (a second museum dedicated to the brand's design collections). Through its exhibitions and workshops, Vitra charts the history of design, and showcases the stylistic evolutions that everyday objects have undertaken in recent history from chairs to decorative accessories. Each Vitra product is conceived and made in Switzerland, and it is even possible to sit in on the creation of an Eames Lounge Chair in one of the label's workshops. A must-visit location for anyone passionate about design, indeed! From designer coffee tables, bookshelves and desks to lounge chairs, coat racks and organisers, Smallable is proud to present our new selection of design essentials for the brand Vitra.
Close