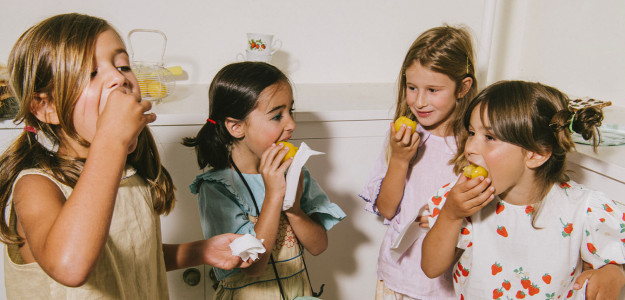 Yellowpelota
Yellowpelota is a children's fashion brand created in 2013 by two artists and designers. Inspired by their background, both founders use their knowledge and experience to create unique and easy-to-wear garments for little ones. Yellowpelota offers a wide range of timeless pieces, offered in a hue of sweet shades. Each colour and piece of fabric is carefully chosen to create funky and fresh pieces that you will adore season after season. Discover the latest arrivals from Yellowpelota online.
Find out more
interview

María Varona
Yellowpelota is one of Spain's leading children's fashion brands. The brand's founder María Varona has made her mark on children's fashion thanks to her unwavering sense of determination, a strong work ethic and her ability to overcome any obstacles that get in her way. We recently visited the brand's offices in central Madrid and spoke with Maria about her day-to-day routine, life as an entrepreneur and a mother, and her insider's scoop on Madrid's must-see restaurants and museums.

MARÍA, YOU STARTED OUT IN THE ART WORLD. WHEN AND HOW DID YOU DECIDE TO CREATE YOUR OWN CHILDREN'S FASHION BRAND, YELLOWPELOTA?
The brand was born thanks to my mother. My mum has always sewn and knitted. She's made clothes for me and my brother all our lives, since we were babies up until today. She still makes me beautiful handmade pieces. When my nephews – now teenagers – were born, my mum made them clothes and the two of us loved to think of the different garments we could make them. These were the roots of Yellowpelota and where the brand's style comes from.
HOW DID YOU COME UP WITH THE NAME?
I wanted the name to include a Spanish word and an English word, and for it to be inspired by children. By that I mean I wanted a name that could have been made up by a child. The f irst name that came to mind was Yellowpelota, but we ruled it out at first and thought of dozens of other options. But Yellowpelota just kept cropping up over and over. So we decided that had to be the name: Yellowpelota.
AT SMALLABLE, WE'RE PASSIONATE ABOUT SUSTAINABLE FASHION AND DESIGN. WHAT I S YELLOWPELOTA DOING TO BE MORE SUSTAINABLE?
I think Yellowpelota has always been sustainable, as all our design and production processes are centralised in Spain and Portugal. As for fabrics, we have always worked with mainly Spanish materials, with just a few from abroad (Italy and France at the furthest).
TELL US A BIT ABOUT YOUR DESIGN PROCESS.
We try to limit my role in the business to the design aspect, so that I can make sure the creative process is underway all-year-round. When we start to think about designing a new collection, the first thing we do is analyse previous campaigns. At the same time, I start to work on the concept; that always helps the collection to have a common thread that creates unity. Then, basically, we bring these aspects together and the creative process happens naturally.
WHAT IS THE MOST IMPORTANT ASPECT OF DESIGNING CHILDREN'S CLOTHES?
For me, the essential part is creating something authentic and unique. I think that's what gives all of our collections their unmistakeable identity.
DO YOU HAVE ANY CHILDHOOD MEMORIES THAT INFLUENCE THE BRAND'S STYLE?
Absolutely. The clothes my mum bought and made me. In fact, many Yellowpelota patterns are based on the garments I still have.
HOW WOULD YOU DEFINE YELLOWPELOTA'S STYLE?
An authentic, personal style and a brand with a heart and a free spirit.


YOU ARE AN ENTREPRENEUR AND A MOTHER. HOW DO YOU COMBINE WORK WITH MOTHERHOOD?
I try to strike the right balance every day. I love both facets of my life, which definitely helps me to combine them!
WHAT ARE YOUR HOBBIES?
Travelling, learning and enjoying each day.
WHAT ADVICE WOULD YOU GIVE TO ANYONE WHO WOULD LIKE TO CREATE THEIR OWN FASHION BRAND?
Just ask me! To create a brand, they need to know that they are going to offer something different and authentic. And they must always, always, always respect the competition.
WHAT DO YOU LIKE ABOUT SMALLABLE?
The team! They're the best; it's easy to work with all of them. Of course, I really like their image and how they manage different brands in terms of communication. And the marketing feedback and data they provide at the end of the collection sale period is really important.
YOU LIVE IN MADRID. WHAT IS YOUR FAVOURITE NEIGHBOURHOOD AND WHY?
I live in El Retiro, but I have several favourite neighbourhoods in the city… Madrid draws you in! For somewhere to live, I'll stick with El Retiro; it's in the centre of Madrid but still feels like a real neighbourhood. It has a market, loads of family businesses, a great atmosphere and plenty going on in the street. And, above all, we have El Retiro park, which is my favourite place to go with Luisa, my daughter.

WHAT ARE YOUR FAVOURITE KID-FRIENDLY THINGS TO DO IN MADRID WITH YOUR DAUGHTER? WHAT DO YOU LIKE TO DO TOGETHER?
We meet up with friends who have kids a lot, but not specifically at 'kid-friendly' places. Our favourite thing to do together is going out to eat with friends! To be honest, we love all kinds of weekend activities: seeing friends, walking the dogs in El Retiro, playing on the swings. And we love to cook together: I'm the chef and she's the helper!
WHAT ARE YOUR FAVOURITE RESTAURANTS IN MADRID?
I love Barrutia y El Nueve, a restaurant that serves traditional, homemade food with a twist. I discover something new every time I go there. There's also a really authentic Cuban place I like called Zara. The owners are a couple from Havana and they set up the restaurant in Madrid in the 1960s.
WHAT'S YOUR FAVOURITE MUSEUM IN MADRID?
There are so many! I studied art history and designed exhibitions for years, so luckily for me, Madrid is a very culturally active city. I usually go to temporary exhibitions when the concept grabs my attention, regardless of the museum or hall they are in. In terms of a museum par excellence and the best permanent exhibition, I would have to say El Prado.
WHAT'S YOUR FAVOURITE BOOK?
That's hard to say. It depends on when you ask me. This year, it's been A gentleman in Moscow by Amor Towles.
WHAT'S YOUR FAVOURITE FILM?
The same goes for films, I don't have a favourite. I love loads of them! Now, and especially since my daughters were born, I don't go to the cinema very often. I'm addicted to TV series though! At the moment, it's Succession.
WHAT'S ON YOUR CURRENT PLAYLIST?
The same goes for music, too. I like all sorts of music, but now with Spotify, I put on a different playlist every day. At the moment, I'm listening to a Latin Jazz playlist, and before that it was Viva México!


DISCOVER YELLOWPELOTA'S LATEST COLLECTION ONLINE
PHOTOS & TEXT YASMINA PEREZ
Close